The manner of his death, being tricked out of a protected reserve so that a wealthy American tourist could kill him, has catapulted Cecil the lion to global fame in the space of less than a week. Yet his tragic end may help to save others from suffering a similar fate, according to Virginia McKenna OBE, the world's most famous figure in lion conservation.
Cecil was lured to his death earlier this month, after Walter Palmer, a 55-year-old dentist from Minnesota, spent £35,000 to hunt and kill him. The lion, who had been drawn out from his home in Zimbabwe's Hwange National Park with food, was shot by Mr Palmer with a bow and arrow. But he only managed to wound him. The 13-year-old lion managed to escape, surviving almost two days before Mr Palmer and his guides eventually found him and shot him dead, according to Zimbabwean officials.
Cecil, who wore a radio collar to track his movements as part of a study by Oxford University researchers, was decapitated and skinned. There has been a furious response from people around the world since the news emerged earlier this week, and the lion's demise has also captured the attention of the White House, Number Ten, and the United Nations.
The most controversial animal killings
The most controversial animal killings
1/6 Cincinnati Zoo worker shots and kills Harambe, the 17-year-old gorilla

Harambe, a 17-year-old gorilla was shot and killed by a Cincinnati Zoo worker after a three-year-old boy climbed into a gorilla enclosure and was grabbed and dragged by Harambe. The incident was recorded on video and received broad international coverage and commentary, including controversy over the choice to kill Harambe. A number of primatologists and conservationists wrote later that the zoo had no other choice under the circumstances, and that it highlighted the danger of zoo animals in close proximity to humans and the need for better standards of care

Cincinnati Zoo & Botanical Garden

2/6 Walt Palmer (left), from Minnesota, who killed Cecil, the Zimbabwean lion (pictured here with another lion shot in Africa)

Walter James Palmer has been named by Zimbabwe Conservation Task Force as the shooter of Cecil, a 13-year-old prized lion. He is now wanted by Zimbabwe officials on poaching charges. The lion was protected and the subject of a decade long study by the Wildlife Unit of Oxford University in the UK. He was outfitted with a GPS collar and was killed in Hwange National Park. The Zimbabwe National Parks and Wildlife Authority and the Safari Operators Association said that two men were charged with poaching in connection to Mr Palmer

3/6 Kendall Jones hunting images

Kendall Jones, a 19-year-old Texas Tech university student, has provoked worldwide fury after posting pictures of herself smiling next to animals she hunted, including a lion, rhinoceros, antelope, leopard, elephant, zebra and hippopotamus

4/6 Rebecca Francis hunting images

Rebecca Francis, a huntress who has killed dozens of wild animals has been sent death wishes by furious social media users after a picture showing her lying down next to a dead giraffe was circulated. Rebecca Francis has a website and Facebook page dedicated to the animals she has killed in hunts across Africa and America. Francis, a prolific hunter who has also co-hosted the television show Eye of the Hunter, regularly posts pictures of herself posing next to dead bears, giraffes, buffaloes and zebras, among other animals. She uses a bow and arrow to kill her prey

5/6 The slaughter of Marius, an 18-month-old healthy giraffe in Copenhagen Zoo

Copenhagen Zoo made the controversial decision to euthanise a healthy giraffe named Marius, which was later dissected and fed to lions as visitors watched. The slaughter sparked a furious backlash from social media users and zoo staff have received death threats by phone and email. Soon after the incident, Copenhagen Zoo faced an international outcry once again after four healthy lions were put down

6/6 Swiss Dählhölzli zoo kills healthy brown bear cub

A Switzerland zoo faced heavy criticism from animal rights groups, after keepers put down a healthy brown bear cub to spare it from being bullied by its dominant male father. The 360 kg male bear Misha had already killed one of his 11-week old cubs in public and was bullying the second, staff at the zoo said, because he was jealous of the attention the cubs were receiving from their mother, Masha. Both adult brown bears had been donated to Bern's Dählhölzli zoo in 2009. Campaigners condemned staff there for not separating the cubs, who are being referred to as Baby Bear Two and Baby Bear Three, and their mother from Misha after their birth in January

Facebook
In her first interview since the scandal broke, Ms McKenna claimed Cecil did not die in vain and will be a catalyst for change. She recalled her "disbelief" at hearing the news during a holiday in Norfolk. "I was deeply shocked when I heard about it, particularly the way that it happened. The way that he was killed and lured to his death – I found that deeply shocking," she added.
Now back at her home near Dorking, Surrey, the actress turned animal advocate is still reeling from the brutal death of one of her favourite animals. "Lions have a particular aura about them, of power and beauty and they don't push it in your face, they are what they are, like all animals...They can't help but be beautiful and fine looking and of course the male with his incredible mane is a symbol of Africa really."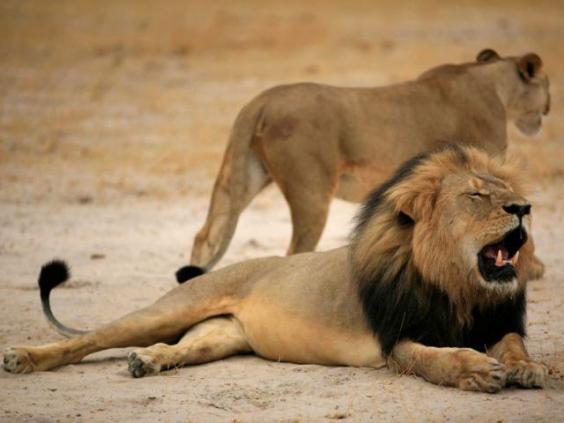 Cecil's death has shaken her. But it has also given her hope. "One of the things that's been the triumph – if you can call death a triumph – almost the catalyst for changing opinion has been the death of this magnificent Cecil who tragically is no longer with us."
According to Ms McKenna, his death has led to an "awakening in people's minds who perhaps never thought about these things before, that we are killing these beautiful animals for so-called sport. What is such fun about death and killing a beautiful creature? I can't understand it."
The controversy has raised the issue of sport hunting to such a level that "hopefully something good will come out of it," she told The Independent.
Virginia McKenna has had a lifelong fascination with lions ever since seeing one sitting under a tree in Kruger National Park when she was ten. Now 84, she has spent decades campaigning to protect lions and other animals through the charity which she founded with her late husband, the actor Bill Travers. The couple's lives changed forever after they starred in the 1966 iconic film Born Free, which told the true story of how George and Joy Adamson reared several orphan lion cubs, and successfully returned one of them – Elsa - to the wild in Kenya.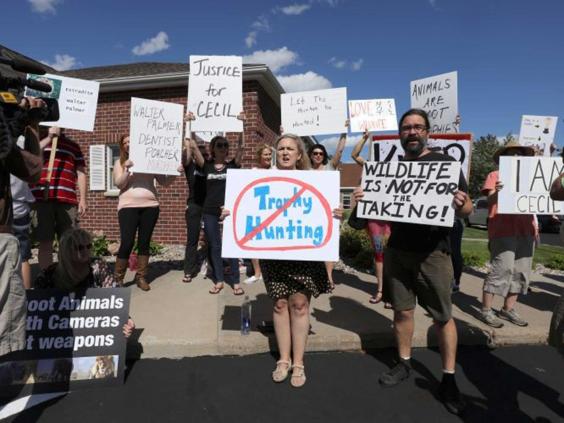 Art went on to imitate life for Virginia McKenna and Bill Travers, with the couple spending less and less time acting in order to concentrate more and more on campaigning to protect animals. And in 1984 they founded the Born Free Foundation with a high profile campaign to highlight the plight of zoo animals. More than 30 years on, the charity is now an international NGO with almost 100 employees and a £4 million-a-year budget.
Ms McKenna has no sympathy for Palmer, who remains in hiding amid calls for his extradition to Zimbabwe to account for his actions. He is also under investigation by the US Fish & Wildlife Service over the incident, amid suspicion he conspired to violate the US Lacey Act, which forbids trade in wildlife that has been illegally killed. Protesters have laid siege to his Minneapolis dental practice, which remains closed, with placards, including one that said: "Let the hunter be hunted!" Mr Palmer expressed regret for killing Cecil, in a statement released earlier this week, but claimed he had relied on his guides to ensure they were not breaking the law.
But there is no defence when it comes to deliberately killing a defenceless animal, according to Ms McKenna. "Sport hunting, which is just the kick you get out of targeting some magnificent animal so you can have its skin on the floor and its head on the wall, is absolutely unethical in my view," commented the Born Free founder.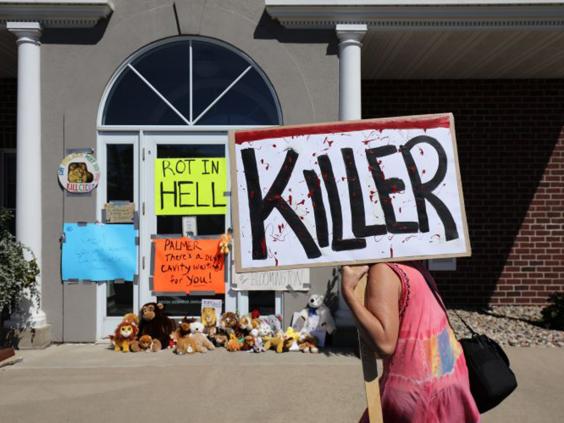 "People are wanting him to pay a price," she added, stopping short of calling for Mr Palmer to be jailed for his actions. "I'm not sure that really would achieve anything much quite honestly. I think he should pay some kind of a penalty...a huge fine, specifically put into conservation without the hunting aspect to it."
Mr Palmer's actions will have taken their toll on those close to him, commented the wildlife campaigner: "It's tragic for his children and his family, we mustn't forget the repercussions of what his actions have on his personal life, which will be extremely difficult to handle for his children and his wife."
Asked if she had any sympathy for the dentist, she replied: "Absolutely none, no." Ms McKenna commented: "This isn't the only animal he's shot, we know he's shot a bear, an elk, and there's a picture of him hugging a dead leopard that he's shot. I mean, how obscene can it get? It's just self-gratification in some way, and there must be another way of achieving that without killing another living creature who has got just as much right to live on the earth as we have."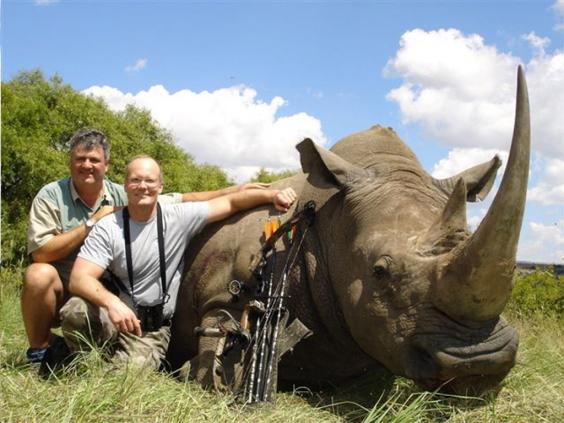 The public shaming of Mr Palmer "will be a huge warning to people to think carefully," and the controversy over his actions will have given the sport hunting community "a huge fright, and rightly so."
The death of Cecil highlights a wider problem of sport hunting which has grown in recent years, according to the Born Free founder: "This extraordinary devotion that some people have to killing these magnificent animals is something I can't get my head round."
Claims by pro-hunters that hunting can play a part in saving species by using the income made from killing some animals to fund the protection of others are "an argument made by desperate people...you get much more from photographic safaris and I would suggest that instead of having these areas which are set aside for hunting, increase the areas for true conservation and increase the tourist trade of people who want to shoot with their cameras, there is no other way that we will save them."
Now she wants to see Britain and the US take the lead and ban the importation of wildlife trophies. "The important thing is that a law is passed banning the importation of trophies – that's crucial – that is a practical way of stopping it."
There is no time to delay she warns, with lion populations in decline and under 30,000. "If it continues at this rate of course within 10-15 years there will be none, except in captivity, which is absolutely something we can't allow."
Prime Minister David Cameron's comments, on 30 July, that Britain will play a "leading role" in combating the illegal wildlife trade, do not go far enough, according to the veteran animal campaigner: "I would ask him to take out the word illegal...I think if he takes out the word 'illegal' and just says 'wildlife trade' that would be a huge step forward."
As for Cecil, "He's a symbolic animal now and always will be...he's opened the issue of sport hunting to the world, thank God at last."
Reuse content