The number of urban seagulls in the UK has nearly quadrupled in the past 15 years, according to research which challenges claims that gulls are becoming more aggressive and suggests a soaring population is to blame for the rise in bird attacks.
Initial findings from the first census of urban gull numbers since 2000, seen by The Independent, shine a spotlight on the causes of the seaside crisis of the summer – as attacks on humans and pets rise.
They show that the number of urban gull colonies in the UK and Ireland has doubled from 239 in 2000 to 473 now. And the census has yet to be completed, suggesting there could be many more still to be counted by the time the whole country has been assessed.
Furthermore, the colonies analysed so far are bigger than they were in 2000, meaning the population rise is likely to be even larger than suggested by the growth in colony numbers, according to Britain's leading urban seagull expert, Peter Rock, who is conducting the count.
"I can categorically say we've doubled the number of colonies since Seabird 2000 [the last census] and there are still many to be added to that – it's by no means complete," he said. Mr Rock is a research associate at Bristol University who has been analysing urban gull populations for 36 years. During that time he has "ringed" 8,000 gulls across the country and keeps regular tabs on their movements and behaviour, which he logs in a giant database.
"All the colonies that were listed by Seabird 2000 are still in existence and I would suggest that most of them have increased quite markedly. So what we're talking about here is not a doubling of the population but more like a trebling or maybe a quadrupling of gulls nesting on rooftops," he said.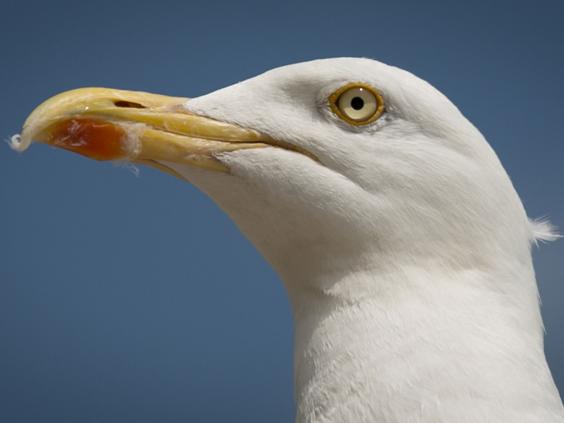 The research makes a crucial contribution to the debate about controlling gull attacks, identifying for the first time the scale of the urban population increase and bolstering the argument that it is rising numbers, rather than increased aggression, that lies behind the rise in incidents.
Concerns about gulls have reached new highs in recent weeks after widely reported attacks on a pet tortoise and a Yorkshire terrier and pictures of a pensioner with a nasty gash on her scalp in Helston, Cornwall.
David Cameron waded into the debate last month, calling for a "big conversation" about the issue. The RSPB has called on the Government to hold a "gull summit".
While the dramatic growth of the urban seagull population – which is made up almost entirely of herring and lesser black-backed gulls – is beyond doubt, the reasons behind it are far less clear, said Mr Rock. He says research is urgently needed to determine the causes so that the situation can be managed.
Mr Rock dismisses the popular idea that urban gulls are being sustained by discarded takeaways and landfill food waste because the volumes involved are far too small and lacking in nutrition. "Food snatching is not what sustains the birds, but when it is so easy to grab ice-cream and pasties why not take advantage and get a free lunch?"
Where the soaring gull populations are obtaining their nutritious food is still something of a mystery, he said. "Who knows what they're getting and where they're getting it from?"
Urban gull populations are also benefiting from conditions which make it easier for them to survive and breed than their rural counterparts in the wild, where numbers are declining in a much tougher environment. The two populations – urban and rural – are almost entirely separate.
"Urban gulls have found an environment which they are able to thrive in and it is a combination of factors. Temperatures in towns can be 4C to 6C warmer, which means they can start breeding earlier. There aren't any predators in town and very little disturbance. And they can forage at night if they want because of street lighting," he said.
Mr Rock also dismisses any notion that gulls are becoming more aggressive. They attack when they fear for their offspring, while food-snatching is opportunistic, he said.
"This time of year is when the young birds are nestlings and are learning to fly. And to begin with they're not really any good at it. So maybe their first flight might be a flap down onto the ground. Once on the ground, they are then vulnerable and if they are in town and people walk past, that's when they get attacked."
Tony Whitehead, a gull expert at the RSPB, said Mr Rock's research was "fascinating" and confirmed his own suspicions about gull behaviour.
"I don't think gulls are becoming more aggressive – just more numerous and more confident around people," he said.
Mr Rock, who plans to publish his research once completed, said it is far too early to estimate the number of urban gulls. However, he will conservatively estimate there are 25,000 pairs in the Severn Estuary area where he is based – one of eight regions in the UK and Ireland.
Getting in a flap
25,000
The number of seagull pairs in the Severn Estuary
8,000
The number of gulls Dr Rock has ringed and 'follows'
473
The number of colonies in  the UK and Ireland – up  from 239 in 2000
Reuse content