The battle to save the rainforest is finally being won, according to a leading conservationist previously known for his pessimism.
The dramatically improved prospects for the rainforests have been triggered by a switch in land use from slash-and-burn subsistence farming to the production of commodities such as soy, palm oil, cattle and wood pulp, according to Rhett Butler, founder of the influential Mongabay.com website that tracks the world's tropical forests.
These commodities industries are dominated by a handful of global giants, which are more responsive to pressure from environmentally conscious Western consumers than the local farmers who were formerly responsible for much of the deforestation.
The rainforests' cause is further helped by new technological developments such as drones and satellites which make it easier to spot illegal loggers, Mr Butler said.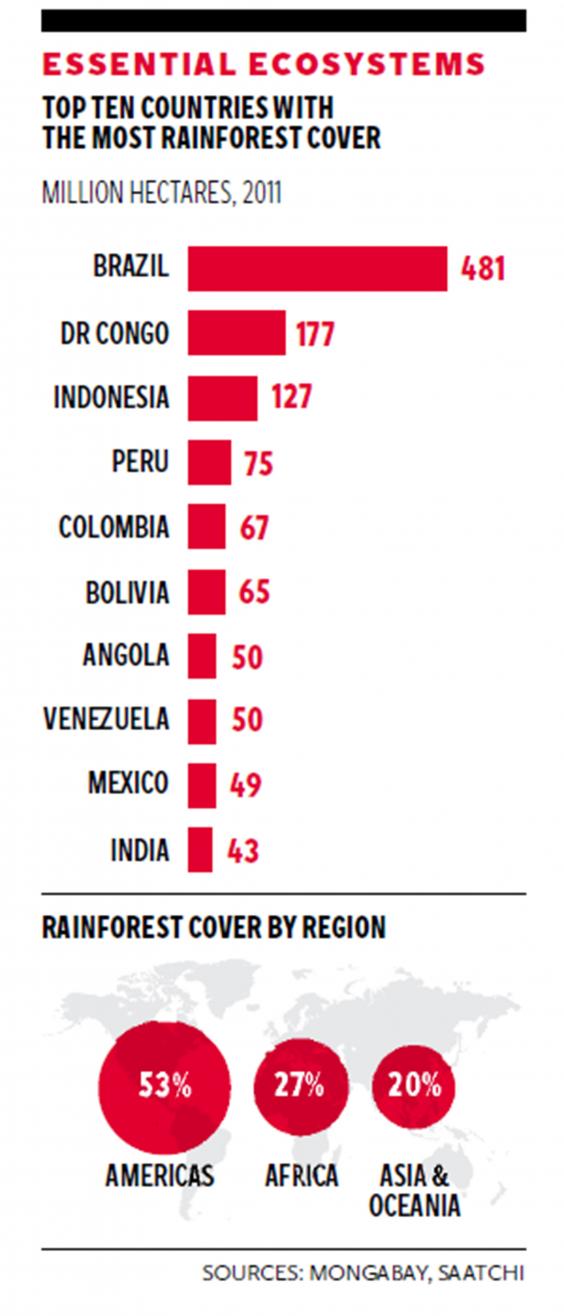 Writing on Yale's Environment website, Mr Butler said: "For a decade-and-a-half, I have devoted tens of thousands of hours to the cause of protecting forests. I've witnessed incredible destruction, and there has been reason for despair. But lately – for the first time, really – I've started seeing cause for optimism about the future of forests."
He added: "I'm no Pollyanna. My new view isn't blind optimism – it's informed optimism, because there are emerging trends that should give us hope that forests can be preserved."
Sally Uren, chief executive of the sustainable development charity Forum for the Future, told The Indpendent that she too was starting to feel more positive about the rainforests' outlook.
"The issue has definitely risen up the agenda of big corporations in the past two years. They increasingly realise that there is a strong rationale for preserving these landscapes because they are very reliant on commodities from those regions," she said.
In pictures: Biggest threats to the rainforests
In pictures: Biggest threats to the rainforests
1/10 Borneo

Destruction of the rainforest, deforestation in Borneo

2/10 Brazil

Aerial view af an area devastated by clandestine gold mining in the Jamanxim National Forest, state of Para. With 1,3 million hectares, the Jamanxim National Forest is a microsm that replicates what happens in the Amazon, where thousands of hectares of land are prey of illegal woodcutters, stock breeders and gold miners

3/10 Amazon rainforest

Intensive logging makes rainforest fires more likely as the Earth warms

Rex

4/10 Peru

Miners known as "Maraqueros" ready a rustic type of hydraulic jet known locally as a "Chupadera," after hauling the device about 16-meters deep into a crater at a gold mine process in La Pampa in Peru's Madre de Dios region. A new threat now looms for the estimated 20,000 wildcat miners who toil in huge scar of denuded rainforest known as La Pampa

5/10 Peru

A rope hangs around the trunk of a tree at a illegal gold mining process in La Pampa in Peru's Madre de Dios region. An estimated 20,000 miners toil in this malarial expanse of denuded rainforest known as La Pampa

6/10 Amazon rainforest

The extent of the environmental damage in the Amazon rainforest

afp/getty images

7/10 Indonesia

Destruction remains from tropical rainforest in Kuala Cenaku in Riau Province, Sumatra. Norway entered a partnership with Indonesia to support Indonesia's efforts to reduce emissions from deforestation and degradation of forests and peat lands. The business of pulp, palm oil and wood are causing the deforestation of Sumatra, the largest island owned by Indonesia, and is contributing global climate change to the extinction of many of the world's rare species

8/10 Malaysia

An area that has been cleared of rainforest to make way for a palm oil plantation in Sabah, Malaysia

CORBIS

9/10 Indonesia

Regenerated palm oil trees are seen growing on the site of destroyed tropical rainforest in Kuala Cenaku

GETTY IMAGES

10/10 Brazil

Brazil launched the Amazon Fund, aimed at protecting the rainforest so vital to the world's climate, and at combating climate change. In December 2008 Brazil launched a national climate change plan which proposed to cut the country's deforestation rate in half by 2018

Getty Images
"There is a much greater sense of shared responsibility and I am feeling reassured by the seriousness with which many big multinationals are taking this responsibility," she added, pointing to the consumer goods giant Unilever and the Sky broadcasting company as examples of businesses getting tough on deforestation.
Mr Butler pointed to several positive developments in the last few weeks, with dozens of the world's largest buyers and sellers of soy, palm oil, cattle and wood pulp establishing policies committing them to "excluding" deforestation from their supply chains.
The biggest coup, he says, came in September when Cargill, which sells £85bn-worth of commodities around the world a year, committed to "zero deforestation" across all its supply chains.
In September, politicians from around the world pledged in New York to halve the rate of destruction of rainforests by 2020 and to halt it altogether by 2030.
The plight of the rainforests has come a long way since Sting brought the situation to the world's attention in the early 1990s.
At that point about 11.3 million hectares of rainforest was lost each year, falling slightly to about 9.3 million hectares a year by 2012, still stubbornly high.
The rate of loss looks set to tumble in the coming years, Mr Butler says.