An Aga – much like a dog – is not just for Christmas, it's for life. That's what struck me as I watched my shiny new Aga cooker being winched through a ground floor window since it was too large to fit down the stairs. Once outside, it dangled in the air from a set of heavy chains – the only thing keeping 450+ kilos of cast iron from smashing into the ground. As two workers guided it down, my dog dashed about hopefully, sure that her half-collie DNA was (finally) needed for some much-needed herding. 
I meanwhile, watched on in horror, realising that if I didn't love my new Aga, it didn't really matter: it wasn't going anywhere. More than seven years later, I don't regret it. But I'm sure I'm not the first owner to have wondered if the switch from a conventional cooker to an Aga was such a great idea. 
Because an Aga is different. With an Aga, you don't control the temperature of the ovens or the hotplates. It's made of cast iron and transfers heat from the core to the ovens and hotplates. My model has three ovens and the temperature of each is set – no turning up or down. There is a roasting oven (the hottest), baking (in the middle) and simmering (for low and slow cooking). On top are two hot plates: on the left a boiling plate and on the right one for simmering.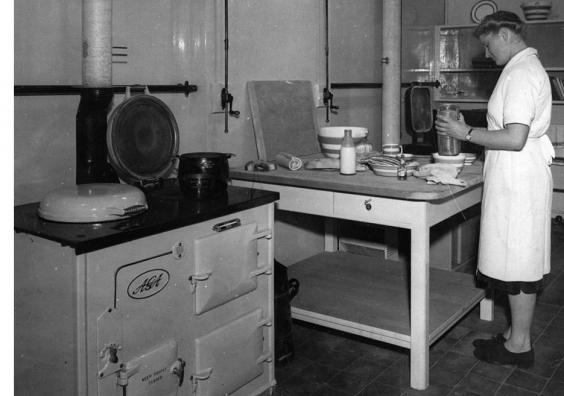 In traditional Aga cookers, the hot plates and ovens are always on so no pre-heating. In 2011, Aga introduced the Aga Total Control where all elements – ovens and hot plates can be switched on and off as needed. Then there is Aga iTotal Control model that can be controlled remotely via a smartphone, PC, laptop or tablet or even by sending a text message to your Aga. It's a move to attract people who don't want an oven on all the time or want to reduce energy usage (the hot plates use the majority of energy required to run an Aga). In 2013, a dual control model was launched – a hybrid between a traditional AGA and the Total Control. It has a low energy oven setting (or you can turn them off completely), plus hot plates that can be switched on or off separately. 
But for all this, the Aga has changed relatively little, which is perhaps one of the reasons for its iconic status. It's probably one of the most recognised kitchen brands and has graced everything from the pages of Jilly Cooper romances to episodes of the Archers. While we think of it as a quintessentially British brand, it was invented by a Swedish physicist named Dr Gustaf Dalén in 1922. The Nobel Prize-winning scientist had been blinded in an experiment. Stuck at home, he decided to try his hand at coming up with a more efficient and easier to use cooker for his wife. The result was the first heat-storage cooker, featuring two large hotplates and two ovens.  
By the late Twenties the cast iron cookers were being manufactured at the Aga Heat Ltd factory in Smethwick, England. It took off quickly; in 1932,1,705 Aga cookers were bought in the UK and in 1934, the Graham Land Expedition Team even took an Aga cooker with them to the Antarctic. In 1947, the majority of manufacturing moved to the Coalbrookdale foundry in Shropshire, where Aga cookers are made today. They're still manufactured by hand as well. Molten iron is poured into casting moulds then the cookers receive multiple coats of a special vitreous enamel which give them their characteristic shine. In total it's a process that takes about three days. The first oil-fired cooker was introduced in 1964, the first gas model in 1968, and an electric Aga in 1985. 
My big concern as a new Aga owner was fear that I'd have to learn a whole new way of cooking. I haven't, although there are many things that are fiendishly simple in an Aga like making chicken stock overnight in the simmering oven or roasting vegetables in one oven while I bake a cake in another. I did invest in some Aga cookware which is tough as old boots and designed so you can stack several pans within the oven – handy when family descend at Christmas. Ironically, Aga stopped making its traditional cast iron cookware but still make a range of cast aluminium and stainless pots and pans. 
In 2015, Middleby – an American company that specialises in food service equipment– bought Aga Rangemaster. Today, Aga cooker prices start at £5,695 ( for the slim City60 and £12,295 for 5-oven models. A lot for a cooker? Absolutely. But as I know all too well, once you've got an Aga, it isn't going anywhere. 
Reuse content