Spring means new life, trees, fresh leaves, longer days, Easter eggs and, of course, Easter itself. Cue all those great little treats from chocolate eggs to a traditional marzipan-topped simnel cake. We've rounded up some of the best kitchenware and decorations to help you make the best of it.
Spring feather egg and twig wreath –  Not On the High Street, £27.50
Wreaths are not just for Christmas. Complete with gorgeous guinea fowl feathers and little blue hand-painted artificial eggs, twigs and moss, this natural and handmade wreath can hang on walls and doors. Or it could be laid as a ring around a candle on a tabletop.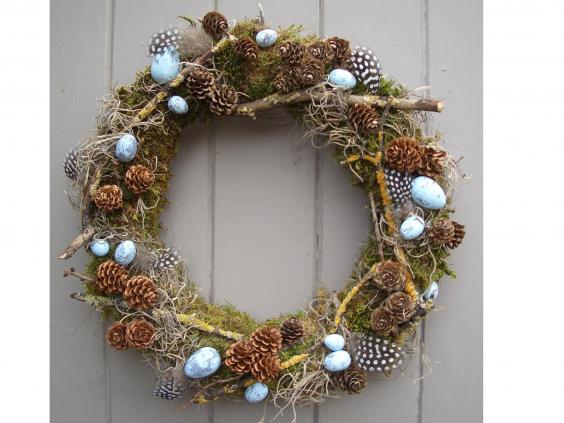 This set of four bowls is quite literally made to display mini-eggs. Aptly hen-shaped, these pastel-coloured cuties are 10cm long.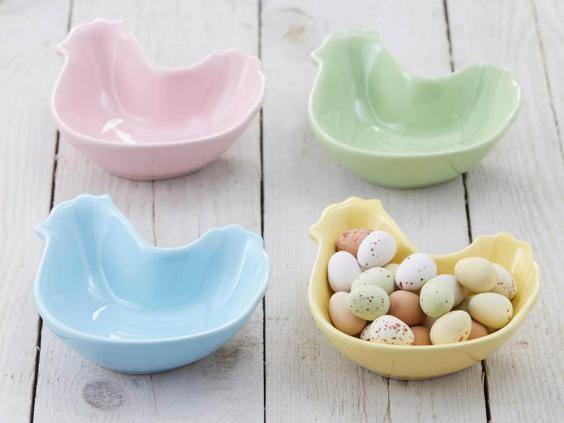 Butterfly bloom three piece set – Wedgwood, £150
Bring out this vibrant tea set over Easter which uses pretty spring colours of pink, yellow and vivid blue in a floral vintage patterns. The set includes a teapot, sugar holder and cream jug. Matching teacups and saucers are available in the same range, as well a three-tier cake stand to complete an afternoon chai.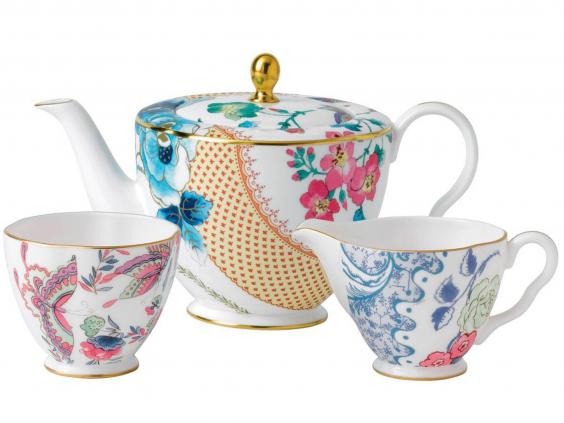 Silicone egg poachers – John Lewis, £4.75
Over Easter weekend, it's always a toss-up between boiled eggs and soldiers or the poached variety. The best way to do the latter – safely and successfully – is with this set of two silicone poachers.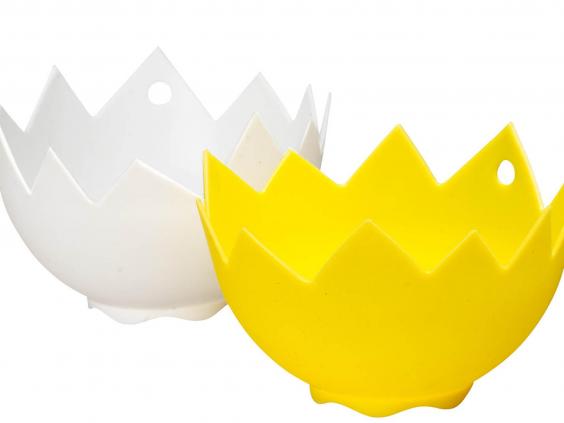 These vintage-designed side plates are perfect for serving up your cakes and hot cross buns and look like something straight off a classic Easter card from the 1950s. The set of four comes with two rabbits and two chick designs in a creamy-orange and mustard yellow colours.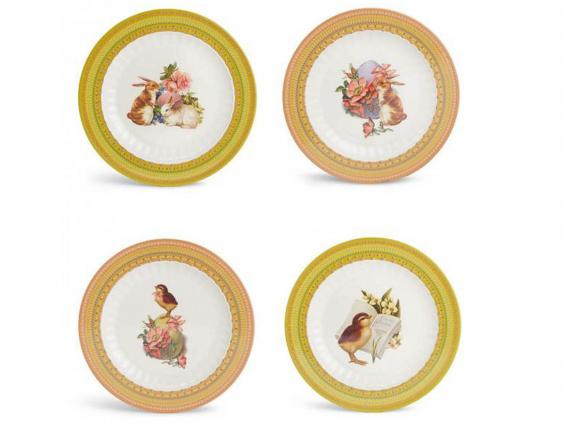 Linen rabbit napkin – Linen Peddler, £6.50
For something a little more subtle in your Easter decorations, go for linen napkins. These ones have blue ink drawings of rabbits on the bottom corners – rather like the original Peter variety – and are rather adorable.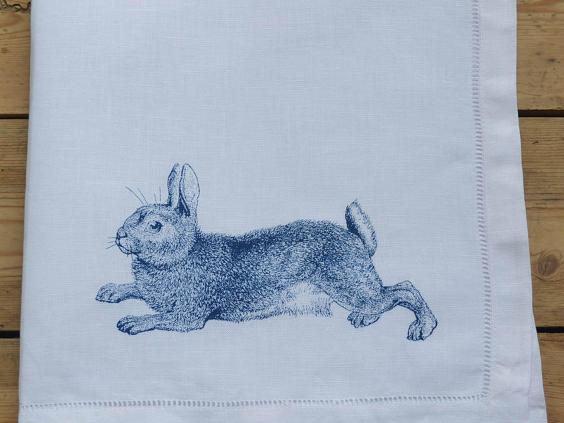 Feet egg cup, yellow – John Lewis, £3
Novelty egg cups are always great. So when you do go for dippy eggs, pop them into these chick feet cups to keep them in place while you perfect your dip.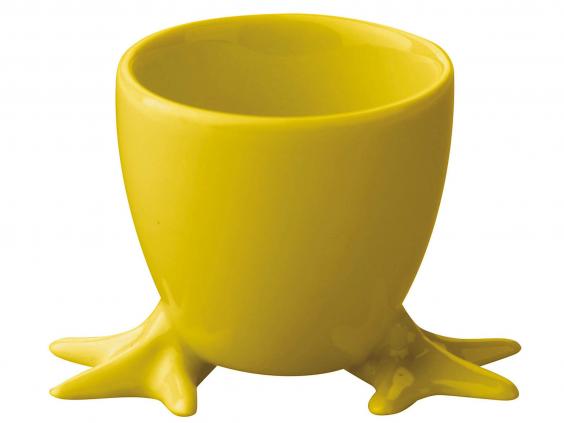 Easter cookie cutters – Lakeland, £3.99
Easter is a great time to get in some easy baking practice in with fun-shaped cutters – for children unless you really like bunny-shaped bickies. Lakeland's set of five come in pastel colours and Easter shapes from lambs to chicks.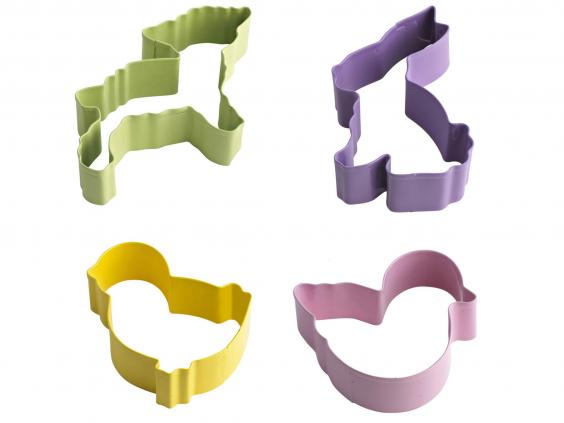 The white porcelain cupcake stand is perfect to display your Easter simnel cake, chocolate Easter nests or hot cross bun – and it looks like some cheeky little rabbits are trying to steal them. It 14cm in diameter and hand-wash only.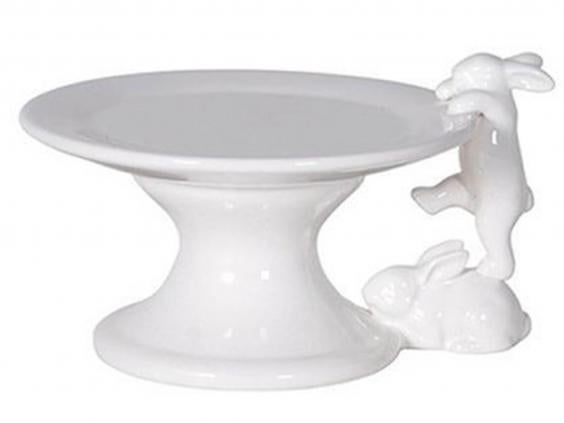 Chicken chopping board – John Lewis, £20
Chop your hot cross buns on this country-chic beechwood chopping board – it's even pretty enough to use to serve them up on the table too.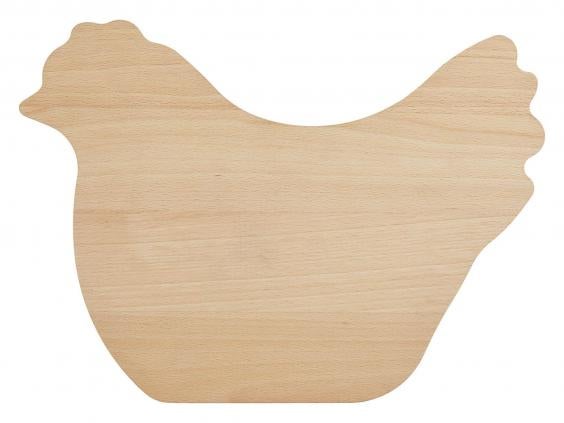 Have a wabbit or two serve your boiled – or chocolate – eggs in these ceramic holders. The cups are available in five colours: blue, pink, green, yellow and white and are sold individually.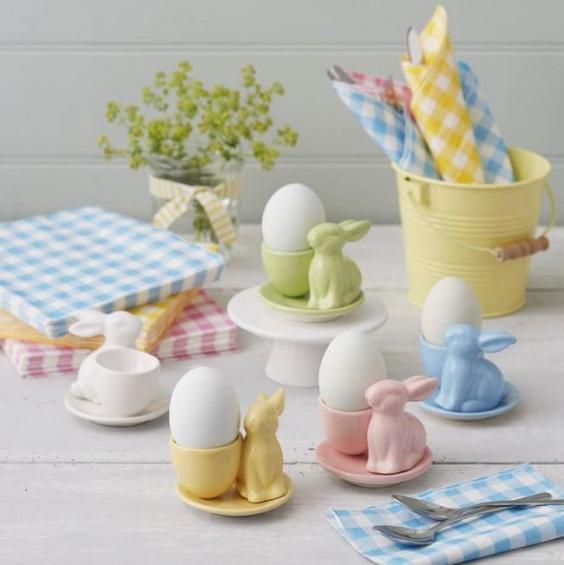 Talking Tables' Truly Bunny bunting – John Lewis, £8
Just in case anyone's not sure what time of year it is, remind them by stringing up this lovely rabbit bunting. Each furry critter even has its own mini-flower garlands around its neck and is 3 metres long.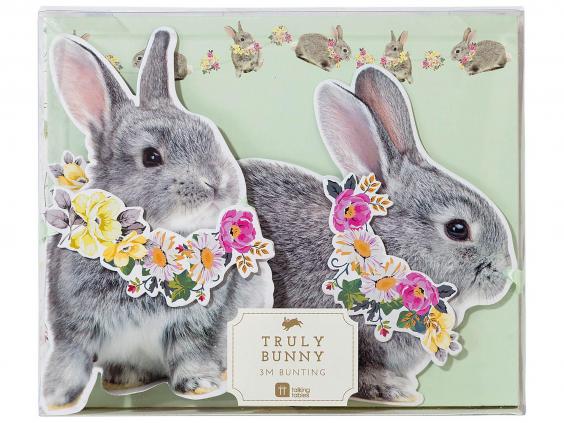 Pastel-coloured cupcake cases – Hobbycraft, £4
If you prefer cakes to hot-cross buns, use these yellow pink and blue cupcake cases but perhaps not all 144 of them in one go.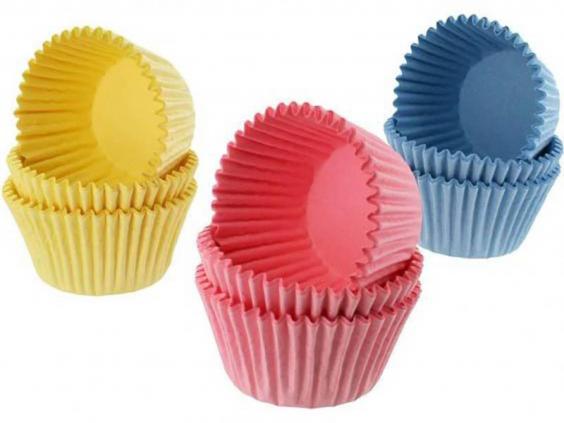 Reuse content