You might not remember Sisqó, but his 1999 hit "Thong Song" should ring a few bells. "Girl I know you wanna show da na da na/ That thong th-thong thong thong" went the enlightened ditty, while the music video showed a great quantity of tanned and pert bottoms enjoying spring break in Miami, each displaying a thong.
In the UK the sales of thongs, or G-strings, rose through the Nineties to meet the demand for hipster jeans, cut too low to accommodate big knickers and with too tight a fit for the visible panty line of a bikini brief.
Well, Sisqó, if you're listening, the sun is setting on your thong-thronged beaches, as confirmed by our official national arbiter of undergarments, M&S, which sells 60 million pairs of knickers every year. "Today less than one in 10 of the knickers we sell is a thong," confirms a spokesman.
"This shape is decreasing in popularity as women are falling in love with shapes like the Brazilian [NB: no hair removal is involved with the wearing of this knicker] as a no-VPL alternative, or choosing styles like the leg-lengthening high leg, or fuller shapes such as the midi."
The trend for thongs seems to have bottomed-out in the US, too. With handbags, cars and property firmly out of their price range, Millennials and the Generation Y crowd (over 35? This isn't you.) are putting their pennies where their pants are, pursuing a trend for big knickers over barely there G-strings.
According to figures from a US research company NPD Group, sales of thongs are down seven per cent, while sales of more generous bottom coverings have gone up by 17 per cent in the past year.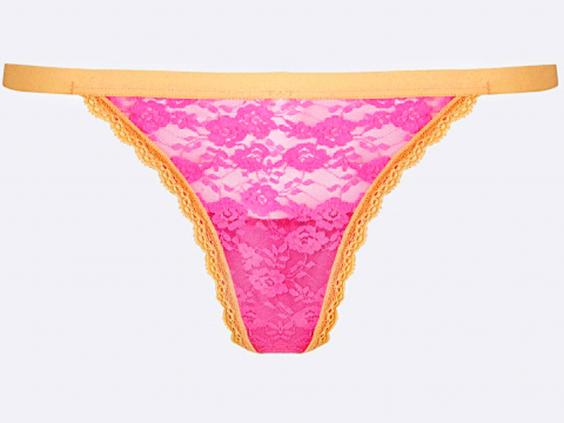 That 17 per cent includes a number of types of knickers, such as the high-waisted, broad-bottomed granny pants, popularised by Bridget Jones; boy shorts, a skater-style full-bum option; and high-waisted briefs which are cut higher on the hip and behind than a granny pant, but stretch up over your tum.
"Thongs have had their moment," confirmed Bernadette Kissane to The New York Times, which has reported on the phenomenon of wearing granny panties as a feminist act: young women are choosing plain, big, even baggy pants to make a political statement against the overtly suggestive itsy-bitsy teenie-weenie undies.
What's more, thanks to Chloe Sevigny and her high-waisted Mom jeans, there's plenty of space for granny knickers.
M&S is clear that in the UK at least the growing appeal of bigger pants is not accompanied by a move towards plainer materials. "In terms of style, there is no place for Bridget Jones boring knickers in our ranges!" says head of design Soozie Jenkinson. "Our customers are loving anything lacy at the moment including bigger knicker shapes."
Agent Provocateur sell high-end and very saucy underwear to customers with deep pockets, and it is seeing similar trends.
"There has been a surge in the sale of 'bigger knickers' over the past six months for us," says creative director Sarah Shotton. "Although thongs are still popular. Larger-style briefs have been selling out across our stores."
While women's taste in pants is diversifying, The Independent's fashion editor Alexander Fury has noticed some impressive rises in men's underwear over the past few decades, notably when Tom Ford first sent a Gucci thong and then a sheer brief down his men's catwalks in 1997 and 2001 respectively.
Then there's the work of labels including DSquared and Versace in developing a larger market for men's underwear. (Fury interviewed Donatella Versace last year after she had shown a collection of lace lingerie for men.)
No longer a gay thing, outré men's pants are for exceedingly preened heterosexuals too. After all, Cristiano Ronaldo has his own line, CR7.
Much of our desire for bigger knickers suggests a tongue-in-cheek reference to today's fashionably bigger bottom. Over on Instagram, the craze for belfies – selfies of bottoms – intersects with the showing off of big knicker-wearing behinds. So much for showing a little more modesty and a little less social media-exposed sexiness.
Reuse content