H&M has featured its first ever Muslim model in a hijab in a video showing off its most recent clothing collection.
H&M, which is the world's second biggest fashion outlet, saw keen social media interest after its first covered Muslim model, Mariah Idrissi, appeared in a diverse video for the brand.
Old and young, Sikh and Muslim, large and slim models were included in the promotion - dividing commentators as to whether it is a cynical use of the headdress or a progressive step to be applauded.
Yet the model, who is from London and began wearing the headdress at 17, said she went to the photoshoot with the consent of her parents, was able to mostly work with female staff and has been called an inspiration by Muslim women's sites.
In an interview with Fusion blog, 23-year-old Mariah said: "It always feels like women who wear hijab are ignored when it comes to fashion."
She features briefly in a doorway, in a peach-coloured coat, headdress and shades, before the camera switches to a man in Islamic outfit. The voiceover says: "Look chic, look sheikh".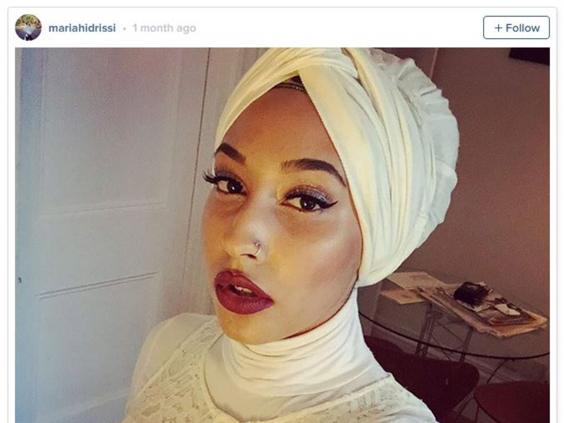 Uniqlo was the first major high street shop to create fashion-forward headscarves as part of its collaborations. But whilst they were designed by young British designer Hana Tajima, the headdresses are currently only available in some countries in Asia.
Since appearing in the H&M video, meanwhile, Mariah has found herself beset with fashion requests for the style she wraps her turban hijab in, according to Fusion. She recently opened her own salon specialising in henna and nail-polish, called Salon Marrakesh, in London.
Blogger MuslimGirl wrote of the photoshoot:  "In a simple and quiet way she made others look at a Muslim woman without fear or contempt but with a healthy curiosity. Mariah opened a conversation that has always been strained.
"Because sometimes, throwing Muslim rage at social issues doesn't always work. Being super nice doesn't always work either. But to stand and be noticed, to be accounted for, that's an example anyone can follow."
Last month an Islamic model in Italy competing for Miss Italy came under fierce criticism for her decision. Similarly there are comments across Twitter and on the MuslimGirl blog about the photoshoot being in conflict with the religion's commitment to modesty.
Either way, reports have tracked the growing popularity of the hijab for several years, with the Economist pointing in 2014 to a growing market demand for fashionable headdresses and abayas in several continents.
Reuse content