Ever been tucking into a bowl of pasta and thought 'Damn, dinner time would really come alive if everything  tasted like a Big Mac!'? Well, this is the limited edition product for you.
McDonald's has bottled its trademark Special Sauce, an integral part of the Big Mac since its inception.
The condiment was previously transported to restaurants in sealed canisters and dispensed on to burgers using a quite terrifying 'sauce gun'.
But now it is yours to own for a limited time only, with 200 500ml bottles being produced, the first of which is being auctioned off on eBay.
It has already received 135 bids and stands at $23,000 AUD at the time of writing, with eight days still to go.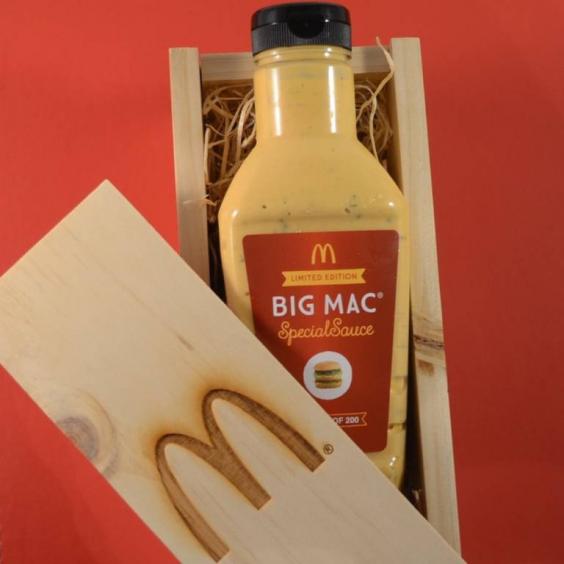 A further 600 25ml tubs will be sold at each of Australia's 920 McDonald's outlets, with people set to queue round the block for the privilege of making their food taste like grease and hangover.
"Big Mac sauce is one of the most iconic McDonald's ingredients and people often ask us where they can buy it; so we're excited to be the first country in the world to offer tubs of Big Mac sauce to our customers," said McDonald's Australia's Chief Marketing Officer Mark Lollback.
"I know of people who love adding our special sauce to all types of food – from french fries to McNuggets – so it's going to be interesting to see what Aussies choose to add a spot of Big Mac sauce to over the next month."
McDonald's meals around the world
McDonald's meals around the world
1/14 Black and White burger, served in China, Hong Kong and Taiwan

The black burger contains beef and onion topped with black pepper sauce, while the white burger contains chicken with lettuce and a spicy sauce

2/14 McCurry Pan, served in India

A bread bowl filled with chicken curry

3/14 McBaguette, served in France

Baked in a ciabatta roll and topped with emmental cheese

4/14 McLobster, served in Canada

Only served in summer...

5/14 Shrimp burger, served in Japan

Prawn-filled burger topped with thousand island sauce

6/14 Das Nürnburger, served in Germany

Three Bratwurst sausages served with mustard inside a soft white bun

7/14 Prosperity Burger, served in Malaysia

Meat, meat, meat, onions and black pepper sauce

8/14 Chicken Maharaja Mac, served in India

9/14 Cheese Fondue (left) and Carbonara Burger (right)

Served only in Japan

10/14 Pasta Zoo

Australia and New Zealand's take on the Happy Meal

11/14 Deluxe Breakfast roll, served in Australia

With bacon, hash brown an egg and spicy tomato

12/14 McBeer

Found in all good McEuropean restaurants

13/14 McAloo Tikki, served in India

14/14 Kiwi stick, served in Italy
The sauce's ingredients are no secret – relish, mustard, onion, garlic and mayo – but it is the balance of them that creates the authentic McD's flavour.
Though you can buy it on eBay from anywhere, a McDonald's spokesperson told us there are no plans for the sauce to be formally sold in the ULK.
The fast food franchise is to be the subject of a feature film in the next few years, with Birdman Golden Globe-winner Michael Keaton in talks to star.