Pasta. It's one of the simplest and quickest things to whip up, but if done well, can be one of the most delicious and comforting meals in the world.
We all love pasta, and we're inundated with with types - never mind what the pasta is actually made of, one of the most divisive dining dilemmas can be choosing a pasta shape.
Do you play it safe with spaghetti, get fancy with farfalle or push the boat out with pappardelle?
We polled friends, colleagues and pasta experts to create a definitive list of the best and worst pasta types. 
Disclaimer: the judges rules that stuffed pastas and sheets would not be part of the consideration.
1. Orecchiette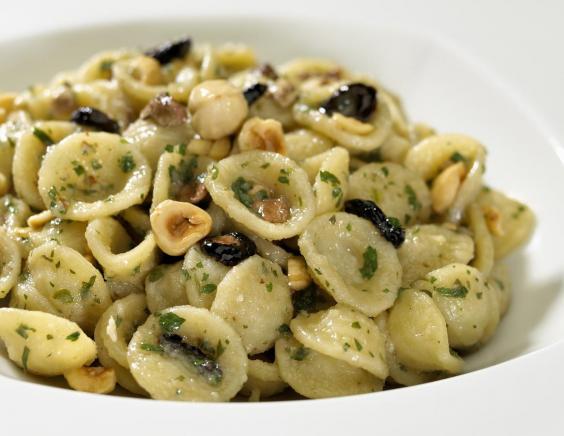 It appears no one has a bad word to say about these little curled pasta pieces from Puglia, and according to Marina Dentamaro from top Italian restaurant and shop Lina Stores, orecchiette is the best pasta shape of all.
"This pasta shape has got a great consistency that works very well with vegetables, in particular with cime di rapa, a particular type of broccoli and fresh chilli," Dentamaro says. 
"Best are the handmade ones - eggless and slightly chewy - a real taste of south of Italy." She adds that orecchiette is also great with meat ragus or in pasta salad.
It's not the most common pasta type but most people who try it, love it: "You can make so many different things with it, it's super consistent and they're like mini bowls so each piece always has sauce - sometimes a few of them get stuck together and that's always a nice treat," says Chloe.
"It fits on the end of your tongue!" says Lucy. High praise indeed.
2. Tagliatelle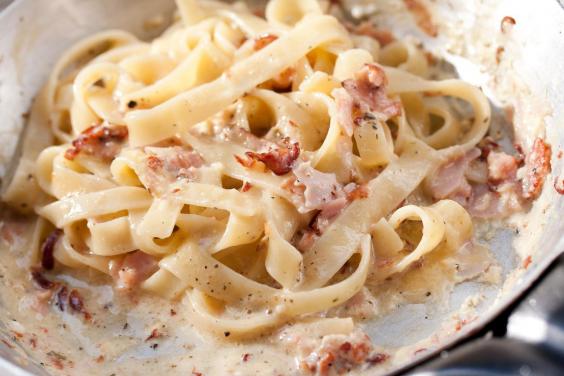 Possibly one of the most comforting pasta types - especially with carbonara - tagliatelle is a real people-pleaser.
"It's like the udon noodle of Italian food," says Kaz, which makes it more substantial too.
Others pointed out tagliatelle's superiority over its thinner sister, spaghetti: "It mops up more sauce," says Martha.
3. Conchiglie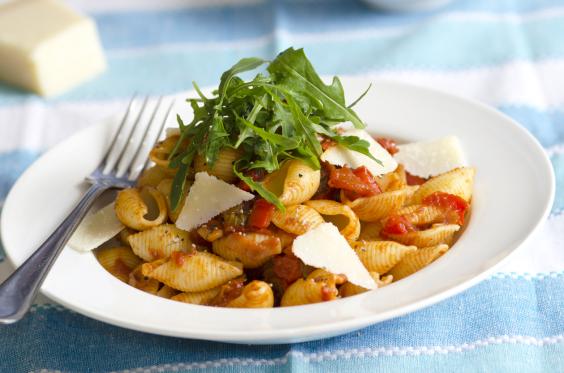 Shells are fun, there's no denying it. You're eating a shell! Such fun. These pasta pieces - conchiglie if you want to get all fancy - are basically always a good choice.
"You mix the sauce in and you're like 'damn where's the sauce gone' and then you bite into it and you're like 'oh there it is'," Jamie pointed out. "What an exciting way to eat food right?"
He is neither wrong nor alone: "If you're having bolognese then little bits get stuck inside and make for a taste explosion," Maddy agreed. "And it's a shell. What's not to love?"
It's good in pasta salads too, like oriecchette.
4.  Pappardelle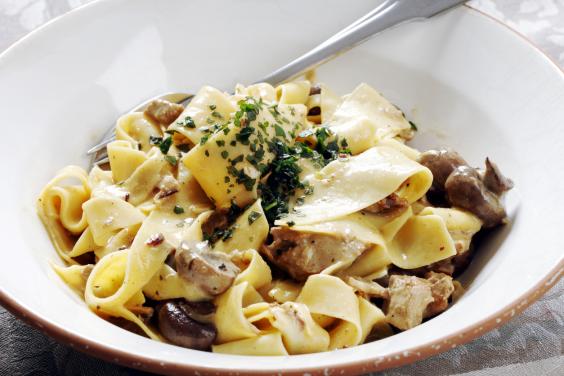 Carrying on the love of long, thick shapes (steady on), these large, broad strips of pasta take fourth place. 
With its length and width (please stop), pappardelle seems more indulgent than narrower pastas: "Pappardelle all the way! It's like a thicker version of tagliatelle," Anna pointed out.
"It feels like a real treat," says Olivia.
5. Spaghetti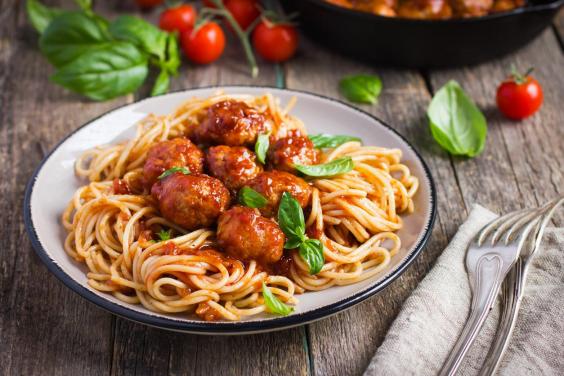 This is where things start getting divisive. Spaghetti is one of our main pasta staples - after all, who doesn't love a big plate of spag bol? - and many people are big fans.
"It's sooo thin so you get a good sauce to pasta ratio," says Rachel M. 
"Even though it's hard to eat, it always cooks perfectly," added Charlotte.
But plenty of people think spaghetti is annoying, difficult to eat, messy and just overrated: "Who the hell thought rolling pasta into 30cm by 2mm pieces would improve the eating process?!" asked Alex W. It's a valid question.
6. Bucatini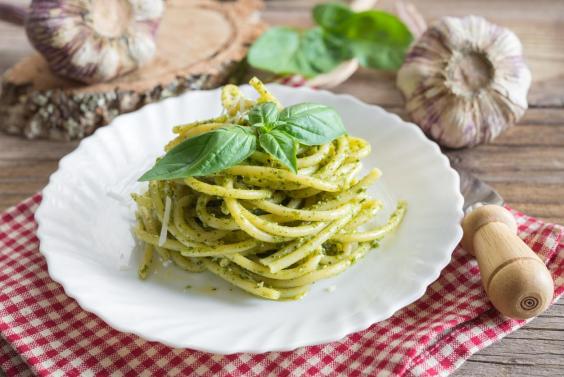 Little-known in the UK, bucatini is essentially thicker spaghetti with a hole in the middle. Helen called it "amaze" and Emily says it's great because "it stays al dente and the sauce gets all the way through the middle."
It sounds like if more people tried bucatini it could claw its way up the rankings.                
7. Pici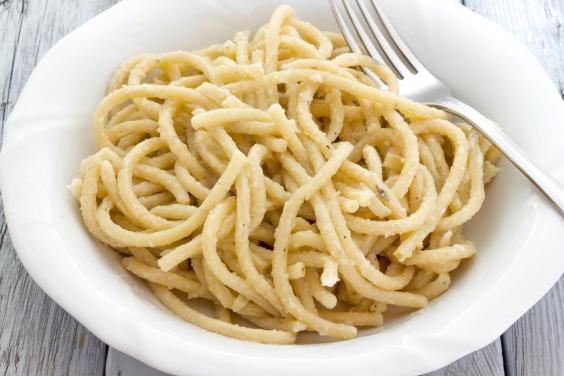 In a similar situation to bucatini is pici, which is thick, hand-rolled pasta, like fat spaghetti (but without the hole in the middle, à la bucatini).
And as we all know, thick is great: "I like the thickness and the fact it's hand-rolled so you get a variation," Ibrahim pointed out. "It's not uniform and feels more rustic, plus it's a good one for saucey dishes cos it picks up everything around it."
Marieke agrees, saying that she had pici in Tuscany (from where the pasta hails) with truffle sauce and "fell in love." But let's be real, most of us would fall in love with anything covered in truffle sauce. 
8. Fusilli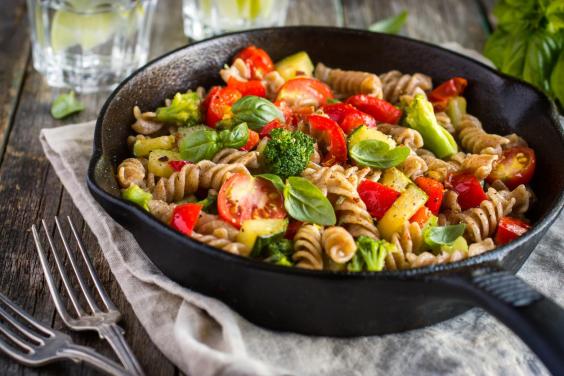 From the obscure to the everyday - in comes fusilli in eighth place. Or, as they are also known, twirls and twizzles. 
Some fusilli fans love it because it's easy to eat: "Easier to eat than spaghetti and tagliatelle, and more to it than penne, which can get slimy," Sally said. (And we'll get to penne, worry not.)
It also has a fun texture: "I love fusilli with thick sauces because it keeps it so well between the grooves so when you take a bite you don't lose the sauce," says Marieke.
But it's also undeniably a relatively average pasta: "I literally hate fusilli, so much. They irritate me," says Sofia (who is an actual Italian).
9. Linguine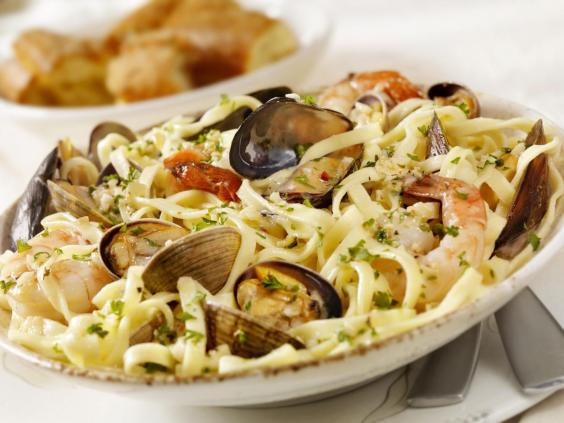 Like spaghetti but wider and more elliptical in shape, linguine is a good pasta. But the thing is, no one has strong opinions on linguine. Literally no one. Hence we don't have much to say about it. 
10. Capellini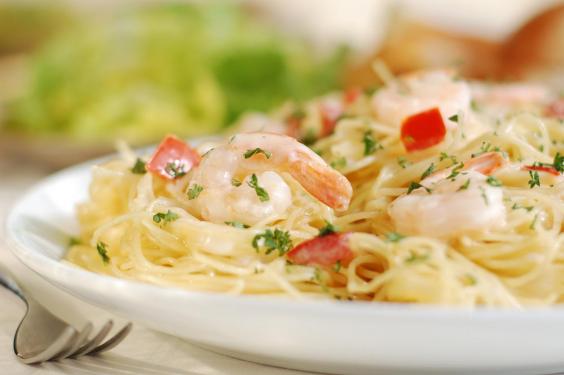 More commonly known as angel hair spaghetti (why we do not know - do angels have different hair to the rest of us?), the main selling point of capellini is its cooking time:
"Like spaghetti, but without the faff," argues Thea. "And for those way too impatient to eat their pasta (like me), it cooks in half the time."
But capellini is also pretty slimy and the thin texture is just a bit weird: "I hate angel hair," says Amber. "It makes me feel like I'm choking on actual hair." Eww.
11. Fettuccine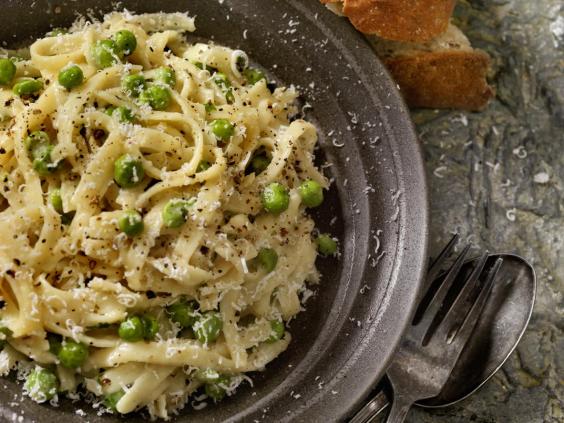 Flat, thick and ribbon-like, fettuccine is like tagliatelle but wider. To be honest, it's like tagliatelle's forgotten, less impressive sibling. It was probably the middle child. Stuck between crowd-pleaser first-born spaghetti and baby of the family pappardelle. 
Poor fettuccine. You are tasty, just overlooked. You'll get the appreciation you deserve some day.
12. Rigatoni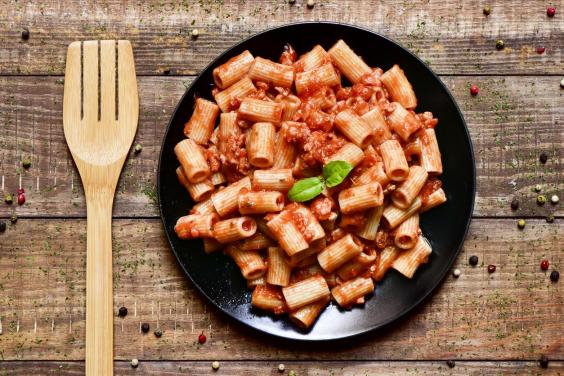 Big tubes with ridges down the middle, rigatoni is a delicious pasta to eat. If the texture of the pasta itself wasn't enough to give your tastebuds a sensational experience, each tube will be full of delicious sauce. 
How much will you get in each one? Who can say? It's a surprise with every mouthful, and if that's not living we don't know what is. But is it essentially just penne but slightly more alluring because it's less common? Perhaps.
13. Orzo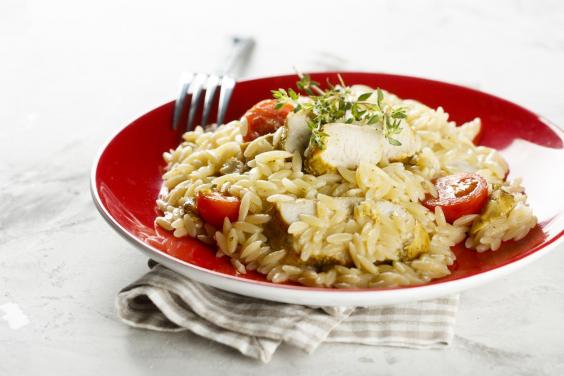 It's one of the trendiest pastas of the moment, but Dentamaro from Lina Stores believes Orzo is totally overrated and doesn't deserve to be so popular.
"I used to eat this pasta shape when I was sick at home and my mum looked after me by cooking orzo in broth," she says. "That's the only use I would do! It's definitely not for pasta salad or other sauces." 
Strong words, but many people would argue orzo has its merits: "Orzo is quite rugged. It's the Daniel Craig of pasta," says Dave.
"I can literally eat about a kilo before I feel full," adds Alex W, which is either a good or bad thing depending on your aims in life. 
14. Macaroni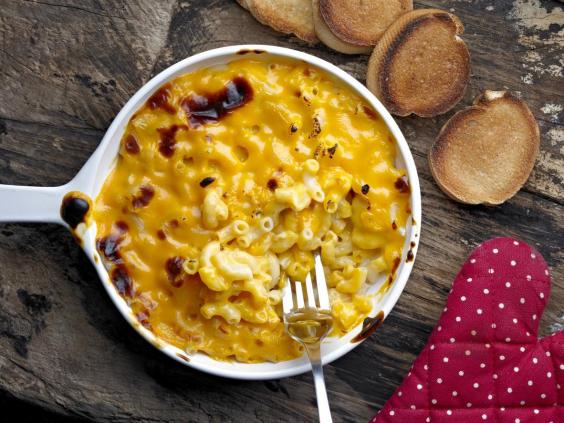 It's simple, it's comforting, and it's been hipsterified - yup, the humble mac 'n' cheese is now commonly served from food trucks, topped with lobster and truffle oil, and sold for £7 a pop. But Dentamaro believes macaroni is in fact the worst pasta shape.
Apparently, as it's essentially the lovechild of penne and rigatoni, macaroni isn't an authentic Italian shape and is - surprise surprise - more American. "I find it very difficult to combine with any type of sauce (apart from the American mac 'n' cheese)," she says.
Authentic or not though, mac 'n' cheese is undoubtedly delicious: "Macaroni is the best because it always goes with cheese," says Freya, which is definitely a good thing.
"I get excited by macaroni because it brings back grandma memories and also the density of pasta pieces per spoonful is impressive because they're small and fit together nicely," adds Dave, making a valid point.
15. Farfalle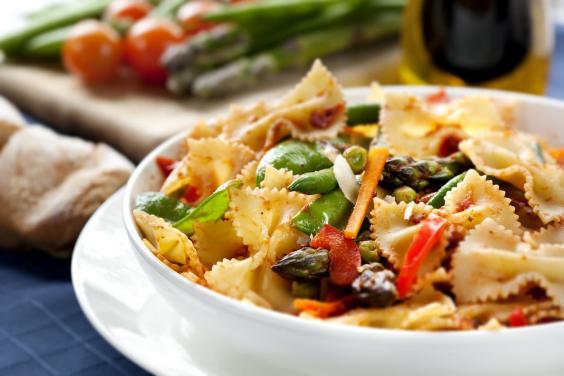 Oh farfalle. Farfalle, farfalle, farfalle. You look so pretty, you promise so much, and yet you are so often disappointing. Like that super hot guy from the gym whom it turns out can barely hold a conversation. 
"They are bringing nothing to the table bar unnecessary 'quirky' novelty," Helen argues. And she's not alone.
"The worst is farfalle because the middles don't always cook and the flat parts are slippery and yuck," adds Charlotte. And Ibrahim says it was his childhood fave until he realised he only liked them for their bow-tie shape and they're actually hard to pick up with a fork.
Nevertheless, there are a few farfalle fans out there, such as Rachel A, who argues they pick up sauce well and mean no slurping.     
16. Penne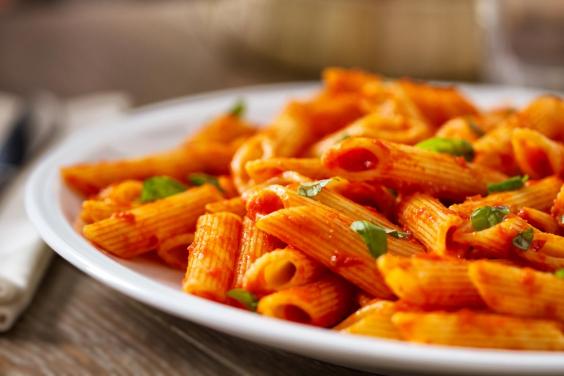 If there's one thing we've learned from this experiment, it's that there's a lot of hate for penne in the world. It's the basic bitch of the pasta world, and has been slammed as "average," "standard," and "boring."
"It always tastes like dish soap and I have no idea why," says Channon. 
"Somehow I always manage to get it tasting like sludge," added Alex B.
No one gets excited about penne. It's fine. It's nice. It's the girl your parents wouldn't mind you marrying, but she'll never give you butterflies in your tummy, a twinkle in your eye or fireworks in your you-know-where. 
Don't settle for penne, you can do so much better.
The most outrageously expensive food on the planet
The most outrageously expensive food on the planet
1/8

The £15 cappuccino

Emirates Palace Hotel

2/8

The $2000 pizza

Industry Kitchen

3/8

The £1500 cronut

Dum Dum Donutterie

4/8

One false move and it's £1500 down the drain

Dum Dum Donutterie

5/8

The $1000 ice cream

Serendipity 3

6/8

The $169 hot dog

Tokyo Dog

7/8

The $777 burger

Burger Brasserie

8/8

The $25k taco

Grand Velas Los Cabos Resort
Another thing we learned in our research for this ranking is there are so many more pasta types out there than we ever knew: gemelli, mafaldine, linguini, cavatappi and stringozzi were all named as favourites too.
But any pasta can be delicious.
According to Matteo Polgrossi from La Tua Pasta, the worst pasta is that which has a smooth sauce because it "doesn't allow the sauce to cling to the pasta."
He says it's all about matching the sauce to the pasta really: "Carbonara Sauce often goes with spaghetti, bolognese sauce with tagliatelle, pesto with trofie." Oh, and you must never put ketchup on pasta.
When it comes to cooking top-notch pasta at home, Dentamaro says you need to be patient: "A good sauce needs its cooking time - the slower the better!"
She also says it's important to choose the highest quality ingredients: "It might be more pricey but you won't go wrong."
But Dentamaro's most important tip for cooking delicious pasta? "Lots of love and passion, always."
Reuse content