It's an odd thing for a chef to say taste isn't the most important element of cooking, but Tom Hunt is no ordinary chef. "I think people misinterpret it as if I'm saying taste isn't important at all," Hunt says among the hustle of Borough Market. "But for me ethics will always rightly be a priority."
Tom Hunt is a self-proclaimed eco-chef and food waste activist, who alongside a glittering list of Michelin-starred chefs – Alain Ducasse, Raymond Blanc and Fergus Henderson – has just appeared as a guest chef at Dan Barber's Selfridges residency WastED. Barber, a hero of Hunt's, is renowned for his innovative approach to food waste: one of the recipes from WastED's previous incarnation in New York was a hamburger made up of pulp from a juice maker.  "Dan is able to drill down into an issue, really look into it and study it to the point where you feel he has the answers and can save the world." 
Barber's expertise even led to him sitting on Barack Obama's council on fitness, sports & nutrition as an adviser on food waste, a route Hunt himself would like to go down. "I couldn't think of anything better than being involved on that sort of level, " he says. "To be able to talk about sustainability, climate change and the future of food and to have the opportunity to lobby the government to improve our food system is something I would definitely love to do."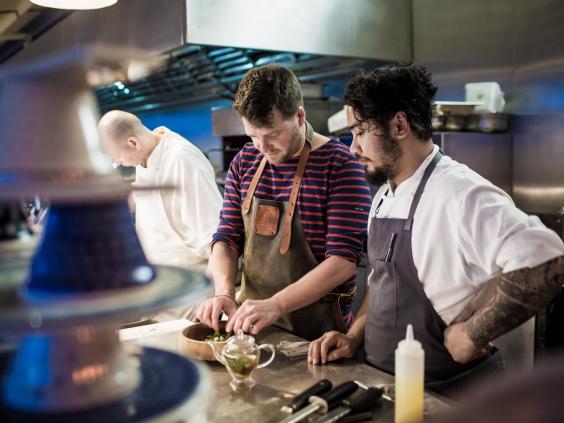 Having grown his own peas at his parents' home in the countryside in Dorset as a child, the origin of food and the journey it takes to get to the plate has been something Hunt has always been acutely aware of. His experiences tending vegetables and milking goats in his parents' garden were the seeds of his now ripened enthusiasm for sustainably grown produce.
 After completing a fine art degree in Falmouth at the age of 23, Hunt made the decision to focus on cooking and joined best friend Ben Hodges to cater for weddings and festivals, serving organic food. It was only when another prominent food waste activist, Tristram Stuart, approached him to cater for 200 people on the Southbank, using only food waste, that  Hunt realised his true calling. From that point onwards, the ethics of food were his main concern.
"As it happens this was the exact same time as I was opening my first restaurant Poco in Bristol," he says. "I knew I didn't want to be one of those chefs that might open one restaurant and say: 'This one will be my sustainability arm,' or 'I'm not serving beef in this restaurant because it harms the environment,' but then own three other restaurants that serve beef. So me and my partners ended up blueprinting our environmental policies and green mission on to Poco." 
But why the need for food waste activism? According to the Waste and Resources Action Programme (Wrap), the UK annually wastes 10 million tonnes of food, 60 per cent of which could have been avoided. At a point where 8.4 million British people struggle to put food on the table, waste on that scale is grotesque.
Why do we waste so much food? "We live in a world of convenience and so we've lost touch with food's true value," Hunt says, bursting into life as we broach his favoured topic. "There's something addictive about our consumerist culture. It's a culture of waste and excess, and unless you're a monk in the most remote parts of Asia, it is something we all buy into. It's a deep and complex topic but the crux of it is that we've lost touch with the value of our food."
In an increasingly urbanised world, where people are more likely to see fruit and veg in a packet than in the ground, it's hard to overcome the thought that our indifference to food waste is only going to get worse. Hunt is more optimistic. "Unlike climate change, food waste is a tangible thing," he says. "It's a subject people care about and can connect with. It's right in front of them and it's easy to grasp what's being wasted on a larger scale."
So, what can be done? "In terms of what we must to do on a personal level, I truly believe that part of the solution is consciously eating for pleasure," he says. "Rather than just gorging on cakes, we need to connect with the origin of our ingredients and learn through growing them, through cooking, through making things from scratch."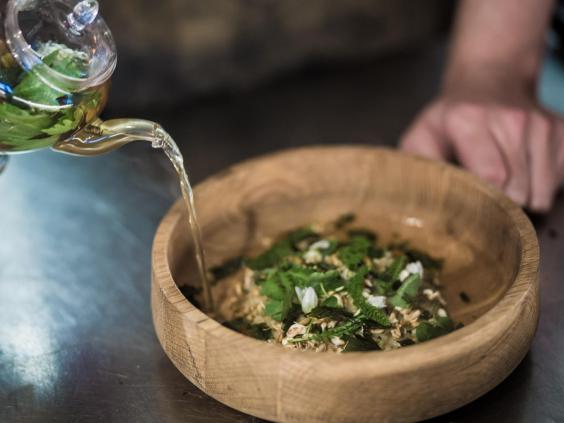 That's all very well, but doesn't our inefficient and wasteful food system need bigger thinking than just "enjoy cooking more"? What would Tom Hunt the legislator do? If he was to implement one law, what would it be? Being put on the spot appears to overwhelm Hunt a little. His mind is awash with ideas. Of the hundreds of solutions to food waste he's dreamt of, it's hard to pick one. Typical of a utopian, rather than picking one he decides to give an appraisal of the whole farming system.
"At the moment we're told the solution is monoculture – GM crops – but the real truth behind that is that these systems are to drive profit and not the fair distribution of food," Hunt says. "We need to re-populate the countryside and change the way farming is done. My main focus would be to change the subsidy structure: make it financially viable for people moving out of cities to create their own regenerative, agro-ecological farms that encourage biodiversity."
"This isn't just some wacky idea, " he assures me. "Wildlife has decreased by 15 per cent in the past 40 years, which is partially due to pesticides. These chemicals have also had an awful impact on the quality of our soil which in turn affects the quality of our food. By importing less food from elsewhere and growing more here, we'd also lessen the worst impacts of globalisation and stop monopolising poorer countries' resources. Our individual choices about what we decide to consume are extremely important. However my main goal is to contribute towards a fairer global food system." 
As we begin the Brexit process of re-writing our laws, it is a timely moment to re-evaluate and decide what society we want to live in. Perhaps Tom Hunt has some of the answers.
Reuse content