It used to be that when you bought a phone, that was it. It couldn't get any better and fixing any fault in the firmware was a convoluted business. But the arrival of the smartphone brought with it easily updatable operating software with downloadable software updates to give your phone (or tablet or camera, even) extra life.
So in the last few hours Apple has improved the operating software for its iPhone and iPad. As always with this kind of update, it's free. The newest version of iOS adds graphical improvements, new voices and compatibility with CarPlay, Apple's newly announced in-car software. So here's how to update your iPhone or iPad.
It's a simple enough process and pretty quick. Launch the Settings app, look under General and go to Software Update. Note that if you didn't install the last update (7.0.6) it will try and fail to install that first. Turn the phone off and on again and it'll search for the latest update – version 7.1 – and install that. It takes a few minutes to download and then a few more to complete its task. Note that you can't do much with your iPhone while it's doing this so maybe don't do it when you're expecting an important phone call. The whole process should take less than 20 minutes though your broadband's download speed will govern some of this. It's too big a download to be done over 3G. It was slightly quicker on iPad than iPhone in my experience.
Once it's done – what can you expect? Not the radical change that iOS 7 brought last autumn with its complete visual overhaul and extra features. That would be too confusing after less than six months. But there are quickly visible changes. When someone calls you, the "Slide to Answer" box has changed from an oblong to a lozenge that makes it clearer you should start that sliding motion from the very end point where a circle containing a green phone sits. Above that are two other options: Remind Me and Message. Tap either of these to send the incoming call to voicemail and create a reminder to call them back at a set time or reply to the call with a message such as "I can't talk now – I'll call you later". These features were there before but they look better.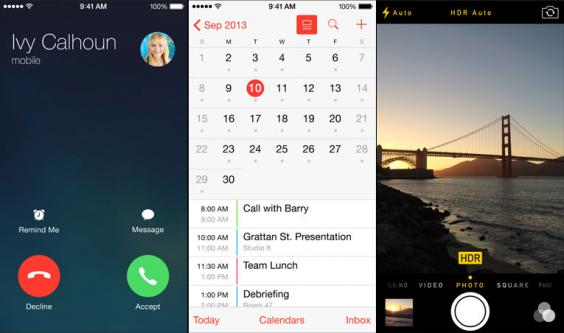 Much better, I'd say – that oblong to answer or end a call was the visual outcast of iOS 7, looking unfinished and uncertain. Removing it is a subtle but welcome improvement. There are many of these in 7.1, like the improved calendar. Previously there was the option of a monthly view or daily but nothing in between. Now you can opt for month calendar with the bottom of the screen given over to a selected day's events. For a full list of upcoming events, however, similar to the list view in the iOS 6 calendar, you're out of luck. In iOS 7, tapping the magnifying glass on the calendar screen showed a full, scrollable list of previous and upcoming events. Now, the magnifying glass shows a search box and keyboard but no list. As a list view addict, I have to say I really miss this. Please bring it back, Apple (in iOS 7.1.1).
[Update: it turns out is should have known better, and it took an Independent reader to put me right (thanks Sue Q). To be fair, it is not intuitive and can be hard to stumble across. Here's how: with the new view that is part calendar, part list, when you touch a date it will show that day's events only. However, with this feature turned off, say a full month's view on screen, then tapping a date brings up the full events list, with full search features. Hurrah. Even if it is slightly hidden.
Actually, if that's too fiddly, there's always the outstanding Fantastical app which should be on on everyone's iDevice anyway. It allows for natural text entry ("Every third Thursday at 12 until November" is competently understood, for instance) and you can read the list of upcoming events in multiple ways. It's excellent and worth every penny of its £2.99 price]
Siri, the excellent voice-activated personal assistant, now has a new voice. Two, in fact. Just like the US version, you can choose between female and male voices. Fans of the previous male voice of Siri may regret that it's no longer available, but the new voices are softer and more appealing. Incidentally, if Siri says your name wrong (it used to call me Dave-ood instead of David), can correct it. Just say "That's not how you pronounce my name" and it'll invite you to say it properly. Do so and it replies, "OK (thank you)" with such perfectly modulated tones you can hear the parentheses. This was in earlier editions of the software but is not well known.
More than a business: How the iPhone became an icon over 7 years
More than a business: How the iPhone became an icon over 7 years
1/7 1. Newton MessagePad

Before the iPhone there was Apple's Newton MessagePad - a series of gadgets released between 1993 and 1998 that introduced the public to - and the coined the phrase - PDA, or 'personal digital assistant'. The devices could send emails and faxes, and organize users' contacts and calendars. The was loved by tech enthusiants but flopped commercially. Thankfully the idea of a truly convenient PDA would come back to life with the smartphone and the iPhone.

2/7 2. Introduction of the iPhone

On the ninth of January 2007, Steve Jobs introduced the original iPhone. Yes, it had only 128MB of RAM, a punishingly slow 2G connection and it cost £335 for the 4GB model - but the introduction of this "magical device" (Jobs' words) would more than live up to the hype, making the idea of a 'smartphone' a reality whilst simultaneously kickstarting the mobile revolution that is still shaping the digital world.

3/7 3. iPhone hype begins

And six months after the first iPhone was announced, we were hit by the first iPhone hype. We've now become fairly used to the annual churning of the rumour mill and the pictures of fans celebrating with their new purchases (that's one of the first owners of the original iPhone on the left) but this hasn't always been the norm. Is it sustainable? The queues may be dwindling each year but the sales keep racking up...

4/7 4. Copy & Paste introduced

The iPhone has not always been about big disruptive shifts, and the excitement over the introduction of even minor freatures (such copy and paste with the 3GS) shows just how much Apple's famous 'reality distortion field' can influence even the public.

5/7 5. The App Store launches

With the launch of the app store on 11 July 2008 Apple made a digital marketplace for software a real thing, bringing out the full potential of the pocket computers we all now carry. This month Apple announced that the app store has grossed more than $10 billion since its launch, with developers taking hiome even more - $15bn - thanks to in-app purcahses and the like.

6/7 6. Foxconn suicides

Not all of the iPhone's milestones have been happy ones however. In mid 2010 a spate of suicides at the factories of iPhone maker Foxconn were deemed 'troubling' by Steve Jobs - although Apple state that they always obey local regulations regarding workers' hours and pay. The company is no more culpable than any other manufacturer, but as the most visible - and the most profitable - some critics argue they should hold themselves to higher standards.

7/7 7. Launch of iPhone 5c and 5s

Despite accusations of hype, Apple's devices continue to be sell brilliantly and recieve glowing reviews from critics and the public alike. The iPhone 5s and 5c were no exception - selling more than nine million units in their opening weekend and being hailed by many (including The Independent's own critics) as the best smartphone, period. Thanks to the care it puts into its larger ecosytem of apps and digital content, Apple continues to fend off challengers. But for seven more years? We'll have to wait and see.
Other improvements include placing the Touch ID preferences more prominently in the Settings app and a camera setting so HDR is automatically on. HDR is the clever system that takes multiple shots at different exposures in quick succession and combines them to create striking, contrasty results. Its only downside is it takes a little longer for the camera to be ready for the next shot. Then there's CarPlay which enables you to connect your iOS devices to a compatible car to access Apple Maps, get directions, see text messages on the car's display, and more.
So should you upgrade? In a heartbeat. But for that absence of the list in the calendar's search view, everything is an improvement. Though some aspects, like CarPlay, won't be of use until you have a compatible car to go with it, everything else is ready to go and looks (or sounds) great. It's not like the "whole new phone" effect, which was what iOS 7 felt like, but it's certainly a worthwhile upgrade.