It's the game so addictive that 93 million glassy-eyed users collectively play it more than one billion times a day. And Candy Crush is also proving irresistible to those running the country, after Conservative MP Nigel Mills was snapped matching coloured candies for more than two and a half hours on his tablet during a House of Commons work and pensions committee last week.
It would appear that the heated debates couldn't distract the MP for Amber Valley from the game, which generates £610,000 a day.
"There was a bit of the meeting that I wasn't focusing on and I probably had a game or two," said Mills. "I shouldn't do it but if you check the meeting, I would say I was fully engaged in asking questions that I thought were particularly important in how we get the pensions issue right. I shall try not to do it in future."
Perhaps it's not surprising that he sneaked in a session on the job. These days, UK adults, according to Ofcom, spend an average of eight hours and 41 minutes a day on devices (incidentally the average night's sleep is 20 minutes less than that).
Mills is also far from the first person whose inappropriate attachment to technology during working hours has left them red-faced.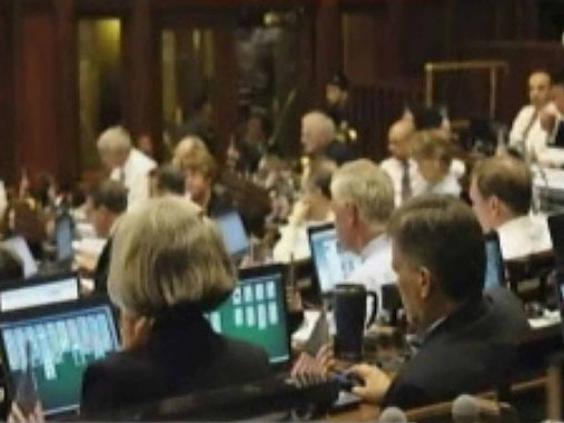 US Senator John McCain was caught playing online poker on his iPhone during a Senate hearing about Syria in 2013. Rather than issuing an earnest apology he later tweeted, "Scandal!... worst of all I lost!"
A photograph of an office worker in Brisbane, Australia, watching pornography at his desk went viral last year. Unfortunately for the hot-blooded employee, his screen faced a window and he was snapped from another building across the street.
In fact German sex therapist Dr Christoph Ahlers has claimed that of the 60 million daily views on the world's most popular free porn website, two thirds of people were logging on from their desks. The EDM star Zedd admitted in an interview in August that he indulges in games of solitaire while manning the decks.
"I tour so much and play a show almost every night so sometimes you can get a bit bored with DJing or the crowd can be a bit crap," Zedd told Pulse Radio. "On nights like that, there's nothing more enjoyable than cracking open a bit of solitaire or, to a lesser extent, Minesweeper." He later insisted that "all DJs do it".
So are we incapable of putting away technology at work now? Chartered occupational psychologist Alison Price believes that it's harder than ever to put down tablets.
30 games released before Christmas
30 games released before Christmas
1/30 Destiny

The $500 million 'shared-world shooter' from Bungie has arrived. Release date: 9th September 2014

2/30 Hyrule Warriors

The first of a few big upcoming releases for the Wii U, Hyrule Warriors will see Link hack-and-slashing in Hyrule. Expect a closer likening to Dynasty Warriors rather than a typical Zelda game. Release date: 19th September 2014

3/30 The Vanishing of Ethan Carter

The open world adventure which follows a detective with paranormal powers used to solve crimes promises suspense, mystery - and gorgeous graphics. Release date: 25th September 2014

4/30 FIFA 15

The best-selling sports video game franchise in the world is set to return with Lionel Messi as the cover star, all 20 Premier League stadiums and scarily lifelike players. Release date: 26th September 2014

5/30 Forza Horizon 2

Exclusive to Xbox One and 360, racing fans will get to see the roads of southern Europe – with three times more driveable areas than the 2012 original. Release date: 3rd October 2014

6/30 Super Smash Bros

Coming first to the 3DS, players will be able to smash the shell out of Nintendo characters such as Yoshi, Link, Fox, Mario, Mega Man, Pac-Man, Pikachu, Fox, Peach and Donkey Kong. Release date: 3rd October 2014

7/30 Sherlock Holmes: Crimes & Punishments

The UK's favourite detective takes a Dostoyevsky turn, as he must make moral choices when he finds the culprits. Release date: 3rd October 2014

8/30 Alien: Isolation

There's no doubt about it, this looks really scary. Set in 2137, 15 years after the events of Alien and 42 years prior to Aliens, the game follows Amanda, who is investigating the disappearance of her mother Ellen Ripley. Release date: 7th October 2014

9/30 Project Spark

For creative minds, Xbox's Project Spark offers players a blank canvas to draw on content to make events, games and music. Release date: 7th October 2014

10/30 NBA 2K15

2K Sports aim to make their new basketball release more authentic than ever. With Kevin Durant of the Oklahoma City Thunder as the cover star, Crew mode will be coming back, and MY League introduced. Release date: 7th October 2014

11/30 NBA Live 15

Up against NBA 2K15 on the same day is this basketball title from EA Sports, who scanned 70% of NBA players for added realism. Release date: 7th October 2014

12/30 Driveclub

Exclusive to PS4, this racing release will see top speeds and atmospheric conditions - plus PlayStation Plus subscribers will get a free version. Release date: 10th October 2014

13/30 Skylanders Trap Team

The third release from the ridiculously popular-with-kids franchise will include traps where players can catch the bad guys and play as them. Release date: 10th October 2014

14/30 The Evil Within

In our preview, it's been described as 'a survival horror fan's best worst nightmare'. Release date: 17th October 2014

15/30 Borderlands: The Pre-Sequel!

The third game in the Borderlands series, and a prequel to the 2012 game Borderlands 2, and will see new weapons such as anti-gravity, freeze, and oxygen tanks. Release date: 17th October 2014

16/30 F1 2014

Based on the 2014 Formula One season, this racing game from Codemasters will feature the new Sochi Autodrom. Release date: 17th October 2014

17/30 Disney Infinity: Marvel Super Heroes

The other popular toys to life series will see superheroes join the team, including Spider-Man, Captain America and Iron Man. Release date: 18th October 2014

18/30 Fantasia: Music Evolved

Based on the music from Walt Disney's 1940 animated film, your body will control the rhythm and sounds. Release date: 21st October 2014

19/30 Bayonetta 2

The sequel to Nintendo's 2009 game sees Bayonetta battling the bad guys with smart combat and sharp graphics. Release date: 24th October 2014

20/30 Sunset Overdrive

The colourful comic style offering exclusive to Xbox One combines the feel of Sum 41/Tony Hawk with a random mix of mutants and energy drinks. Release date: 31st October, 2014

21/30 WWE 2K15

Sting, Hulk Hogan and Stone Cold Steve Austin will appear in the next wrestling saga, which will next have story mode My Career. Release date: 31st October, 2014

22/30 Call of Duty: Advanced Warfare

The 11 year-old military first person shooter series is about to become more futuristic, with characters that look more realistic than ever - plus, Kevin Spacey stars as the bad guy. The downloadable content for will be released first on Xbox Live. Release date: 4th November 2014

23/30 World of Warcraft: Warlords of Draenor

The fifth expansion to MMORPG World of Warcraft will will raise the existing level cap from 90 to 100 and will introduce player-built, upgradeable garrisons - plus a tribute character to Robin Williams. Release date: 13th November 2014

24/30 Halo: The Master Chief Collection

Consisting of Halo: Combat Evolved Anniversary, Halo 2, Halo 3, and Halo 4, this is obviously one for Halo super fans. Players will also get access to Halo 5: Guardians beta. Release date: 14th November 2014

25/30 Assassin's Creed: Unity

Set in Paris during the French Revolution, for the first time, four players can take on missions in multiplayer co-op, and there's also a new stealth option, which contrasts well with the fluid movement of the deadly Assassin. Release date: 15th November 2014

26/30 Far Cry 4

Set in a region of the Himalayas, you get to ride on an elephant with weapons, and invite friends to join you to play via PlayStation Plus, even if they don't own the game. Release date: 18th November 2014

27/30 Little Big Planet 3

Sackboy's got some new friends this time round in PlayStation's puzzle platformer, each with different skills opening up a range of different, and cute, challenges. Release date: 19th November 2014

28/30 Dragon Age: Inquisition

Bioware's RPG sequel to Dragon Age 2 will let players explore more than ever before - and there are several different major endings depending on your decisions in the game. Release date: 21st November 2014

29/30 Sonic Boom: Rise of Lyric and Sonic Boom: Shattered Crystal

The latest outing for everyone's favourite hedgehog sees the first released on the Wii U, and the second for the 3DS. The two games form the final part in Sega's partnership with Nintendo, following Sonic Lost World and Mario & Sonic at the Sochi 2014 Olympic Winter Games. Release date: 21st November 2014

30/30 Pokémon Omega Ruby and Alpha Sapphire

The 3DS remakes of the 2002 Game Boy Advance titles Pokémon Ruby and Sapphire will be a must-have for Pokefans. Release date: 28th November 2014
"I think it has always been possible to be distracted at work and you have to think about why people are being distracted," says Price. "One of the reasons might be to regulate their mood, so for example if they're bored. People have always been bored and people will always be bored; the question is, has the ability to be interrupted become more frequent? There are BBC news alerts on your phone, text messages, Facebook updates. People tend to bring their personal lives to work now."
If you really want to while away the hours on the job without getting caught, there are solutions. Cost Cutter is an online game that requires users to match blocks of the same colour on a chart. For anyone who happens to glance at the computer screen, it will just look like they are working on a boring old report. Excel Sheep looks like a classic spreadsheet but really users are herding sheep into pens (no one said these games were thrilling, OK?)
And for workers who can more often be found using Word (hi boss!), there's Breakdown, a game where the aim is to remove text from a page by using a tiny ball and racket that is cleverly disguised as a scrollbar.
Nigel Mills might like to check them out for the next time he finds himself in a three-hour meeting about pension reform.
Reuse content