There's probably a fair few of you who, like me, haven't played Crazy Taxi since the Dreamcast (or even the arcade version!) but Sega have been slowly doling out this franchise on numerous platforms since its 1999 release. The newest edition isn't a mobile debut but it is their first foray into freemium. But don't get too worried, it works pretty well.
The general mechanics are simple, swipe to change lanes, boost button, hold and release to turn. You've still got the countdown at the top and the money flowing, but instead of the open world drive to find fares it's set out through mini missions and daily challenges – like you'd expect from freemium.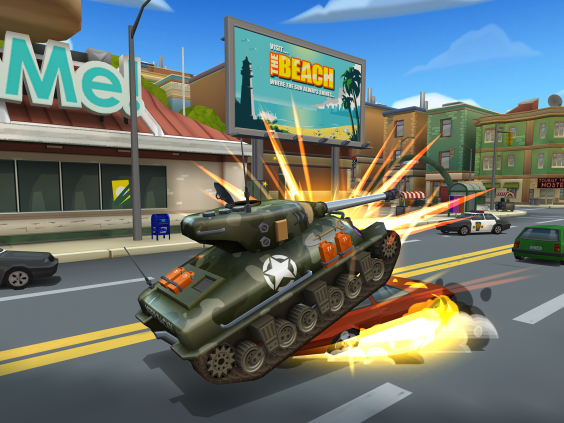 If you run out of gas, you can either wait for your next free refill; use some of your in game currency or diamonds to pay; or watch a short advert. The advert bit saves the game, it allows it to be both a game you can play once a day, on your commute, completing your daily challenge, and one you can lie back and play for a while – as long as you don't mind a short advert every now and then.
Sure, you could pay some real money to get some in-game money in order to customize and progress quicker, but why would you want to do that?
Crazy Taxi: City Rush has found the happy medium. You don't have to play for long before you can start upgrading your car's engine and customizing everything you want for extra fares (mine's pink and has a t-rex on the bonnet), and you don't have to pay your way to enjoy it.
And the soundtrack is much the same poppy-skater-punk that you've come to love, except with new bands, not just that one Offspring song. It's all a bit nostalgic really, except now you can connect with your Facebook friends. Remember the Dreamcast, guys?
Reuse content