The Lazarus-esque revival of Grim Fandango from cult obscurity should hopefully ignite a debate about the historical preservation of video games. In an industry entrenched in the new, always looking for the next revolutionary piece of technology that becomes the 'game-changer', it's easy to overlook the fact that antiquated disk drives and outdated system requirements are turning once-heralded classics into forgotten pieces of ephemera.
When Grim Fandango: Remastered was announced by the game's offbeat director Tim Schafer at E3 2014, it was easily my highlight of the show. It's strange to feel nostalgic about a game I've never played before, but then again Grim Fandango was always my holy grail. It's the game I'd bought second hand on CD-ROM after years of wondering how high it sat among the echelon of great LucasArts adventure games I'd pored over as a child, only to discover that even a basic modern PC was too advanced for its once state-of-the-art graphics engine.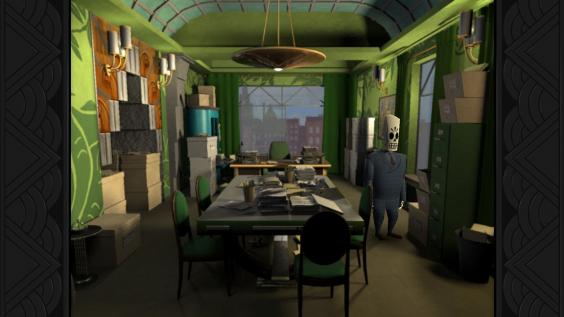 And so while I'd known for over a decade that Grim's main protagonist was Manny Calavera, a reluctant, unsuccessful corporate stooge for the Department of Death (a skeletal grim reaper/travel agent for the afterlife) looking to pay off his debts and bank a ticket to the haven of the Ninth Underworld, my actual memories of playing the game began and ended with this heartfelt, but inescapably flawed remaster.
Unsurprisingly for a remaster of a game originally released in 1998, the problematic elements of Grim Fandango: Remastered are inextricably tied to its past. Rather than remake the entire game from scratch, the latin-fused, Chandler-inspired noir tale has been upscaled and retooled with particular focus on the once blocky character models that have been smoothed out to adequately fit into its high definition makeover.
20 best video games in 2015
20 best video games in 2015
1/20 The Legend of Zelda

Nintendo haven't given too much away so far, but judging by the open world, stunning views, vast maps and ability to attack while Link's horse Epona rides ahead avoiding obstacles, it's unlikely to let fans down. Release date: 2015

2/20 Uncharted 4: A Thief's End

Set to follow years after the stunning Uncharted 3: Drake's Deception, Naughty Dog's dramatic adventure will come exclusively to the PlayStation 4, and will promise the mystery of protagonist Nathan's "greatest adventure yet". Release date: 2015

3/20 Evolve

Five players: one monster, four hunters, two conflicting aims. The monster can evolve by killing creatures, while the hunters must work together to take them down. This multiplayer looks set to offer something a little more unique, and a real need to cultivate your characters' skills in order to succeed. Release date: February 10, 2015

4/20 No Man's Sky

When revealed at E3 last June, the sheer scope covered in their three minute video ensured this upcoming title from British video game developer Hello Games made it into several 'best of E3 lists'. The exploration potential via a spacecraft across the universe is huge, from deserts to dinosaurs to deep oceans. Release date: 2015

5/20 Splatoon

Another entry from Nintendo will see a move in a different direction for the gaming giant. This colourful family-friendly shooter seems two teams of four battle it out to cover the ground in ink. Play once, and you won't want to leave the inky arena. Release date: Early 2015

6/20 The Order 1886

The PlayStation 4 exclusive is set in a dark and mysterious London, where monsters (half animal, half man) roam the streets. The third-person shooter from Ready At Dawn shared a new trailer on Christmas day, with a glimpse of the terrifying werewolf-esque creatures to put everyone in the festive mood. Release date: 20 February 2015

7/20 Bloodborne

Set in the gothic city of Y'harnam where a strange endemic illness spreads through the streets in the form of mobs and monsters, the new action RPG release from the makers of Dark Souls was one of the hit trailers from E3 2014. Release date (UK): 27 March, 2015

8/20 Batman: Arkham Knight

The fourth in the Batman: Arkham series will see our dark superhero confront The Scarecrow, and it'll be the first time fans get to drive the Batmobile – which can be summoned to the player's location. Release date: June 2015

9/20 Mortal Kombat X

22 years since its first ever release, the tenth title in the fighting series is set to be gorier than ever, with brutally detailed X-Ray moves. The story is set to begin at the end of the last game released in 2011. Release date: April 2015

10/20 Yoshi's Woolly World

The latest outing from Mario's dinosaur sidekick takes the lead from Kirby's Epic Yarn, where everything is made of wool. For the Wii U, the game will promise some utterly adorable side-scrolling from Nintendo. Release date: Early 2015

11/20 Hotline Miami 2: Wrong Number

The sequel to the surprise hit from Devolver Digital will see an unlockable 'hard mode' for those who find attacking those enemies too darn easy, and also a 'level editor', where players can create their own tricky challenges. Release date: early 2015

12/20 Kirby and the Rainbow Curse

Our greedy pink friend will need rainbow lines to be drawn on the GamePad in order to go forward, and the Wii U game will support Nintendo's Amiibo figures. Release date: late 2015

13/20 The Witcher 3: Wild Hunt

The third in the action role-playing series based on the fantasy novels by Polish author Andrzej Sapkowski is set to be '30 times larger' than the previous games, for monster hunter Geralt to explore. Release date: 19 May, 2015

14/20 Star Fox

The first in the series to be released in nine years will use the Wii U's GamePad to allow the player to view the cockpit in the Arwing fighter. Release date: 2015

15/20 Metal Gear Solid V: The Phantom Pain

Following on from last year's Metal Gear Solid V: Ground Zeroes, the new game from Konami follows the mercenary leader Venom Snake as he ventures into Africa, 17 years after the series began. Release date: 2015

16/20 Tom Clancy's The Division

Inspired by, real-world events which "revealed how vulnerable we've become", Ubisoft's open world third-person shooter will see players act to control disease spread because of germs on banknotes. Release date: 2015

17/20 Tom Clancy's Rainbow Six Siege

Ubisoft's first-person shooter will feature counter terrorist scenarios - it's all about tactic and team play (and explosions). Release date: 2015

18/20 Battlefield Hardline

With the 'war against crime' a focus for the new game in the series, EA's first person shooter will feature a 'cops and robbers' gameplay style. Release date: March 2015

19/20 Halo 5 Guardians

The sequel to 2012's Halo 4 by 343 Industries will require players to 'solve a mystery that threatens the entire galaxy. Its release will coincide with the Halo television series produced by Steven Spielberg. Release date: late 2015

20/20 Dead Island 2

The survival horror from Deep Silver is the fifth instalment in the series, and will be set in a quarantined California, where the zombies roam free. Release date: Mid-2015
The pre-rendered, art deco backgrounds however remain largely untouched, as does the game's original 4:3 aspect ratio which leaves two decorative bars on either side of the frame. While the lack of a true widescreen experience (it can be stretched to 16:9 in the options menu) and although some environments jar with the character improvements, locations like the second act's Casablanca-styled port town of Rubacava still exude noir-chic under the glow of moonlit skies and flickering neon.
The lack of an autosave feature also stands out as an oddity when considered amongst modern game design, but it is the gameplay itself that marks Grim Fandango out as a product of its time. While any point-and-click veteran will have dealt with their fair share of obscure logic puzzles, several of Grim Fandango's more obtuse riddles will leave many exacerbated players reaching for a walkthrough and a pack of ibuprofen. The Petrified Forest, for example, has always carried an air of notoriety even among the most hardened of adventure game enthusiasts, and the section's dreadful signposting and viciously enigmatic design leave it truly deserving of its reputation.
Thankfully, Grim Fandango: Remastered's most lauded quality is unhampered by technology, design and, most importantly, time; the writing. In the intriguing director's commentary track that accompanies the remaster, there are frequent discussions about how the work on screen has been inspired by life, which made it easier for the developer's lives to not become solely about work. This sentiment cascades across Grim Fandango's immediately engaging cast and permeates the effortlessly comedic dialogue, leaving every verbal nuance and character trait feeling organic and, considering the heavily and bizarrely stylized aesthetic, naturalistic.
Playing Grim Fandango: Remastered is like admiring a lovingly restored antique; a classic work delicately pieced back together where the underlying cracks can't dispel the beauty and creativity that made it so well regarded in the first place. For a game based on the Day of the Dead you'd be hard pressed to find a title with more vitality and soul than this.
Reuse content