Toys coming to life is not a new concept; we all know the story of Pinocchio's struggle to become a real boy, or ahem, Chucky, the most terrifying doll in the world. But no franchise capitalised on the idea more so than Toy Story, which, nearly 20 years after its initial release, is worth over $10 billion.
Cut to the late noughties and publishers Activision considered there could be a market for marrying video games with toy figurines, whereby physical toys in your living-room are a part of the on-screen action. It sounded fiddly and excessive, what with there already being a console, controllers, and wires involved in the set up, but just three years in, the franchise is now worth $2 billion.
So how did toys to life video games become such a behemoth in the lucrative and competitive market of children's entertainment?
It all started with Spyro, a purple dragon created in 1998 for the PlayStation. His profile never matched gaming giants Mario or Sonic, but developers Toys for Bob saw a future for Spyro, and made him the protagonist of his brand new series in 2011, where children would be able to place a figurine onto the 'portal of power' and, as if by magic, there he would appear in the game, along with over 30 purchasable friends. Kids loved it; Skylanders: Spyro's Adventure quickly became the top selling console and handheld videogame of 2012, with over 30 million of the toys being sold in under six months.
Though Spyro took a back seat in the sequel, Skylanders: Giants, released later that year, the concept of course didn't go unnoticed by those working in children's toys. It was hardly going to be a tough decision for Disney to step into the market, with hundreds of films with even more recognisable characters to hand. They launched two years after Skylanders…and yes, you could play as Woody, Buzz Lightyear and Jessie. To every fan's delight, our favourite Toy Story characters became more real than ever.
With Disney providing tough competition, Skylanders' developers take their time to cultivate a new concept with each release. The fourth, Skylanders: Trap Team, will see the introduction of traps, where various toy traps will be used on the portal to capture enemies within the game– and make them playable for the first time. One nice element about this (notably for parents), is that you turn the bad guys good, enlisting their skills to play for the good guys.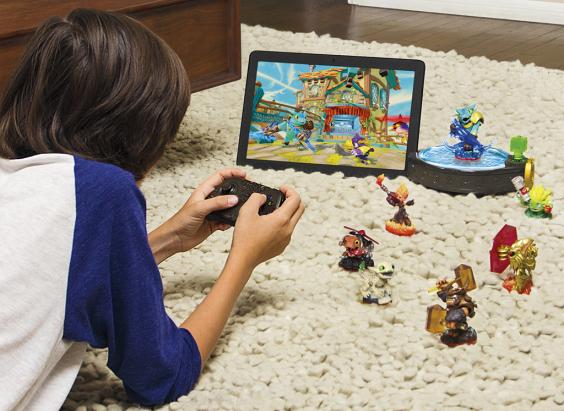 A huge part of the success is attributed to the focus on what the children want, says I-Wei Huang, Toy and Character Director at Toys for Bob:
"When we develop characters and toys we try and get the inner child in us into them. Later in the development process, we do tests to make sure none of the levels are too hard or confusing…We get a lot of fan mail from kids wanting to create their own character – it's very endearing."
So how are Disney competing? Marvel joined the latest Disney Infinity release to introduce superhero characters, plus they're introducing favourite Disney characters such as Jasmine and Aladdin.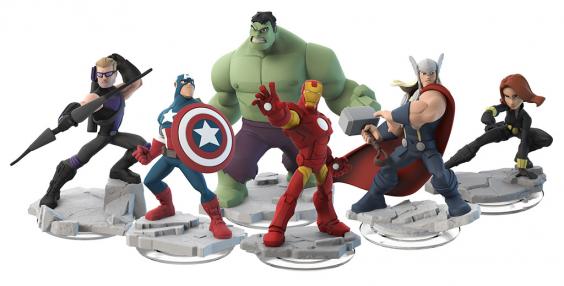 In terms of gameplay, Disney Infinity has a focus on their Toy Box mode, where kids can create their own worlds and games (in a similar way to Minecraft), whereas Skylanders is platform based, completing levels and challenges, interspersed with cut scenes of action from the characters (including help from Flynn, voiced by Patrick Warburton, who, as the adults might recognise, also voices Joe Swanson in Family Guy).
Nintendo are also set to follow in the footsteps of Skylanders by bringing out collectible figurines to use on the Wii U. Amiibo will be introduced on the hugely anticipated release of Super Smash Bros for the Wii U in December this year.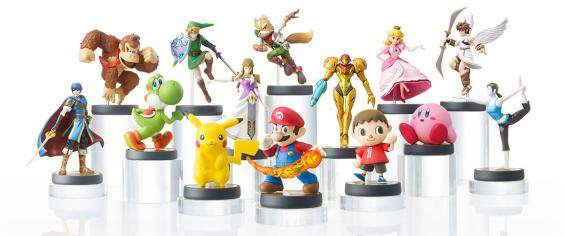 As with any franchise where there are a number of collectibles, it can get pricey for parents. The Skylanders starter packs are over £60 and there are many extra characters available, so how do the makers ensure that though children can be shown the new characters available, they don't feel they're missing out on not having them all?
"We release the toys in waves, so it's not overwhelming - we slowly trickle them out over time. I think we really just concentrate on creating a whole lot of variety and let kids pick their favourites", says Huang.
30 games released before Christmas
30 games released before Christmas
1/30 Destiny

The $500 million 'shared-world shooter' from Bungie has arrived. Release date: 9th September 2014

2/30 Hyrule Warriors

The first of a few big upcoming releases for the Wii U, Hyrule Warriors will see Link hack-and-slashing in Hyrule. Expect a closer likening to Dynasty Warriors rather than a typical Zelda game. Release date: 19th September 2014

3/30 The Vanishing of Ethan Carter

The open world adventure which follows a detective with paranormal powers used to solve crimes promises suspense, mystery - and gorgeous graphics. Release date: 25th September 2014

4/30 FIFA 15

The best-selling sports video game franchise in the world is set to return with Lionel Messi as the cover star, all 20 Premier League stadiums and scarily lifelike players. Release date: 26th September 2014

5/30 Forza Horizon 2

Exclusive to Xbox One and 360, racing fans will get to see the roads of southern Europe – with three times more driveable areas than the 2012 original. Release date: 3rd October 2014

6/30 Super Smash Bros

Coming first to the 3DS, players will be able to smash the shell out of Nintendo characters such as Yoshi, Link, Fox, Mario, Mega Man, Pac-Man, Pikachu, Fox, Peach and Donkey Kong. Release date: 3rd October 2014

7/30 Sherlock Holmes: Crimes & Punishments

The UK's favourite detective takes a Dostoyevsky turn, as he must make moral choices when he finds the culprits. Release date: 3rd October 2014

8/30 Alien: Isolation

There's no doubt about it, this looks really scary. Set in 2137, 15 years after the events of Alien and 42 years prior to Aliens, the game follows Amanda, who is investigating the disappearance of her mother Ellen Ripley. Release date: 7th October 2014

9/30 Project Spark

For creative minds, Xbox's Project Spark offers players a blank canvas to draw on content to make events, games and music. Release date: 7th October 2014

10/30 NBA 2K15

2K Sports aim to make their new basketball release more authentic than ever. With Kevin Durant of the Oklahoma City Thunder as the cover star, Crew mode will be coming back, and MY League introduced. Release date: 7th October 2014

11/30 NBA Live 15

Up against NBA 2K15 on the same day is this basketball title from EA Sports, who scanned 70% of NBA players for added realism. Release date: 7th October 2014

12/30 Driveclub

Exclusive to PS4, this racing release will see top speeds and atmospheric conditions - plus PlayStation Plus subscribers will get a free version. Release date: 10th October 2014

13/30 Skylanders Trap Team

The third release from the ridiculously popular-with-kids franchise will include traps where players can catch the bad guys and play as them. Release date: 10th October 2014

14/30 The Evil Within

In our preview, it's been described as 'a survival horror fan's best worst nightmare'. Release date: 17th October 2014

15/30 Borderlands: The Pre-Sequel!

The third game in the Borderlands series, and a prequel to the 2012 game Borderlands 2, and will see new weapons such as anti-gravity, freeze, and oxygen tanks. Release date: 17th October 2014

16/30 F1 2014

Based on the 2014 Formula One season, this racing game from Codemasters will feature the new Sochi Autodrom. Release date: 17th October 2014

17/30 Disney Infinity: Marvel Super Heroes

The other popular toys to life series will see superheroes join the team, including Spider-Man, Captain America and Iron Man. Release date: 18th October 2014

18/30 Fantasia: Music Evolved

Based on the music from Walt Disney's 1940 animated film, your body will control the rhythm and sounds. Release date: 21st October 2014

19/30 Bayonetta 2

The sequel to Nintendo's 2009 game sees Bayonetta battling the bad guys with smart combat and sharp graphics. Release date: 24th October 2014

20/30 Sunset Overdrive

The colourful comic style offering exclusive to Xbox One combines the feel of Sum 41/Tony Hawk with a random mix of mutants and energy drinks. Release date: 31st October, 2014

21/30 WWE 2K15

Sting, Hulk Hogan and Stone Cold Steve Austin will appear in the next wrestling saga, which will next have story mode My Career. Release date: 31st October, 2014

22/30 Call of Duty: Advanced Warfare

The 11 year-old military first person shooter series is about to become more futuristic, with characters that look more realistic than ever - plus, Kevin Spacey stars as the bad guy. The downloadable content for will be released first on Xbox Live. Release date: 4th November 2014

23/30 World of Warcraft: Warlords of Draenor

The fifth expansion to MMORPG World of Warcraft will will raise the existing level cap from 90 to 100 and will introduce player-built, upgradeable garrisons - plus a tribute character to Robin Williams. Release date: 13th November 2014

24/30 Halo: The Master Chief Collection

Consisting of Halo: Combat Evolved Anniversary, Halo 2, Halo 3, and Halo 4, this is obviously one for Halo super fans. Players will also get access to Halo 5: Guardians beta. Release date: 14th November 2014

25/30 Assassin's Creed: Unity

Set in Paris during the French Revolution, for the first time, four players can take on missions in multiplayer co-op, and there's also a new stealth option, which contrasts well with the fluid movement of the deadly Assassin. Release date: 15th November 2014

26/30 Far Cry 4

Set in a region of the Himalayas, you get to ride on an elephant with weapons, and invite friends to join you to play via PlayStation Plus, even if they don't own the game. Release date: 18th November 2014

27/30 Little Big Planet 3

Sackboy's got some new friends this time round in PlayStation's puzzle platformer, each with different skills opening up a range of different, and cute, challenges. Release date: 19th November 2014

28/30 Dragon Age: Inquisition

Bioware's RPG sequel to Dragon Age 2 will let players explore more than ever before - and there are several different major endings depending on your decisions in the game. Release date: 21st November 2014

29/30 Sonic Boom: Rise of Lyric and Sonic Boom: Shattered Crystal

The latest outing for everyone's favourite hedgehog sees the first released on the Wii U, and the second for the 3DS. The two games form the final part in Sega's partnership with Nintendo, following Sonic Lost World and Mario & Sonic at the Sochi 2014 Olympic Winter Games. Release date: 21st November 2014

30/30 Pokémon Omega Ruby and Alpha Sapphire

The 3DS remakes of the 2002 Game Boy Advance titles Pokémon Ruby and Sapphire will be a must-have for Pokefans. Release date: 28th November 2014
It's not hard to see why toys to life has become so popular with children. Youthful imagination is a powerful thing, and having tangible characters which appear to magically come alive on screen (as well as voices of the captured enemies coming from the trap as if they have been physically imprisoned in Trap Team) is hugely entertaining.
Kevin Durkin, Professor of Psychology at the University of Strathclyde, has praised the style of gaming before, for its ability to push children's imaginations further. So what exactly do they love about it?
"This is a development which incorporates children's traditional enjoyment of toys and merges them with the delights of the digital world," he says. 
"Being able to own, touch and manipulate your own characters affords a sense of tangible durability that is not normally achievable in a standard videogame, where your favourite characters disappear when you turn the game off.  Children also like to act on their environments, and this provides a sense of control," he adds.
"It makes the social side of gaming all the richer: you can display your characters to your friends - share, discuss and compare."
Or as he succinctly sums it up: "Toys and video games? What's not to like?!"
Reuse content