In a bid to expand the presence of their Chrome browser (and by extension the appeal of the Chrome OS), Google is integrating their notification center with Windows operating systems.
Notifications will appear outside the browser window at the bottom-right of the user's screen, and can be fed in from the likes of Gmail, Google Calendar, Spotify and your RSS reader.
"We've designed these notifications to be beautiful, useful and engaging," says Google. "They can display formatted text and images, and can include actions directly inside the pop-up (so you can respond to that email right away)."
Industry commentators tend to view this expansion of notifications as Google's attempt to bring Google Now (a mobile only service that predicts uses behaviour to offer tips and advice) to the desktop. However, notifications will also be massively helpful to developers, who can use the service to greatly expand the functionality of their apps.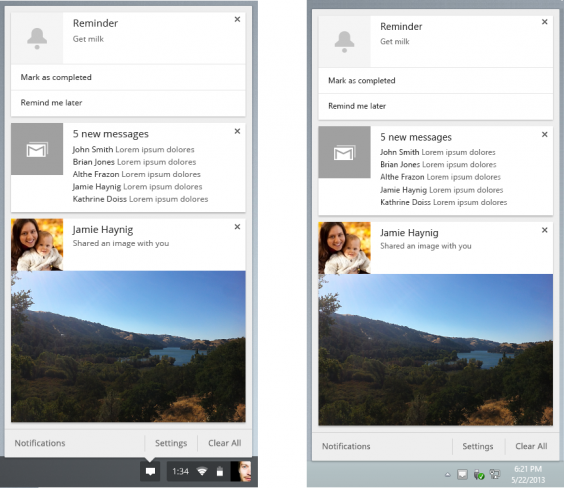 (Google's notification center on Chrome OS, right, and Windows 7, left)
In their advice to developers Google said: "Apart from the basic notification type shown above, you can use other formats like image to show a preview of an image within the notification or list to coalesce multiple notifications from your app into a single one."
"For example, a mail app could show multiple unread emails within a single notification using the list type. You can also specify different priorities for notifications that determine how long they stay on the screen before moving into the notification center where they continue to live until dismissed by the app or user."
Reuse content