HTC has released it's latest flagship handset, the HTC One (M8). But what exactly does it offer and, more importantly, how does it stack up to the competition?
In terms of size and screen quality the M8's 5-inch screen sits between the iPhone 5S (4-inches) and the Galaxy S5 (5.1-inches). Just like the S5, the M8's display is full HD, and although on paper the iPhone 5s has a smaller resolution t's unlikely that customers would notice any difference between the quality in these devices.
The iPhone's smaller screen size does mean that it's the lightest of the bunch, weighing in at 111 grams compared to the S5's 144g and the M8's relatively portly 160 grams. The reason the M8 weighs more though is due to its aluminium build, giving it a noticeably superior  feel to the S5's leather-mimicking plastic and putting it on a par with the iPhone 5s.
In terms of basic specs (memory, processor speed, RAM) all three devices are on a pretty even keel. The M8 is powered by a 2.3GHz quad-core processor and runs the latest version of Android, (4.4 or KitKat) and gives users the option of 16GB or 32GB of storage with 2GB of RAM powering the thing. An expansion card slot supporting microSD memory cards can also be used to add up to 128GB of additional storage.
This is all as expected really, comparing just fine to the Galaxy S5's 2.5GHz processor (with 16GB/32GB memory plus microSD) and although Apple fans may argue that the 64-bit processor on the iPhone 5S (including 16GB/32GB/64GB storage options) gives it an edge in terms of future-proof power, as with screen quality, it's unlikely that consumers will notice much of a difference.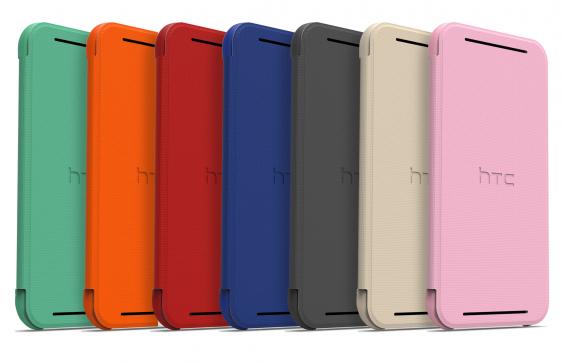 Cameras are a big point of competition between the devices but unfortunately we'll have to wait for the hands-on tests to get a proper comparison (the same goes for battery life). If you look at just the numbers you'd think that the S5 had clinched it with a 16-megapixel camera on the rear and 2-megapixel on the front, and although the iPhone 5S has 'only' an 8-megapixel snapper, for our money it takes the best pictures on the market.
HTC will be hoping that they can trump Apple with their dual-sensor set-up though, which allows users to re-focus pictures after they've been taken - a true first for smartphone devices - with the company also claiming that those two sensors will also make for better performance in both low lighting and bright settings.
And for the real boring details: the M8 has all the usual sensors (including accelerometer for detecting movement and running any fitness apps), uses the micro-USB standard for power, and packs a 2600 mAh battery for projected talk time of 20 hours and standby of 496 hours.
Reuse content