Apple launched iOS 8 yesterday – the latest version of its mobile operating system that offers a bunch of new features – but the company has been hit by complaints that the 1.1GB download needs nearly 6GB of free space to install.
So how can you fix this?
Well, there's two main options: one is to make space on your device by deleting data or shifting it to the cloud, and the second is to download the update on iTunes and install it via your computer.
The second option is definitely the simplest. Just connect your Apple device to your computer (Windows or Mac, doesn't matter) and load up iTunes. First, you'll need to check it's updated to the latest version: to do this go to Help > Check in the menu bar on Macs, or iTunes > Check on a PC.
Next, click on the Summary tab and simply click 'Check for Update'. iOS 8 has been available now for at least half a day so it should have no problem finding and installing it – you just need an internet connection and a little patience.
However, if you don't have a computer to hand then you're going to need to make space on your device directly. The simplest method? Delete stuff. Just, you know, have at it – all those blurry selfies, unloved albums (we're looking at you U2) and Flappy Bird clones: just get rid!
iOS 8: The nine best features
iOS 8: The nine best features
1/9 1. Name, mute or leave a group conversation

For any messaging conversation with more than two participants you can now name it, mute it, share your location (great for arranging a meeting) or leave it altogether. Simply click 'Details' in the top corner of the conversation for the new options.

2/9 2. Get Siri to identify a song

Shazam's been doing this for a while but now song identification is built into Apple's personal assistant. Simply ask "What song is playing?" and Siri will answer – including giving users an option to buy the track. You can also now activate Siri just by talking - though you need to turn this on from Settings > General > Siri.

3/9 3. Use a search engine that doesn't track you

DuckDuckGo has long been the search engine of choice for the privacy conscious. It has everything you'd expect - news, images, videos - but doesn't track your searches to create a user profile to sell to advertisers. Now you can make DuckDuckGo the default search choice in Safari - just go to Settings > Safari > Search Engine.

4/9 4. Turn on your iPhone's 'distress signal'

'Find My iPhone' is a fantastic feature that allows you to locate, lock or wipe your device if it get's lost or stolen (go Settings > iCloud to turn it on), but in iOS 8 there's a new option to 'Send Last Location' - an iPhone distress signal that's sent out to your iCloud account when the battery's about to run out.

5/9 5. Take a time lapse video

Third party apps have done this for a while but now time lapse is built into the camera. Just swipe to the far left on the camera-mode dial and set the exposure. There's also (finally) a self-timer for three or 10 seconds and new exposure options for changing how bright a picture looks.

6/9 6. Dictate a message in real time

The new Talk-to-Type mode on the keyboard (that little microphone icon) now works live and is even more accurate than before. If you've not tried it before it's worth a go (though isn't much fun to use in public).

7/9 7. Install a new keyboard

With iOS 8 Apple is finally opening up the keyboard to third-party options. Although the company is also greatly improving its own offering (which will now have context-sensitive word suggestions) it's worth downloading SwiftKey from the App Store - the best independent mobile keyboard on the market.

8/9 8. See which apps are draining your battery

Battery life is a constant worry with smartphones, but now the iPhone lets you see which apps are the worst offenders when it comes to using up battery (find it in Settings > General > Usage > Battery Usage).

9/9 9. Take a call on your tablet

If you've installed iOS 8 on your iPad and it's connected to the same Wi-Fi network as your iPhone then – voila – you can take calls on your iPad. When your phone rings a notification will flash up on your tablet and just pick up as you would a Skype call.

EPA
To check what apps are taking up the most space go to Settings > General > Usage (it's the same on your iPad) and scope out what's hogging memory. You might want to delete TV shows or movies you've watched for example (just hit 'Videos' and swipe left to bring up the delete button) or just apps that are taking up too much space.
But remember: anything you've not backed up (eg photos, messages) will be deleted forever (although any content you've bought from iTunes can be re-downloaded at any point).
If you don't want to delete your photos and messages (and why should you?) then you need to back-up your data so you can restore it to your iPhone later. Once you've downloaded and installed iOS 8 your storage will go back to normal - so there's no reason to permanently get rid of  stuff.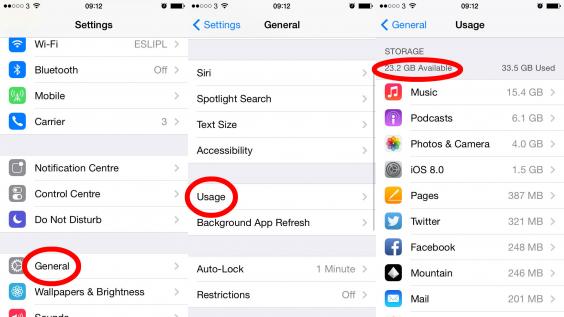 To back up your data you either need a computer handy or a Wi-Fi connection. To back-up via computer simply connect to iTunes, click 'Summary' and then 'Back Up Now' and you're done!
If you don't have a computer handy then you'll need to set-up iCloud from your device. To do this hit Settings > iCloud > Storage & Backup then select the toggle marked 'iCloud Backup'.
Back up is now enabled but you should also take a second to choose what exactly is getting saved. To do this click 'Manage Storage' under the 'Storaged & Backup' tab and select the relevant device - then just select which apps you want to save!