From the cities of Game of Thrones to a 220,000m2model of Great Britain, Minecraft enthusiasts have proved time and time again that there's nothing they can't build brick by brick.
Now, however they could be facing their greatest challenge yet: a scale replica of the British Museum, complete with its full collection of exhibitions.
The project is being launched as part of the institution's Museum of the Future scheme, which aims to increase engagement and interest in the museum through various digital schemes.
An employee announced the project on Reddit, saying that "after pushing for a bit" they'd managed to get the support of the museum and that they were now looking for volunteers to help with the organized build.
The project is set to start with "skeletal build" of the museum, with the first step probably focusing on the Great Court – the largest covered public space in Europe with a tessellated glass roof made froms thousands of steel props, nodes and panes of glass, each with a unique shape.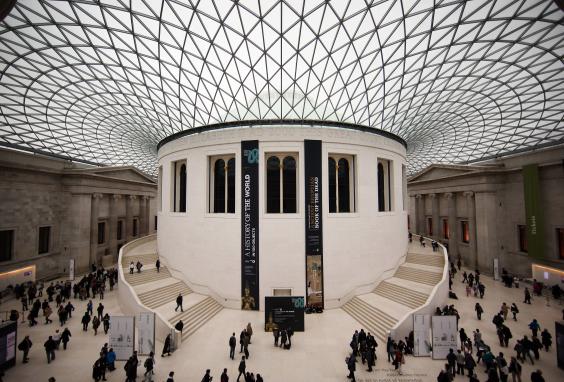 The anonymous employee rightly described it as "the most  complex part of the build".
Minecraft, which has been praised for its open-ended and creative gameplay, was sold earlier last week to Microsoft for $2.5 billion.
Although many fans have now become worried that the tech giant will spoil the game in some way, Minecraft's creator Markus "Notch" Persson said in a personal statement that he had been forced to make the sale after the burden of supporting the game became too much.
"I'm aware this goes against a lot of what I've said in public. I have no good response to that," he said, adding: "It's not about the money. It's about my sanity."
Minecraft creations
Minecraft creations
1/5 Taj Mahal

The original Taj Mahal may have taken almost two decades to complete, but this is a worthy tribute

2/5 Hyperscale

Minecraft players have taken inspiration from some of Europe's most beautiful cities, complete with canals and elaborate architecture.

3/5 Ancient Metropolis

Users have created "The Golden City", with extremely ornate architecture, similar to Cambodia's Angkor Wat complex

4/5 Desert island

An ornate island created by one user

5/5 Rocket launch pad

Prepare for take off with this Minecraft rocket
Reuse content