Motorola's highly-anticipated circular smartwatch, the Moto 360, has gone on sale and will be available in the UK from the end of September for £200.
The device – which runs Google's ultra-mobile operating system Android Wear – has been widely praised by tech critics for crossing the boundary from technology to fashion, offering a choice of leather, metal and plastic bands.
Motorola, which is still owned by Google until the end of 2015, also unveiled a pair of new smartphones, updates to the Moto X and Moto G – a flagship and budget device respectively.
The new Moto X will sell for £419 and features a 5.2-inch full HD screen, a 2.5Ghz quad-core processor, 16GB or 32GB of storage, a 13-megapixel camera. Customers can also choose between leather and wooden backs for the device.
The updated Moto G, which was highly praised for offering premium build quality at a low price, will sell for £144.99 and also features a slightly bigger screen than its predecessor (5.-inches), an improved 8-megapixel camera and a faster processor. However, the phone is still not 4G-capable – a downside for users wanting the fastest internet possible.
Although the original Moto X and Moto G helped to revitalize Motorola's reputation and made its devices stand out against a sea of capable-but-boring Android smartphones, it's the Moto 360 that gives an idea of where the company's future might lie.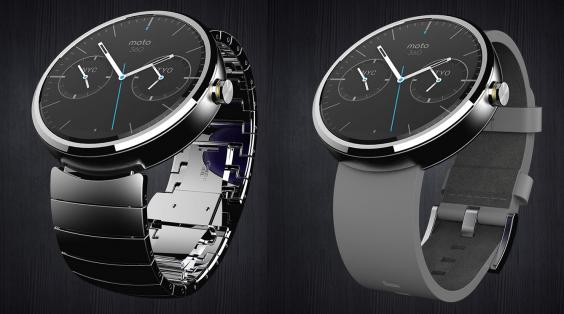 The smartwatch will be going up against rival devices from Samsung and LG and features a 1.5-inch LCD waterproof touch screen. Inside the device, movement sensors will keep an eye on the wearers' activity while an optical heart-rate sensor (located on the back pressed against the skin) gives your activity a rating of either Inactive, Active or Vigorous.
Like many other smartwatches on the market, the Moto 360 depends on a connection to a smartphone for feeding it data and various notifications about incoming messages, emails and calls.
However, competition for the Moto 360 is already pretty tough, with LG announcing its G Watch R (which also features a circular watch face - and without the 'flat tire' divot that Motorola uses to keep its light sensor) and Apple rumoured to be unveiling its iWatch next Tuesday.
Reuse content