Assassin's Creed: Unity has been confirmed for PS4 and Xbox One, with a trailer showing new lead (Arno?) amid the French Revolution.
Scroll down for the trailer
The sneak peak depicts a public execution in 18th century Paris, with the assassin perched atop a roof, as ever, consulting a pocket watch and deciding whether to take action.
The trailer follows leaked screenshots earlier in the week which teased the game's new parkour system.
Unity is expected to take place during the French Revolution, which came between the years 1789 and 1799.
Ubisoft is fond of firing out as many Assassin's Creed titles as possible, and this may not be the only one we see this year, with there also being talk of a game for the older Xbox 360/PS3 generation.
"Qu'ils mangent de la brioche [Let them eat cake]! We have been working on the new Assassin's Creed for more than three years and although we weren't quite ready to show you our full vision for a next-gen only AC, it seems Abstergo are trying to force our hand!" the developer said alongside the video.
"So here's a true first look at in-game footage from Assassin's Creed Unity. Stay tuned - we'll have many more exciting details for you in the months ahead!"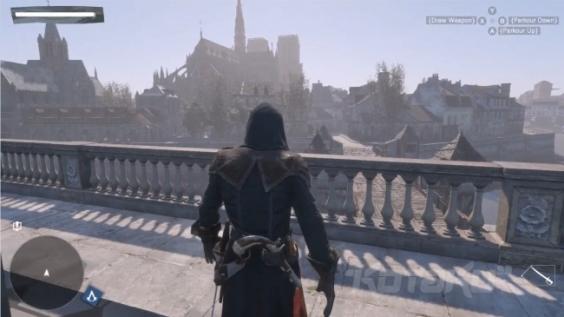 Assassin's Creed: Unity will be released Christmas 2014.
Reuse content