Caterpillar, a company known for its heavy machinery, has unveiled what it claims is the world's first smartphone with a built-in thermal imaging camera.
The phone made its debut at the Mobile World Congress (MWC) trade show in Barcelona, and was developed in a collaboration between Cat, electronics company Bullitt, and thermal imaging camera manufacturer FLIR.
The thermal camera sits just above a regular 13MP camera on the back of the phone, and is apparently accurate up to a distance of 30 metres.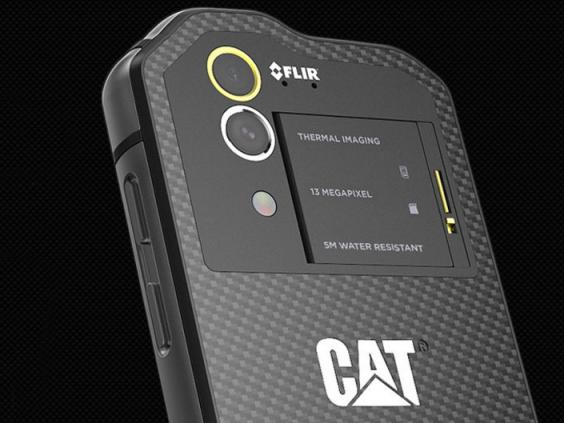 When using the thermal camera, users can see the cold and warm spots on the phone's screen. There's also a temperature measure at the side, so users can identify the exact temperature of a single spot. Obviously, it also takes thermal videos and photos.
Aside from the unique camera, it's possibly more rugged than any other mobile unveiled at MWC.
Its bulky, heavy body makes it able to withstand drops onto concrete from 1.8 metres, and its sealed case makes it capable of surviving for up to an hour in waters as deep as five metres.
Obviously, it's aimed Cat's target market - professionals in industries like construction and manufacturing. There's a few other features designed to make it easier to use on building sites, like the touchscreen, which can be used with wet fingers, and the the physical back and home buttons.
Under the hood, it runs the latest Android Marshmallow software, has an octa-core Snapdragon 617 CPU, 3GB of RAM and a 3,800mAh battery.
It might be popular with normal consumers who tend to drop their phones a lot, but they might have a hard time getting their hands on it - the S60 will only be be sold through specialist shops or Cat directly, so you won't find it in your local phone shop.
It's set to come out later this year, and will cost $599 in the US and €649 in Europe. There's no word yet on UK pricing.