Flipboard, a magazine app for mobile devices, has been valued at $800 million after a round of funding raised $50m from investors including Goldman Sachs and Rizvi Traverse Management.
The app first launched for iPads in 2010, but has since been downloaded by more than 85m users on a range of Android and iOS devices. In the last six months its user base has grown by 50 per cent, and it now reports 200,000 new downloads each day.
Billing itself as a "personal magazine", Flipboard provides users with the ability to search content from different online publications, as well as aggregating articles from links posted to social media sites such as Facebook and Twitter.
The app then formats this content to allow users to 'flip' through it or even create their own publications to share with friends. Celebrity users include Al Gore, who posts articles he has read and enjoyed, and Ashton Kutcher, who created a magazine about Steve Jobs prior to the release of his biopic profiling the Apple founder.
Speaking to the Financial Times, co-founder Mike McCue said: "As more and more people have started to curate these magazines, that has been creating more awareness for Flipboard. We are starting to see the benefits of that in our growth numbers. The strength of this was the perfect timing to get a financing done."
Platforms that aggregate content from other publications have seen increased interest from investors and are seen by some as an effective way to increase engagement with old media on the web and mobile devices.
However, others see their business model as a parasitic. Writing for ZDNet, Tom Foremski notes that  despite being valued at "almost 50% of the market cap of The New York Times" Flipboard "produces no content of its own."
McCue, who founded the app with former iPhone engineer Evan Doll, reports that around three million magazines have been created on the service and that the platform is expanding through desktop apps and new partnerships.
Publishing company Random House announced last week that it would be making two custom magazines for its readers; one concerning the extended universe of George R. R. Martin's 'Song of Ice and Fire' books and another based around Margaret Atwood's new 'MaddAdam' novel and curated by Atwood herself.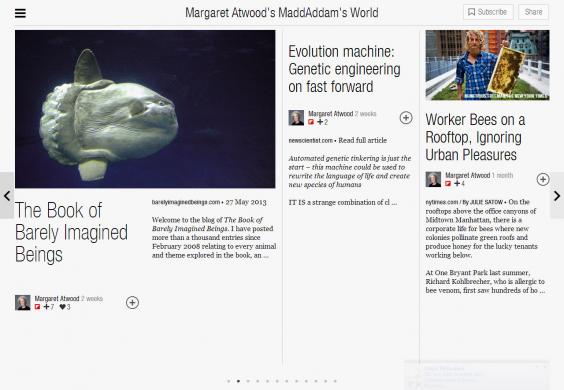 Reuse content