Google has pulled the tool that allowed users to make amendments to its Maps service, in the wake of a huge prank that saw a user draw the Android logo urinating onto the Apple one.
Editing the maps at all is now disabled until the company improves the moderation system, the company said. That is likely to "take longer than a few days", it said.
The peeing prank was the end result of "escalated attacks to spam Google Maps over the past few months", the company said.
"The most recent incident was particularly troubling and unfortunate - a strong user in our community chose to go and create a large scale prank on the Map," wrote Google employee Pavithra Kanakarajan on the company's product forums.
After the urination prank, the site made it so that all edits had to be manually reviewed. But Google said that process was taking too long and was contributing to a big backlog of edits that meant additions took a long time to appear on the site.
"Given the current state of the system, we have come to the conclusion that it is not fair to any of our users to let them continue to spend time editing," wrote Kanakarajan. "Every edit you make is essentially going to a backlog that is growing very fast.
"We believe that it is more fair to only say that if we do not have the capacity to review edits at roughly the rate they come in, we have to take a pause."
Google's user-generated mapping data is a large part of what has made it so successful and well-used. Since users can add new businesses and plans as soon as they are found, the maps are kept up to date quicker than those generated by internal teams.
But the edits seemed to have been made in protest at Google's policy for edits to its maps. Another huge edit to the east of the Pakistani site of the urinating Android explicitly called out the company's policy for reviewing updates.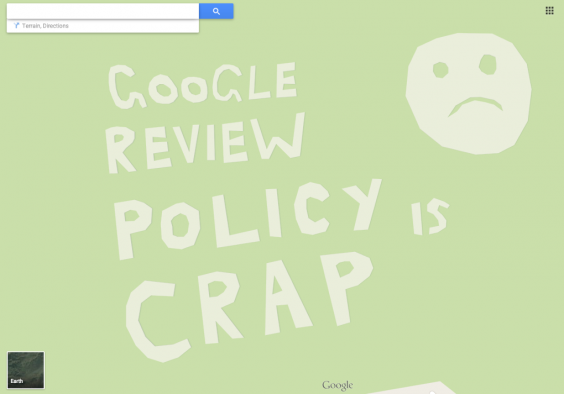 Reuse content