Apple's much-vaunted new iOS 7 operating system has hit early problems as millions of eager users worldwide rushed to download it.
Social media has lit up with complaints from frustrated users greeted with error messages on their iPhones and iPads that the updated system was either unable to download or install correctly.
Hailed by Apple's design supremo Sir Jonathan Ive as 'an important new direction', iOS 7 completely overhauls the look and feel of Apple's flagship products - the biggest such change since the Californian tech giant launched the iPhone in 2007.
Twitter users began reporting two types of problem shortly after the update went live at 6pm UK time: either the download, which requires around 1.4GB of temporary space on your device, was taking hours to complete, or it wouldn't install once it had been downloaded.
It is thought that the errors were caused by too many users trying to access the data from Apple's servers all at once. One error message read: "Software Update Failed: An error occurred whilst downloading iOS 7.0".
Twitter user Elle Lake said: "43 minutes remaining to download iOS 7.0 but now 10 minutes later there is an error,and I have to upload it again with another 2 hour wait."
Sam Allison also tweeted: "Guess I'm not the only one getting an Error message trying to Download IOS 7.0 #Annoying".
And as a stark reminder that not every iPhone user is a slavering fanboy, many other users took to Twitter bewildered by the update that had suddenly changed their phone. Amanda Kuffell tweeted "My phone is all kinds of different and I'm confused".
Another user going by the handle 'JAN0/5KIANS' was more succinct: "MY PHONE OMG NO".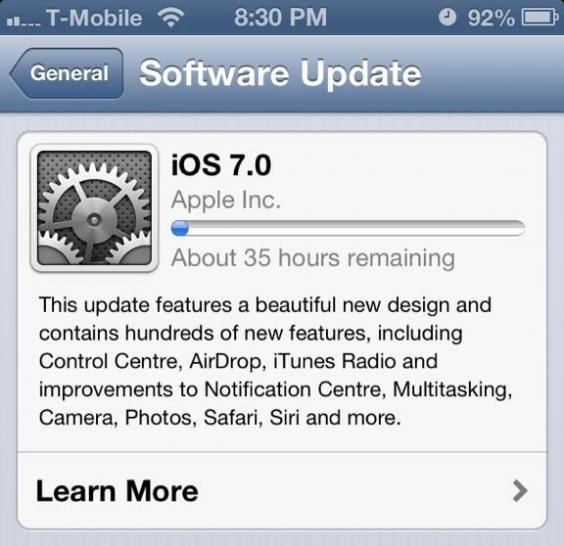 Reuse content