Google has marked what would have been the 113th birthday of pioneering African-American jazz poet and social activist, Langston Hughes, with a Doodle on its homepage.
The animated sequence shows a caricature of Hughes at his typewriter as lines from his poem I Dream a World appear.
Hughes was born in 1902 in Joplin, Missouri, and largely raised by his grandmother while his mother looked for work. His father - with whom he had troubled relationship - had left the family and travelled to Cuba and Mexico in an attempt to escape the racism that was rife in America at the time. Hughes joined his father in Mexico and agreed to study engineering so long as he could attend Colombia University. He left the following year due to racial prejudice.
He travelled to West Africa and Europe before returning to the US taking various jobs before meeting the poet Vachel Lindsay while working as a busboy at a Washington hotel. Lindsay was impressed with Hughes' work and became his patron.
Costa Book Award winners
Costa Book Award winners
1/5 Costa Novel Award – How to be both by Ali Smith

A genre-busting novel split in two which was shortlisted for the Man Booker Prize. One half follows the story of a Renaissance painter while the other follows a teenager set in the present day. The publishers ordered the two halves randomly

PA

2/5 Costa First Novel Award – Elizabeth is Missing by Emma Healey

Ms Healey's first novel follows Maude, a dementia sufferer who believes her friend is missing and is determined to solve a 70-year-old mystery. It was hugely coveted by the major publishing houses and the TV rights were sold before release

PA

3/5 Costa Biography Award – H is for Hawk by Helen Macdonald

When Ms Macdonald's father died she was knocked sideways by grief. The academic, who had trained hawks earlier in life, became obsessed with the idea of training a Goshawk, one of the toughest breeds. Her memoir won the Samuel Johnson Prize

PA

4/5 Costa Poetry Award – My Family and Other Superheroes by Jonathan Edwards

The debut poetry collection of English teacher Edwards, from a village near Newport, references characters from the Welsh valleys to pop culture celebrities from Evel Knievel and Sophia Loren to Ian Rush and Marty McFly

PA

5/5 Costa Children's Book Award – Five Children on the Western Front by Kate Saunders

The judges described  the follow up to E Nesbit's Five Children and It as a "modern masterpiece" by Ms Saunders, an author and journalist. It takes the lead characters and puts them into the trenches of the First World War

PA
By now his work was appearing in magazines such as The Crisis, the official magazine of the National Association for the Advancement of Colored People, and his first poetry collection The Weary Blues (1926) was published.
After gaining his degree at Lincoln University Hughes returned to Harlem where he remained for the rest of his life apart from trips to the Caribbean and the Soviet Union, where he was drawn to the idea of Communism like many black writers and artists of his time in segregated America.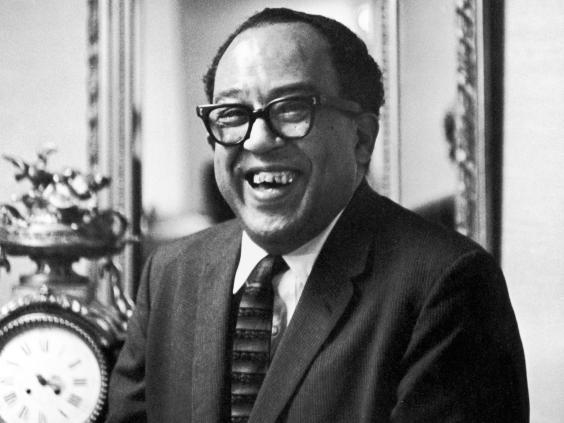 His work was influential during the Harlem Renaissance of the 1920s which saw Hughes and his contemporaries Zora Neale Hurston, Wallace Thurman, Claude McKay, Countee Cullen, Richard Bruce Nugent, and Aaron Douglas, criticising the racial prejudices through their work which stressed a 'black is beautiful' theme. Hughes also wrote what amounted to their manifesto 'The Negro Artist and the Racial Mountain', which was published in The Nation in 1926.
On his work, Hughes is quoted as saying: "My seeking has been to explain and illuminate the Negro condition in America and obliquely that of all human kind." He hoped to inspire black writers to be objective about their race and embrace it, though felt the young writers of the Black Power movement of the 1960s were too angry.
In 1930, Not Without Laughter was published, the first of many novels and short stories. He was also a prolific writer of non-fiction and a playwright over the next four decades.
He died on May 22, 1967, from complications following abdominal surgery, aged 65.