South Korean electronics giant LG have launched a new flagship phone in a bid to compete with high-end devices from Samsung and Apple. As well as offering users top-of-the-line hardware, the new G2 is also the first smartphone to not feature buttons on the sides of the device.
Usually these side buttons include volume controls or quick access to the device's camera, but LG say that with ever-increasing screen sizes these buttons aren't always easy to access.
With the slogan of "meet the possibilities of the other side" LG claim that their layout will offer greater accessibility. Whether users are left- or right-handed they'll have easier access to volume controls and be able to take smoother selfies.
"Moving the main buttons to the back of the phone gave users more control since this place was where individuals' index fingers are naturally located," said LG. "Researchers found that moving the buttons also resulted in fewer dropped phones when adjusting the volume while talking."
The buttons are certainly necessary with the G2's screen. At 5.2-inches it straddles the smartphone/phablet divide and offers a full HD 1080 x 1920 resolution and 423ppi pixel density.
The screen also appears even bigger, with tiny side bevels and no buttons at the bottom of the device; these are now digital-only with their functionality defined by the user.
This customisable user-experience is another key selling point for the G2. As with the launch of the recent Moto X it seems that smartphone makers are now trying to differentiate themselves on how they shape the user experience (UX) instead of simply touting improved hardware stats.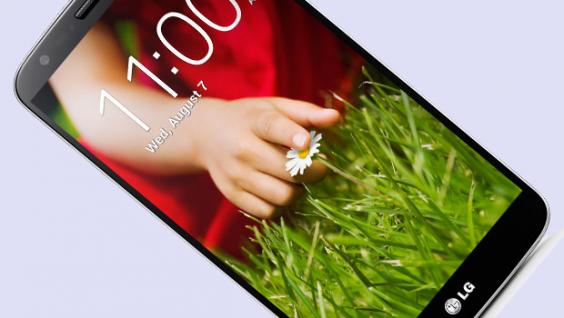 There's a whole host of UK features including Answer Me (automatically answers calls when you raise the phone to your ear), Text Link (which picks up words from messages and emails and can link them to your calendar, to maps or to the internet), and KockOn (tap twice on the phone to wake the screen without having to press any buttons).
Tere's also an attractive looking 'small phone' mode. A smart cover with a window activates this, offering a simplified UI that gives users quick access to phone functions such as messages and music.
Despite its low brand-recognisability in the smartphone market, LG is actually the number three handset manufacturer behind Samsung and Apple. It over took Huawei in the first three months of 2013 due to the popularity of its Nexus 4 and Optimus handsets.
This history of producing high-end hardware shows with the G2, which features a 2.26GHz processor, 2GB of RAM and a 13-megapixel camera.  LG have also tweaked the Android OS to offer superior sound quality that they claim is "studio-quality sound, far superior to a CD." 
The G2 is the first in LG's 'premium' G line and will be released first in South Korea before moving to America and Europe. There's no word yet when the new device might hit UK markets.
Reuse content