In its two decades as the web browser that launched billions of internet pages – and doubtless a similar number of grumbles over its technical deficiencies – Internet Explorer has racked up an impressive number of detractors.
From monopoly watchdogs in Washington and Brussels to the three governments who advised their entire populations to switch to another browser in 2010 over a security flaw, the flagship Microsoft product has become a favourite target for digital opprobrium.
The voices who point out that, for all its imperfections, IE is responsible for many innovations that make the web what it is today tend to be drowned out. So it is perhaps no surprise that Microsoft's head of marketing this week announced that a completely new browser, currently code-named Project Spartan, will not be burdened with the Internet Explorer moniker and its perceived frailties for sluggish performance and attracting the attention of myriad hackers.
Chris Capossela told a conference: "We're now researching what the new brand, or the new name, for our browser should be."
When it was launched in 1995 IE was the challenger to the then dominant Netscape Navigator. The decision by Bill Gates's company a year later to bundle IE with its Windows operating system soon killed off Navigator.
The result was more than a decade of domination of the browser market for Microsoft – it accounted for 95 per cent of all browser usage around the turn of the millennium. But it was also the same decade in which competitors from Apple to Google themselves grew into technology behemoths and slowly began the process of beating IE at its own game.
Figures on browser use are hard to calculate but they tell a uniform story – the once-dominant IE is now clicked upon for 13 to 20 per cent of web sessions, with a similar number for Firefox, while Google's Chrome accounts for 41 to 60 per cent of all browsing.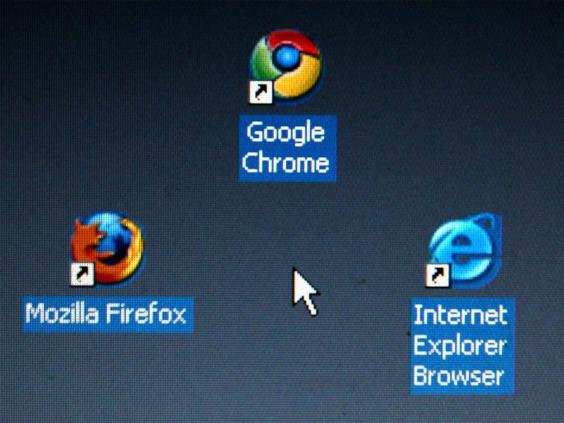 Although IE has been dogged by security flaws which have required regular updates, experts say its real fault has been the failure of its parent company to tweak the browser to meet the demands of a world where consumers are mobile and consume the web over several devices.
Tom Bedecarre, chairman of digital advertising agency Akqa, told the Financial Times: "In the war of the future, which is mobile, [Microsoft] are losing. Nobody is going to download Internet Explorer as their mobile browser."
Observers point out that Google has been particularly successful in using its sparse but efficient Chrome browser as the portal to a growing portfolio of additional cloud-based services from word processing to storing photographs.
By admitting defeat in this immediate battle, Microsoft is hoping to vault from the Web 1.0 world that IE helped shape to secure a larger chunk of Web 3.0 – the so-called "Internet of Things" – and in so doing persuade the world to love its browser, once more.
The Silicon Valley rumour mill suggests that the Project Spartan browser, likely to be unveiled later this month, will have the same stripped-down feel as Chrome and integrate Microsoft's digital personal assistant Cortona – its equivalent of Apple's Siri – to bring additional information within the same window.
Experts believe browsers will soon be sourcing information for users – such as updates from a suite of internet-linked devices – rather than placing the impetus on their distracted human controllers to find data.
Thomas Arthur, co-founder of browser developer Lateral SV, said: "The future of web browsers will start to lean towards automation of websites or data displayed in your browser."
Reuse content