It might sound like something straight out of Q's laboratory or the latest Marvel film but a group of scientists in California have successfully created eye drops that temporarily enable night vision.
Science for the Masses, an independent "citizen science" organisation that operates from the city of Tehacapi, theorised that Chlorin e6 (Ce6), a natural molecule that can be created from algae and other green plants, could enhance eyesight in dark environments.
The molecule is found in some deep sea fish, forms the basis of some cancer therapies and has been previously prescribed intravenously for night blindness.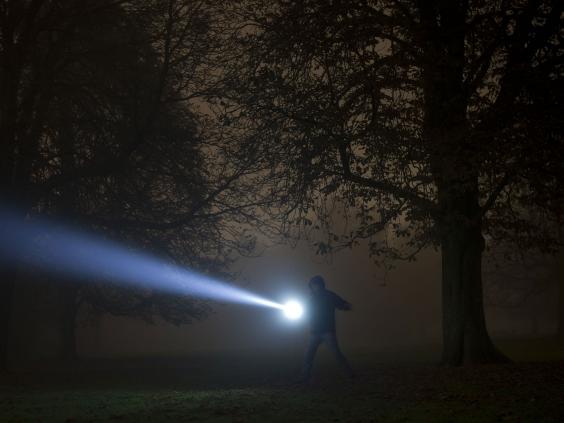 Jeff Tibbets, the lab's medical officer, said: "There are a fair amount of papers talking about having injected it in models like rats and it's been used intravenously since the 60s as treatments for different cancers. After doing the research, you have to take the next step."
The next step was to moisten the eyes of biochemical researcher and willing guinea pig Gabriel Licina's eyes with 50 microlitres of Ce6.
The effect was apparently almost instantaneous and, after an hour, he was able to distinguish shapes from 10 metres away in the dark and soon at even greater distances.
"We had people go stand in the woods," Licina said, "At 50 metres, I could figure who they were, even if they were standing up against a tree."
CES 2015: The best gadgets from Las Vegas
CES 2015: The best gadgets from Las Vegas
1/5 3D Systems Cocojet

The hype surrounding three-dimensional printing generally consists of companies saying "you know you want it" and consumers shrugging. The onus is now on printer manufacturers to demonstrate that printed objects actually have a purpose. To that end, Makerbot is touting new materials, chemically bonded with wood and metal, that enable you to print, say, a hammer. 3D Systems, meanwhile, is showing off stuff that can be worn and, more impressively, eaten. Cocojet prints chocolate confections to order; it will be absurdly expensive when it launches later this year, but this stuff is only going to become cheaper and more useful.

2/5 Gogoro Smartscooter

The appearance of a new electric vehicle (EV) at CES isn't newsworthy in itself, but Gogoro's scooter is all about the battery. With battery costs making up a significant part of the manufacture of any EV, Gogoro envisages a mobile phone-style model where you lease the use of one; when your battery runs out, you are directed to a charging station where you instantly swap it out for a fresh one. The grid, says Gogoro, will learn and respond to user behaviour within cities to keep plenty of fresh batteries available. Now all it has to do is persuade those cities to let them install the infrastructure.

3/5 Parrot Pot

The CES tends to prompt lots of chatter about the connected home. While many products seem to be solutions in search of problems, last year saw Nest's smoke alarms and smart thermostats cater for specific needs and reap the rewards. This year, Parrot's automated plant-watering system – in conjunction with an app – solves a specific problem very well: that of lazy, clueless or forgetful people accidentally killing their house plants. The app contains a database that helps the pot to deliver the correct amount of water to the plant exactly when it needs it. Keep those aspidistras flying.

AP

4/5 Samsung Portable SSD T1

Over the years, we've seen hard drives shrink and become more affordable. There is an ongoing debate about whether the rate of change is slowing, but new products still have the capability to make you go "wow". While Samsung seemed more interested (once again) in persuading CES attendees of the merits of internet0connected kitchen appliances, its 1TB SSD is fast, capacious and smaller than a credit card. Pricing information wasn't supplied, but again, the cost of these things is only going to fall.

AP

5/5 Intel Compute Stick

Is this the easiest way to carry around a computer? A step up from Google's Chromecast or Amazon's Fire TV media stick, Intel's Compute Stick packs 32Gb of storage, 2Gb of RAM, USB, WiFi, Bluetooth and Windows 8.1 (or Linux) into a chewing gum-sized gadget that plugs into any screen with an HDMI port. Intel seems to envisage it primarily for business use, but at $149 (£99) for the Windows version, it is affordable for consumers keen on exploring its potential.
The control group without Ce6 were only able to pick out the objects a third of the time, while Licina's success was 100 per cent.
The effect of the chemical only lasted for a few hours and the test subject's eyesight returned to normal the next day.
The organisation has released a paper that detailed the experiment in their website. It says that more research will need to be conducted to measure the actual amount of electrical stimulation increase in the eye whilst the long term effects of the procedure will require further investigation.
Tibbets says that this success is perfect demonstration of the work that his organisation conducts: "For us, it comes down to pursuing things that are doable but won't be pursued by major corporations. There are rules to be followed and don't go crazy, but science isn't a mystical language that only a few elite people can speak."
Reuse content