In what is believed to be the first incident of its kind in the UK, a pilot has reported a small hobby drone flying "deliberately close" towards his passenger plane.
The quadcopter reportedly came within 25 metres (82 feet) of the 74 passenger capacity AT72 plane on the 30th of May as it came in to land at Southend airport in Essex.
The UK Airprox Board, which handles complaints from pilots and air traffic controllers over near collisions, reported the incident in the same week that the British Airline Pilots Association warned that small drones "pose a growing safety risk".
The pilot told the control tower at Southend Airport that he had seen a "remote-control helicopter with a very small engine" and later confirmed it was a quadcopter, adding "from my point of view it was too close".
The reported concluded that while "there was too little information available to make a meaningful analysis of the occurrence or to accurately assess the risk […] members were disappointed that someone would fly a quadcopter so high on the extended approach path to an airport". The incident was graded as "D" for risk.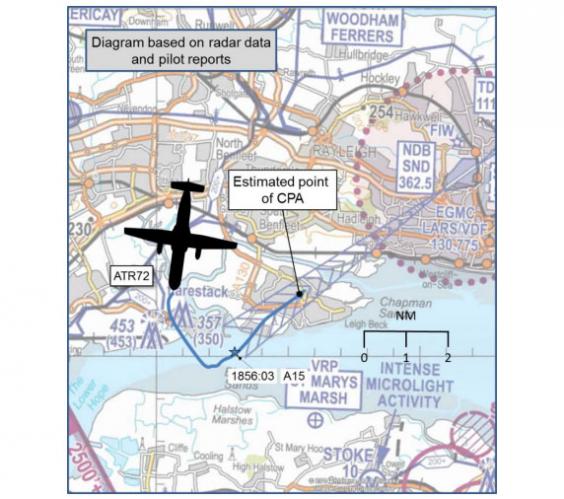 At the time air traffic control told the pilot that they had seen "a couple" of quadcopters being used in the area. These devices, which cost as little as a few hundred pounds, are exempt from many flying regulations if they weigh less than 20kg.
However the Civil Aviation Authority (CAA) requires that pilots keep their drones in eyeline at all times and prohibits them from flying closer than 150 metres to  built-up areas, buildings and vehicles.
Last week the former head of the GCHQ warned that small drones could be used launch "chemical and biological attacks" during public events such as football games and rallies, and in the US Nasa is currently working on building an air traffic control system for small drones.