Sometimes the TV just isn't big enough. Or the presentation screen at an office or school isn't versatile enough. A gadget has just gone on sale to sort both these problems. The Touchjet Pond is a palm-sized white plastic doohickey: put it next to a tripod and it looks dwarfed.
Set it up and you can use it to project an image onto a blank wall the size of up to an 80-inch TV. This works, for instance, with a movie, though the sound output from the little Pond isn't exactly cinema quality. The room needs to be reasonably dim and the image quality improves when projected screen is a bit smaller than the maximum, say around 50 to 60 inches.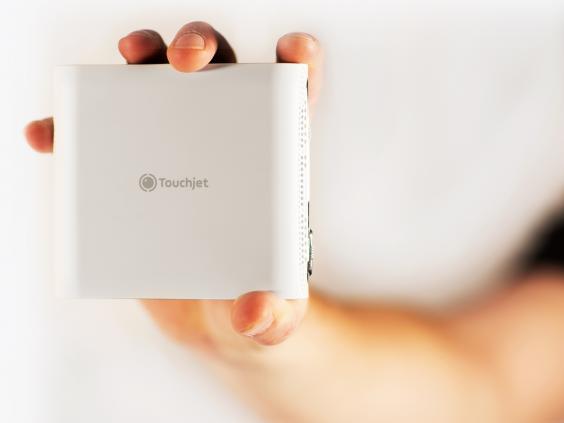 But the Touchjet Pond is really an Android smartphone with projector qualities, so as well as shining a film on the wall you can use it for Android apps – presentation software or games, say. And since there are around a million Android apps to choose from, you're bound to find something pleasing.
It's with these apps that the touchscreen effect comes in. Of course, it doesn't really make the wall touch-sensitive. Instead, the supplied stylus has a retractable tip which, when pressed – when making contact as you write or draw against a wall, say – transmits your touch to the projector. So if you annotate a presentation with an improving squiggle, it appears on screen automatically. Or if you're playing a quick bout of Fruit Ninja, swiping the wall with your pen chops the melon in two. It's reasonably quick and makes gaming great, physical fun.
If you're worried that the stylus might mark the wall or if, for instance, it's not flat, like a Artex or stucco surface, you can achieve the same effect without even touching. Press the button (which falls naturally enough under your thumb) and draw in the air. The movement is transmitted just as effectively.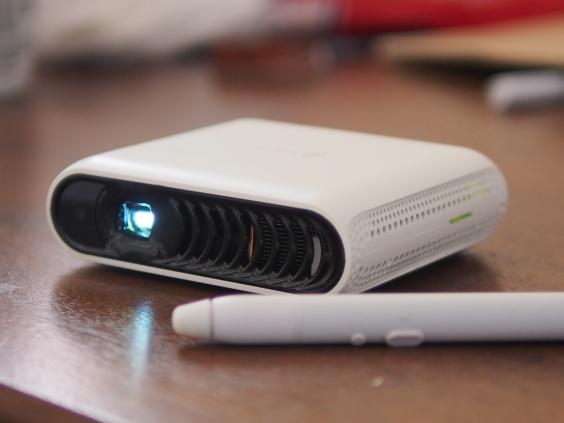 The trick is not to stand in the way of the projector because if you're in your own shadow, it can't see what you're doing so the touch doesn't register – there needs to be an optical path between the stylus tip and the projector. You can have multiple styli connected at a time and there's also an "air mouse" which can connect to the control unit by infra-red or Bluetooth.
Where the Pond comes into its own is to create not so much a TV but a huge tablet on the wall. Here's a game of Monument Valley that the whole family can play – better than everyone separately buried in their phones and tablets. While it's still expensive, at £599.99 it's a viable choice for schools and businesses. And it's cheaper than buying separate tablets for everyone in the household.
£599.99 from touchjet.eu
Reuse content