Microsoft's Xbox One console launched last night with major events staged in London and New York. The console will go head to head with Sony's PlayStation 4, which launched in the US last week and is coming to UK shores on the 29th this month.
Around 300 specialist gaming retailers and 100 Tesco stores stayed open to sell the new console to gamers, with Microsoft staging UK and US events with musicians and celebrities to entertain the crowds.
Click the gallery above to see more images from the Xbox One's global launch.
London's Leicester Square was populated by zombies from Dead Rising 3 and Roman legionaries from Ryse: Son of Rome, with Top Gear's The Stig also making an appearance to celebrate the launch title Forza 5.
"We have the best community of gamers around the world, and this was on full display last night," said Marc Whitten, chief product officer, Xbox. "The launch of Xbox One is truly Day One. Today is the beginning of the future of entertainment, and we could not be more proud to deliver Xbox One to fans around the world."
Sales figures for the Xbox One are not yet know, though during its first 24 hours of launch Sony's rival console managed to shift more than one million units – a record for the company and significant considering the sales came solely from North American markets.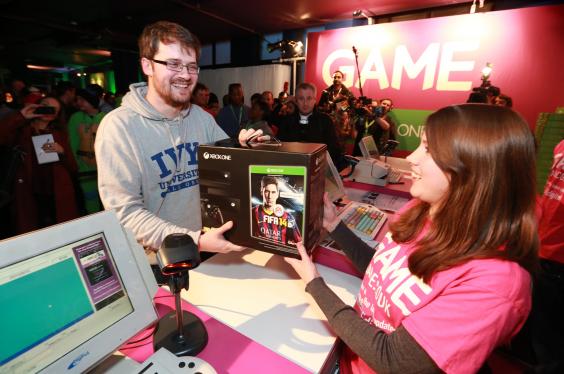 The PlayStation 4's launch might be on the way to be the most successful console launch of all time, but we have yet to see sales figures from the Xbox One, which has the advantage of a global launch on a single date.
Both the PS4 and Xbox One offer similar technical abilities, though Microsoft's console is £80 more expensive, costing £429 to the PS4's £349. Whilst the Xbox One has been marketed as more geared towards entertainment content, Sony has concentrated on selling the PS4 as a gaming machine.
However, many observers think that these pair of devices might be the last dedicated games consoles to go on sale. Sales of home  consoles have declined since the 90s with mobile devices eating into the market for casual gaming.
Sony's PlayStation 2 sold 150 million consoles but the PS3 only topped over 80 million. And although 24 hour sales of one million units for the PS4 is impressive, it pales in comparison to opening weekend sales of the iPhone 5s and 5c: Apple managed to shift more than 9 million smartphones in just three days.
Click here to read 10 things you need to know about the Xbox One
Click here to read our full comparison of the Xbox One and the PS4
Reuse content