The Chinese smartphone maker known as 'the Apple of the East' has released its latest flagship device to take on the iPhone: the Mi4.
Although the phone  will only be available in the Asian Pacific region (specifically China, Hong Kong, Taiwan, Singapore, Malaysia, the Philippines and India), the Mi4's design makes it clear that Xiaomi is taking aim at the 'premium' market currently dominated by Samsung and Apple.
The phone was unveiled to rapturous applause in Beijing by Xiaomi CEO Lei Jun, a billionaire known for wearing blue jeans and trainers onstage (remind you of anyone?) and who managed to persuade Google's second in command of Android to join his four-year-old company last year.
A glossy promotional video for the Mi4 shows that Xiaomi are lavishing the same attention on their design process that Apple is known for, showing off a device with an all-metal construction and a smoothly-cut edge perimeter that look eerily similar to the iPhone's 'chamfered edges'.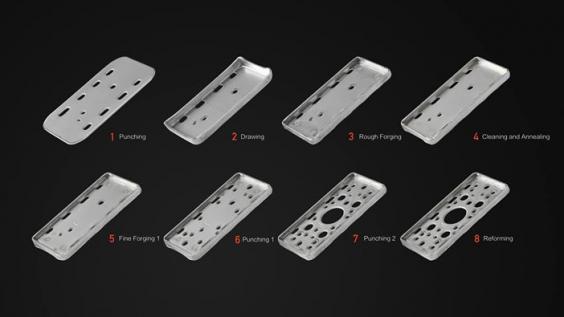 In terms of specifications the Mi4 comfortably holds its own with other flagship devices, featuring a 5-inch full-HD screen, a quad-core 2.5GHz processor, 2GB of RAM, a 13-megapixel rear-facing camera and 16GB of 64GB of internal memory.
The device will also run Xiaomi's custom MIUI operating system – a skinned version of Android that allows for more customization and that removes the Android app drawer in favour of putting all the programs on the home screen (just lke an iPhone).
Xiaomi also unveiled an £8 fitness tracker at the same event dubbed the MiBand. The device can track the wearer's sleep and steps and can also be used to unlock Xiaomi's phones - doing away with the need for a password.
So is the Mi4 a threat to Apple? Well, in China, certainly. Xiaomi sells 95 per cent of its devices in the country and although it's still slightly behind the American firm in terms of market share (6 per cent compared to Apple's 7 per cent) it might overtake them - especially if Apple's iPhone 6, set to be released later this year, is priced too highly.
Xiaomi might not mean much to Western customers at the moment, but the company's approach to pricing (sell the device at cost and make money on services) is sure to attract some fans over here. The Mi4 is far from an iPhone killer - but who knows about its successors?
Reuse content