Having started smoking as a teenager, Professor Robert West managed to kick the habit while at university, on a girlfriend's urging. He has gone on to devote his 30-year career to discovering what works when it comes to giving up smoking. Heading a team of researchers at University College London, where he is Professor of Health Psychology and Director of Tobacco Studies at Cancer Research UK's Health Behaviour Research Centre, he has one aim: to find better ways of helping smokers who want to stop.
"There is a lot of stuff out there: Allen Carr, Paul McKenna, numerous websites," says West. "But what smokers don't have is the real story of the best ways of stopping, from the billions of pounds worth of research that has actually been done."
Instead of suggesting just one sure-fire way to quit, West discusses the many things that can help someone forgo the fags: electronic cigarettes, nicotine replacement therapy, professional support, and so on. With other positions West currently holds, including  co-director of the NHS Centre for Smoking Cessation and a board member of QUIT, he is one of the leading experts in the field.
In his new book The SmokeFree Formula: A Revolutionary Way to Stop Smoking Now each factor that could contribute to someone  stopping is viewed as an "ingredient". West advises how to combine these ingredients into a personalised "formula". His motto is "I  guide – you decide". Here, West explains a  few of his many findings.
Nicotine doesn't work like you think it does
The way people think about addiction is that you need to take a drug to stay normal and to stave off withdrawal symptoms, nicotine addiction isn't that simple. You smoke because the nicotine you have been inhaling for all those years has changed your brain chemistry to create powerful urges to smoke. The urges come about because every puff on a cigarette sends a rapid nicotine hit to the part of your brain that makes you do things, creating an association between the drug and the action.
These urges are triggered because nicotine has trained the part of your brain that gets you to do things to light up a cigarette whenever you find yourself in a situation where you would normally smoke, be it with drinking alcohol, at a bus stop, after a meal.
Crucially, this helps to answer a conundrum that a lot of smokers have: why do smokers who don't smoke every day often find it really hard to stop? And the reason is because they encounter situations in which they normally smoke. The nicotine in the cigarette has forged that link, so that they then get this unaccountable urge to smoke. People think it must be psychological because it doesn't fit their model of how drugs should work, but actually it isn't – it's down to the way nicotine acts on the brain.
You don't have to enjoy smoking to find it difficult to give it up; it can do absolutely nothing for you. 50 per cent of smokers say they don't get any enjoyment from smoking and the chances of success when they stop bear no relation whatsoever to how much they enjoy it.
Nicotine attacks the animal part of the brain that you don't need to have any conscious awareness of; all your brain knows is that you're in a situation in which you normally smoke, so light up a cigarette. The job of the conscious part of the brain is to find a way of countering that.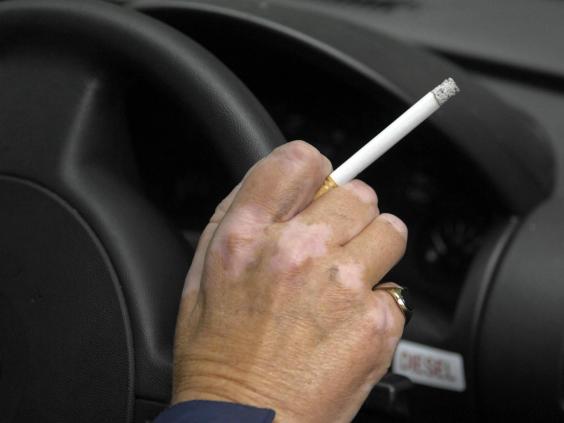 Give up by your mid-thirties
For every day you carry on smoking after your mid-thirties, you will lose an average of six hours of life. Smokers are basically living an 18-hour day until they stop. The moment you stop then you start to recover life expectancy at a rate of six hours a day. That means it's always urgent, but it's never too late. It doesn't matter how young or old you are, you'll always benefit from stopping today rather than tomorrow, or tomorrow rather than the day after.
However, this is not a licence to smoke until your mid-thirties. Your chances of stopping at any one quick attempt are not that high. If you start trying to quit in your thirties, on average you're going to be in your forties before you succeed. It's a good idea to try to start in your twenties so that by the time you get to your thirties, you've stopped. And, of course, there are other effects that don't kill you but are not nice, such as effects on your respiratory system, and your appearance.
Harm reduction is effective
Reducing the amount you smoke has a very small benefit. However, the reason why we've all suddenly got very excited about harm reduction (essentially, reducing the amount you smoke) is that evidence shows that when people cut down, without necessarily wanting to stop, we find that more of them will have stopped a year on. If they do it with a nicotine product, they're even more likely to stop.
What I would recommend to any smoker is if you're not ready to stop, then it is worthwhile trying to reduce the amount you smoke. If you're going to do it, use a nicotine product as well to help you. The more nicotine you get from something that isn't a cigarette, the weaker the association between smoking  and the nicotine hit becomes.
It's best to stop abruptly
About 30 to 40 per cent of smokers try to stop gradually and you can see why because it fits our ideas of how addiction works. What we find is you're about half as likely to succeed in the long run if you stop gradually rather than abruptly. So why is it better to stop suddenly? We must return to the way nicotine works. It's not about keeping the levels topped up in your body, so much as the link that's formed between smoking and the situation in which you find yourself smoking.
When you try to stop gradually, what happens is that each remaining cigarette becomes more rewarding and it creates a stronger link with the situation you smoke it in. What we find is that, actually, fewer people who try to stop gradually ever get to the point where they can cut it out altogether. Whereas if you tell smokers they can puff away until their quit date, it creates this very clear break in your life between your smoking past and your non-smoking future. It's not a guarantee of success, but it does make a big difference.
Chewing glucose tablets helps
In one of the first studies on nicotine gum back in the Eighties, smokers would tell me that the craving for cigarettes felt like a hunger in the pit of their stomach. I wondered if they were mislabelling hunger as craving. Therefore anything you can do to take the edge off that hunger ought then to reduce the craving. In our study we got people in the smoker's clinic to chew either glucose tablets or a low-calorie sweet. I wasn't going to bother analysing the results as it seemed such a crazy idea. But, lo and behold, glucose does reduce cravings for cigarettes. We then investigated whether it translated into helping people actually stop smoking. We did a larger trial looking for long-term effects and we found that it was only in the smokers who were also taking nicotine gum or similar. But it's a booster in the long term. Given they are very cheap, I'd give them a go.
Just breathe
We wanted to find a way of helping people in the slum areas of India to stop smoking that didn't cost anything. In India, they're keen on yoga and part of yoga is pranayama, or breathing control. There has been some research done in the States looking at a particular part of the brain called the insular and it might be linked to cigarette craving (they found that people who had suffered a stroke that had damaged the insular tended to crave cigarettes less).
The insular is important in controlling breathing, so we did a study in which we asked half the people to do very simple breathing exercises while they were abstaining from a cigarette, while the others just watched a video about the exercises as a sort of control. What we found was that the people who did the exercises craved less for their cigarette.
Try an electronic cigarette
We're studying these quite intensively in my research group, trying to come to a view as to whether they're helpful or just a fad. There's every reason to believe that those e-cigarettes that give decent amounts of nicotine (maybe half that you get from a regular cigarette) can help. There are debates over their safety. But a study that has just been published shows that they have very low levels of any kind of toxin.
They're more than 100 times safer than smoking a tobacco cigarette. If I was a smoker and tried everything then I would definitely give them a go. However, smokers might well find the first one they try doesn't suit them; they're hugely variable. Shop around and find one with a profile that suits you. Treat it like buying a mobile phone.
The SmokeFree Formula: A Revolutionary Way to Stop Smoking Now by Professor Robert West. £9.99; Orion Books
Reuse content