Dealing with the Ebola crisis requires taking particular care not to come into contact with any fluid from an infected patient, which is why medical experts and agencies have been pictured wearing full body protective gear, or hazmat suits when treating suspected cases.
What is a hazmat suit?
A Hazmat suit, short for hazardous material suit, is a whole body garment designed to protect the wearer against dangerous materials or substances, such as chemicals or biological agents.
A hazmat suit is a form of personal protective equipment (PPE), which is often used by medics and doctors treating patients alongside other PPE such as goggles, gloves and gowns.
Health facilities, organisations and agencies have different protocols and procedures for using PPE and hazmat suits and for operating in contaminated areas. These also vary depending on the hospital, clinic and location.
How do hazmat suits work?
The suits are designed to be impermeable, to ensure agents or substances do not touch the wearer.
The US Centres for Disease Control requires all staff dealing with potential Ebola cases to wear a gown, mask or respirator, goggles or face shield, and gloves.
In the US, the suits are classified into Levels A, B, C or D, depending on how much protection they provide.
Level A ensures the highest level of protection against vapours, gases, mists, and particles. These suits incorporate full face self-contained breathing apparatus (SCBA) or positive pressure supplied air respirator with escape SCBA and a two-way radio, which is worn inside the suit.
Level B incorporates a splash-protective, chemical-resistant splash suit with gloves and boots that provide Level A protection against liquids but is not airtight. This is used when a lower level of skin protection is needed.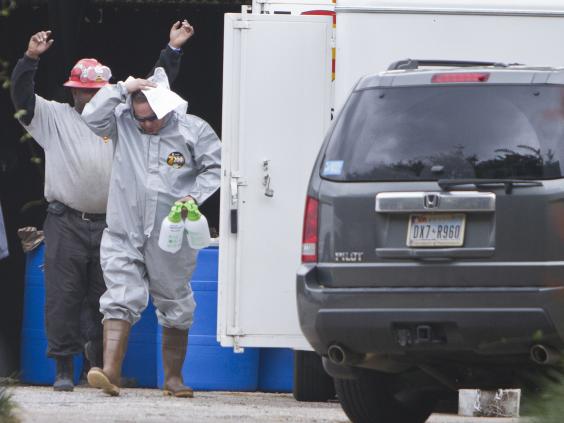 Level C uses the same garment but allows for other respiratory protection equipment to be used, such as air purifying respirators. This level is appropriate when decontaminating patients or victims.
Level D suits do not protect against exposure to chemicals. Cover-alls, chemical resistant footwear with steel toes and a face shield are required for this level of protection.
How do I put them on?
Bloomberg reporter Brenden Greeley, who was shown how to wear a hazmat suit by the CDC, said putting on the full suit and all PPE can take about half an hour.
The suit is worn on the outside of normal clothing, before gloves, sleeves, shoes hoods and face masks are placed on to ensure there are no openings where contamination could occur.
The suit is secured around wrists, ankles, the face, neck and waist.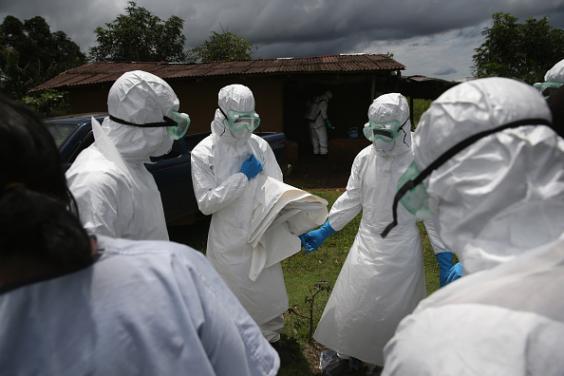 What about taking them off?
Wearing hazmats is not enough to protect against a virus like Ebola – the suits also need to be removed safely without contaminating clothing or skin.
The CDC has two methods for safely removing protective garments which involve taking off gloves and garments without ever touching the outside of them. The outside of all parts are considered contaminated after the wearer has had contact with the infected patient.
It says all PPE should be removed by rolling downward (from head to toe), removing the SCBA last.
Their protocol states that PPE should always be removed before exiting the isolation area.
The CDC guidelines stress that the front of the respirator should never be touched and hands should be washed between each step, as well as after removing all of the garments.
Reuse content