In a cabinet in London's British Museum nestles a 5,300 year-old wedged-shaped tablet called a cuneiform. On its surface is scrawled one of the earliest forms of written language in the world.
And it's a record of Mesopotamian workers' beer rations.
Clearly, humanity's relationship with alcohol stretches back thousands of years, but a long relationship doesn't necessarily mean a healthy one.
We know that alcohol is damaging to our health in a number of ways. And the one we're most concerned about here at Cancer Research UK is its impact on cancer risk.
We've written about the link between alcohol and cancer many times before – from discussing the evidence that it causes cancer to talking about how drinking less reduces your risk of developing the disease.
But we haven't yet explored the science behind how alcohol affects and damages our cells, and how this can cause the cells in our bodies to develop into cancer.
Which cancers?
There are seven types of cancer linked to alcohol – bowel, oesophageal (food pipe), larynx (voice box), mouth, pharynx (upper throat), breast (in women), and liver. There's also mounting evidence that heavy drinking might be linked to pancreatic cancer. But how, and why?
According to Dr Ketan Patel, a Cancer Research UK expert on how alcohol causes cancer: "We don't really know. We don't fully understand why alcohol causes some cancers and not others."
There are some theories, however, although some are stronger than others.
The best evidence we have is for mouth and throat cancers where alcoholic drinks directly damage cells in these tissues.
And, because alcohol also increases a person's chances of developing a scarring of the liver known as cirrhosis, it's thought that this increases their chances of developing liver cancer.
There's also some evidence that certain bacteria in your mouth and throat – and maybe even in the bowel – could be involved in alcohol causing cancer. But the link isn't clear and we don't know for sure, so we need to wait for more data.
And, as we will briefly discuss below, there's good reason to think that alcohol's effects on hormone levels might be behind its link to breast cancer.
While there may be a perception that the health risks of alcohol only apply to heavy drinkers, research is revealing that it's not just drinking large amounts of alcohol that increases your chances of developing cancer – drinking small amounts can be harmful too.
Although there's a lot we still don't know about how alcohol is linked to different types of cancer, researchers are starting to figure out at least one of the ways that it causes harm.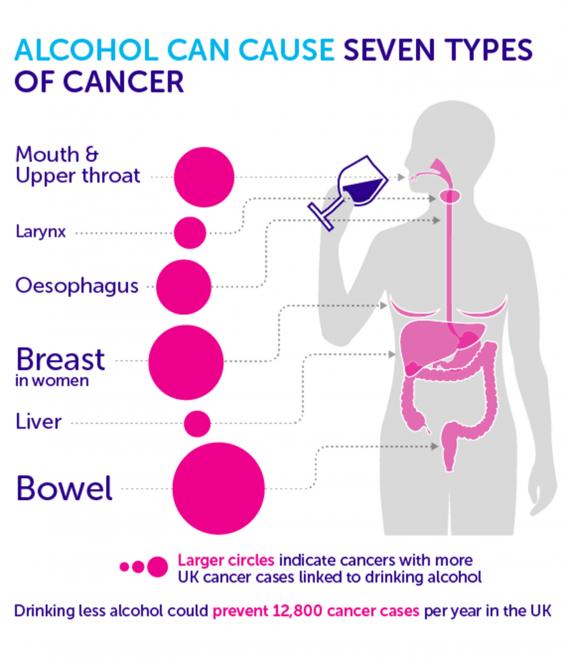 A nervous breakdown
Like most things you eat or drink, alcohol – be it in a pint, shot or cocktail – gets broken down by your cells.
In the case of ethanol – the chemical name for the alcohol we drink – it ultimately gets broken down to create energy.
First an enzyme called alcohol dehydrogenase (ADH) converts ethanol to another molecule – acetaldehyde. This then gets broken down by a second enzyme, acetaldehyde dehydrogenase (ALDH), into acetate, which our cells can use as a source of energy.
This is a relatively straightforward process, and one that evolution has equipped our bodies to handle with ease. So where's the harm in having a drink or two?
Ketan_Jayakrishna_Patel_FRS
Dr Ketan Patel Image via Wikimedia Commons CC-BY-3.0
The risk lies with the middle man – acetaldehyde.
"Ethanol itself is relatively non-toxic other than the consequences of drunkenness," says Ketan Patel. "It doesn't directly damage DNA. But as the body breaks it down, it goes through a step where it is converted to a highly reactive, toxic chemical called acetaldehyde."
"And it's a build-up of this which likely causes changes that lead to cancer."
To prevent acetaldehyde building up and damaging DNA, human cells contain three ALDH enzymes – ALDH1A1, ALDH2 and ALDH1B1, which rapidly break down acetaldehyde into acetate. This means that acetaldehyde doesn't usually have time to build up or hang around for long enough to cause significant DNA damage.
But this protection mechanism can be overwhelmed once alcohol is in the bloodstream, meaning it doesn't work properly.
What's more, it isn't available to everyone. Some people have mistakes or changes in the genetic code of their ALDH enzymes which cause them to malfunction, so acetaldehyde can build up. In turn, this leads to DNA damage.
"It's known as the flushing mutation" says Patel. "It's particularly common among Southeast Asian populations – for example, up to 70% of the Taiwanese population have it."
"People with mutated ALDH enzymes become flushed in the face and very often feel very sick after drinking alcohol."
Thankfully, our cells contain a further layer of protection, in the form of a variety of 'toolkits' that can repair damaged DNA (which we've discussed at length in this post).
But both of these systems have their limits, so damage can still happen.
"Most organisms – from bacteria to humans – have these two protection systems. But if you overwhelm them they won't work," says Patel. "That's when you get acetaldehyde causing DNA damage and changes that lead to cancer."
Mutations and rearrangements and clumps….
This is an important part of the chain of evidence linking alcohol to cancer risk.
"The evidence that mistakes in DNA can lead to cancer is overwhelming," says Patel.
So how exactly does acetaldehyde affect our cells' DNA? Over the years, scientists have identified several forms of damage.
DNA 'spelling mistakes'
Acetaldehyde can cause errors in DNA called point mutations. These are a type of mistake where one base – or 'letter' – in a gene is swapped for another. And because DNA is the instruction manual that tells our cells what to do, mistakes in it can lead to cancer.
Rearranging the furniture
Acetaldehyde can also trigger larger-scale changes to our DNA, by messing up entire chromosomes (the technical name for the long strings of DNA in our cells). It can cause bits of chromosomes to break off and to swap around, meaning genes end up in the wrong place and don't work properly – these are also phenomena that can trigger cancer.
DNA clumps
Acetaldehyde has also been shown to bind to DNA, forming clumps called adducts. These play havoc with how DNA works, folds, replicates and repairs itself. Essentially, adducts are another type of mutation, and they too can cause cells to become cancerous.
The cup runneth over
So far we've seen that alcohol can be broken down into a harmful chemical – acetaldehyde. We've looked at the systems in place to prevent it damaging our DNA. And we've looked at the sorts of damage it can cause.
Now let's take a closer look at what's going on when we have a drink or two. To visualise how alcohol overwhelms our cellular defences, imagine you're pouring alcohol – say red wine – into a glass through a funnel.
If you only pour a small amount into the funnel, the wine will flow right through.
But if you continuously pour the alcohol into the funnel, without taking time to stop or pause, the funnel will overflow.
Similarly, too much alcohol stops the ALDH enzymes and DNA repair pathways from working properly, so the systems become overwhelmed, resulting in a build-up of acetaldehyde, and damage that can lead to cancer.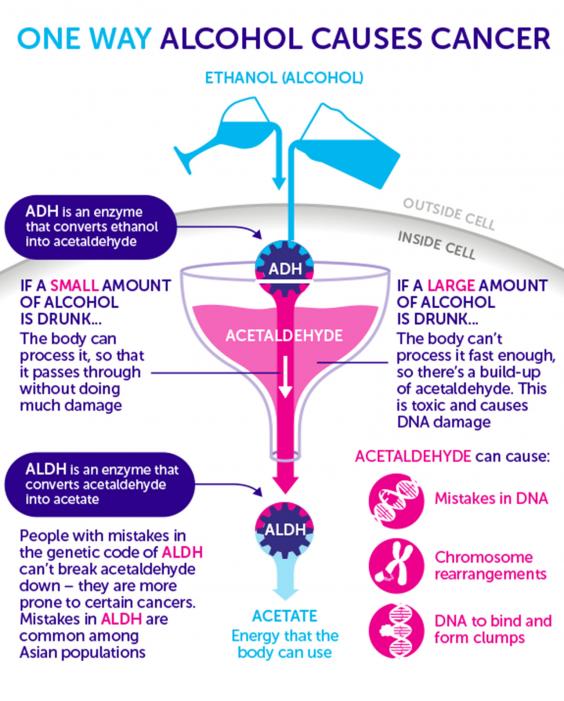 While this neatly explains why certain cancers – such as bowel and liver tumours – are linked to heavy drinking, what's more of a mystery is why other forms are linked to much lower levels of consumption.
For example, we know that light drinking increases a person's risk of developing cancers of the upper aero-digestive tract, namely mouth, upper throat and oesophageal cancers.
One theory that might explain this is the bacteria we mentioned earlier. It's thought that the bacteria in our mouth are very good at converting ethanol into acetaldehyde, resulting in a very high level of acetaldehyde, even if only a small bit of booze is drunk.
Clearly there's a lot more work to be done to really understand how the 'funnel' idea plays out in different tissues of our bodies, and just how much (or little) alcohol can cause it to 'overflow'. As well as why some forms of cancer are more strongly linked to alcohol than others.
But as well as acetaldehyde causing DNA damage, there are other ways alcohol can lead to cancer too.
Other potential mechanisms
Smoking is the number one preventable cause of cancer. So it's not surprising that if someone drinks and smokes, they're increasing their chances of developing cancer even further. But for some cancers, it seems that these two effects in combination are much worse than either by itself. Why?
The interaction between alcohol and smoking is complex. Acetaldehyde is also a by-product of burning tobacco, as is a second, similar chemical: formaldehyde.
But to go back to our funnel, if you drink and smoke there's more chance of creating an overflow because the body's systems can't work fast enough to handle the damage caused by both of them at the same time.
"If you smoke and drink, you're going to have a greater build-up of acetaldehyde and other toxins, which will increase the damage to your DNA and, in turn, your chances of developing cancer."
As well as this, there's also evidence that alcohol can make it easier for the cancer-causing tobacco chemicals found in cigarettes to get into tissue and cells.
Alcohol increases a woman's chances of developing breast cancer – but how and why this happens still isn't fully understood.
One theory is that drinking alcohol affects women's hormone levels, increasing the amount of oestrogen in the body, which is then used by breast cancer cells as fuel for growth.
But it's not necessarily straightforward to unravel. Lots of other things affect oestrogen levels, including whether the woman is pre- or post-menopausal, the stage of her menstrual cycle and whether she's taking hormonal contraceptives or hormone replacement therapy (HRT).
Patel is cautious. "We know alcohol increases women's risk of developing breast cancer. But so far, the exact mechanism that causes this increased risk hasn't been pinned down," he says. "At the moment, the evidence is too weak to say for definite how alcohol causes breast cancer."
"We need more research to figure out this complex cause-and-effect relationship."
More or less?
Research is slowly revealing more about how alcohol causes cancer, and the theories we've discussed in this post are the ones with the strongest supporting evidence.
But there are other ideas that haven't yet been fully explored or resolved. These include changes in folate metabolism, increased production of reactive oxygen species and reactive nitrogen species and the role of bacteria in how alcohol is metabolised.
At Cancer Research UK, we're committed to finding out more about the mechanisms by which alcohol causes cancer.
Health news in pictures
Health news in pictures
1/27 Exercise classes offering 45 minute naps launch

David Lloyd Gyms have launched a new health and fitness class which is essentially a bunch of people taking a nap for 45 minutes. The fitness group was spurred to launch the 'napercise' class after research revealed 86 per cent of parents said they were fatigued. The class is therefore predominantly aimed at parents but you actually do not have to have children to take part

Getty Images/iStockphoto

2/27 'Fundamental right to health' to be axed after Brexit, lawyers warn

Tobacco and alcohol companies could win more easily in court cases such as the recent battle over plain cigarette packaging if the EU Charter of Fundamental Rights is abandoned, a barrister and public health professor have said.

Getty

3/27 'Thousands dying' due to fear over non-existent statin side-effects

A major new study into the side effects of the cholesterol-lowering medicine suggests common symptoms such as muscle pain and weakness are not caused by the drugs themselves

Getty Images/iStockphoto

4/27 Babies born to fathers aged under 25 have higher risk of autism

New research has found that babies born to fathers under the age of 25 or over 51 are at higher risk of developing autism and other social disorders. The study, conducted by the Seaver Autism Center for Research and Treatment at Mount Sinai, found that these children are actually more advanced than their peers as infants, but then fall behind by the time they hit their teenage years.

Getty Images/iStockphoto

5/27 Cycling to work 'could halve risk of cancer and heart disease'

Commuters who swap their car or bus pass for a bike could cut their risk of developing heart disease and cancer by almost half, new research suggests – but campaigners have warned there is still an "urgent need" to improve road conditions for cyclists. Cycling to work is linked to a lower risk of developing cancer by 45 per cent and cardiovascular disease by 46 per cent, according to a study of a quarter of a million people. Walking to work also brought health benefits, the University of Glasgow researchers found, but not to the same degree as cycling.

Getty Images

6/27 Ketamine helps patients with severe depression 'when nothing else works' doctors say

Ketamine helps patients with severe depression 'when nothing else works' doctors say

Creative Commons/Psychonaught

7/27 Playing Tetris in hospital after a traumatic incident could prevent PTSD

Scientists conducted the research on 71 car crash victims as they were waiting for treatment at one hospital's accident and emergency department. They asked half of the patients to briefly recall the incident and then play the classic computer game, the others were given a written activity to complete. The researchers, from Karolinska Institute in Sweden and the University of Oxford, found that the patients who had played Tetris reported fewer intrusive memories, commonly known as flashbacks, in the week that followed

Rex

8/27 Measles outbreak spreads across Europe as parents shun vaccinations, WHO warns

Major measles outbreaks are spreading across Europe despite the availability of a safe, effective vaccine, the World Health Organisation has warned. Anti-vaccine movements are believed to have contributed to low rates of immunisation against the highly contagious disease in countries such as Italy and Romania, which have both seen a recent spike in infections. Zsuzsanna Jakab, the WHO's regional director for Europe, said it was "of particular concern that measles cases are climbing in Europe" when they had been dropping for years

Creative Commons

9/27 Vaping backed as healthier nicotine alternative to cigarettes after latest study

Vaping has been given an emphatic thumbs up by health experts after the first long-term study of its effects in ex-smokers. After six months, people who switched from real to e-cigarettes had far fewer toxins and cancer-causing substances in their bodies than continual smokers, scientists found

Getty Images

10/27 Common method of cooking rice can leave traces of arsenic in food, scientists warn

Millions of people are putting themselves at risk by cooking their rice incorrectly, scientists have warned. Recent experiments show a common method of cooking rice — simply boiling it in a pan until the water has steamed out — can expose those who eat it to traces of the poison arsenic, which contaminates rice while it is growing as a result of industrial toxins and pesticides

Getty Images/iStockphoto

11/27 Contraceptive gel that creates 'reversible vasectomy' shown to be effective in monkeys

An injectable contraceptive gel that acts as a 'reversible vasectomy' is a step closer to being offered to men following successful trials on monkeys. Vasalgel is injected into the vas deferens, the small duct between the testicles and the urethra. It has so far been found to prevent 100 per cent of conceptions

Vasalgel

12/27 Shift work and heavy lifting may reduce women's fertility, study finds

Women who work at night or do irregular shifts may experience a decline in fertility, a new study has found. Shift and night workers had fewer eggs capable of developing into healthy embryos than those who work regular daytime hours, according to researchers at Harvard University

Getty Images/iStockphoto

13/27 Breakfast cereals targeted at children contain 'steadily high' sugar levels since 1992 despite producer claims

A major pressure group has issued a fresh warning about perilously high amounts of sugar in breakfast cereals, specifically those designed for children, and has said that levels have barely been cut at all in the last two and a half decades

Getty Images

14/27 Fight against pancreatic cancer takes 'monumental leap forward'

Scientists have made a "monumental leap forward" in the treatment of pancreatic cancer after discovering using two drugs together dramatically improved patients' chances of living more than five years after diagnosis.

Getty Images/iStockphoto

15/27 Japanese government tells people to stop overworking

The Japanese government has announced measures to limit the amount of overtime employees can do – in an attempt to stop people literally working themselves to death. A fifth of Japan's workforce are at risk of death by overwork, known as karoshi, as they work more than 80 hours of overtime each month, according to a government survey.

Getty Images

16/27 Over-cooked potatoes and burnt toast 'could cause cancer'

The Food Standards Agency (FSA) has issued a public warning over the risks of acrylamide - a chemical compound that forms in some foods when they are cooked at high temperatures (above 120C).

Getty Images/iStockphoto

17/27 Cervical cancer screening attendance hits 19 year low

Cervical screening tests are a vital method of preventing cancer through the detection and treatment of abnormalities in the cervix, but new research shows that the number of women using this service has dropped to a 19 year low.

Getty Images/iStockphoto

18/27 High blood pressure may protect over 80s from dementia

The ConversationIt is well known that high blood pressure is a risk factor for dementia, so the results of a new study from the University of California, Irvine, are quite surprising. The researchers found that people who developed high blood pressure between the ages of 80-89 are less likely to develop Alzheimer's disease (the most common form of dementia) over the next three years than people of the same age with normal blood pressure.

Getty Images/iStockphoto

19/27 Most child antidepressants are ineffective and can lead to suicidal thoughts

The majority of antidepressants are ineffective and may be unsafe, for children and teenager with major depression, experts have warned. In what is the most comprehensive comparison of 14 commonly prescribed antidepressant drugs to date, researchers found that only one brand was more effective at relieving symptoms of depression than a placebo. Another popular drug, venlafaxine, was shown increase the risk users engaging in suicidal thoughts and attempts at suicide

Getty

20/27 'Universal cancer vaccine' breakthrough claimed by experts

Scientists have taken a "very positive step" towards creating a universal vaccine against cancer that makes the body's immune system attack tumours as if they were a virus, experts have said. Writing in Nature, an international team of researchers described how they had taken pieces of cancer's genetic RNA code, put them into tiny nanoparticles of fat and then injected the mixture into the bloodstreams of three patients in the advanced stages of the disease. The patients' immune systems responded by producing "killer" T-cells designed to attack cancer. The vaccine was also found to be effective in fighting "aggressively growing" tumours in mice, according to researchers, who were led by Professor Ugur Sahin from Johannes Gutenberg University in Germany

Rex

21/27 Green tea could be used to treat brain issues caused by Down's Syndrome

A compound found in green tea could improve the cognitive abilities of those with Down's syndrome, a team of scientists has discovered. Researchers found epigallocatechin gallate – which is especially present in green tea but can also be found in white and black teas – combined with cognitive stimulation, improved visual memory and led to more adaptive behaviour. Dr Rafael de la Torre, who led the year-long clinical trial along with Dr Mara Dierrssen, said: "The results suggest that individuals who received treatment with the green tea compound, together with the cognitive stimulation protocol, had better scores in their cognitive capacities"

22/27 Taking antidepressants in pregnancy 'could double the risk of autism in toddlers'

Taking antidepressants during pregnancy could almost double the risk of a child being diagnosed with autism in the first years of life, a major study of nearly 150,000 pregnancies has suggested. Researchers have found a link between women in the later stages of pregnancy who were prescribed one of the most common types of antidepressant drugs, and autism diagnosed in children under seven years of age

23/27 Warning over Calpol

Parents have been warned that giving children paracetamol-based medicines such as Calpol and Disprol too often could lead to serious health issues later in life. Leading paediatrician and professor of general paediatrics at University College London, Alastair Sutcliffe, said parents were overusing paracetamol to treat mild fevers. As a result, the risk of developing asthma, as well as kidney, heart and liver damage is heightened

24/27 Connections between brain cells destroyed in early stages of Alzheimer's disease

Scientists have pinpointed how connections in the brain are destroyed in the early stages of Alzheimer's disease, in a study which it is hoped will help in the development of treatments for the debilitating condition. At the early stages of the development of Alzheimer's disease the synapses – which connect the neurons in the brain – are destroyed, according to researchers at the University of New South Wales, Australia. The synapses are vital for brain function, particularly learning and forming memories

25/27 A prosthetic hand that lets people actually feel through

The technology lets paralysed people feel actual sensations when touching objects — including light taps on the mechanical finger — and could be a huge breakthrough for prosthetics, according to its makers. The tool was used to let a 28-year-old man who has been paralysed for more than a decade. While prosthetics have previously been able to be controlled directly from the brain, it is the first time that signals have been successfully sent the other way

26/27 Aspirin could help boost therapies that fight cancer

The latest therapies that fight cancer could work better when combined with aspirin, research has suggested. Scientists from the Francis Crick Institute in London say the anti-inflammatory pain killer suppresses a cancer molecule that allows tumours to evade the body's immune defences. Laboratory tests have shown that skin, breast and bowel cancer cells often generate large amounts of this molecule, called prostaglandin E2 (PGE2). But Aspirin is one of a family of drugs that sends messages to the brain to block production of PGE2 and this means cancer cells can be attacked by the body's natural defences

27/27 Potatoes reduce risk of stomach cancer

Scientists have found people who eat large amounts of white vegetables were a third less likely to contract stomach cancer. The study, undertaken by Chinese scientists at Zhejiang University, found eating cauliflower, potatoes and onions reduces the chance of contracting stomach cancer but that beer, spirits, salt and preserved foods increased a person's risk of the cancer
We're continuing to fund Dr Patel's research, which is focusing on how alcohol is broken down into different chemicals in the body and how this can damage cells and trigger cancers – particularly liver cancer. He is also studying both the long and short-term effects of exposure to alcohol.
And one of the big questions raised by our Grand Challenge funding scheme is asking if the mutational fingerprints left behind by lifestyle factors like drinking alcohol can help us better understand the link between environmental factors and cancer.
But no matter how alcohol causes cancer, one thing is clear.
The best way to reduce the risk of cancer from alcohol is to drink less of it – whether that's by having more alcohol-free days every week, swapping out some glasses of booze for soft drinks during a night out, or picking lower strength drinks or smaller servings.
The relationship between humans and alcohol goes back millennia and it's an integral part of many societies' social lives. Of course, adults have the right to decide how much they want to drink, but alcohol's health impacts are undeniable. By working with the Government, policy-makers and healthcare professionals, we're aiming to raise awareness of the risks of alcohol and help people make choices that can reduce their cancer risk.
Reuse content