There's a popular online fan fiction series among Directioners (the fans of One Direction) called "#Imagine". One such story meme invites you to wonder what it would be like if you were going out with Zayn Malik, the recently departed boyband member with very good hair. You're in hospital because you need a heart transplant. Zayn has accompanied you. (Sssshhh; imagine.) He waves you off into surgery and tells you he'll be in your heart for ever. After the operation you run out only to be told that the heart you received was actually from Zayn. He had died for you.
Aside from the numerous holes in the story – no one would "run out" of such a surgery, and, oh yeah, you can't volunteer to give a heart – the bonkers tale has attracted a hysterical response from fans, who frantically re-blog it and discuss it in all sincerity. They often say that it moves them to tears; Romeo and Juliet for the Snapchat generation. Such a story is far from the most extreme thing a Directioner has done (but it is one of the funniest). It's just one example to highlight the obsessive nature of One Direction fandom, which can be so laughable to the unafflicted, and so difficult to empathise with.
So when Malik announced on Wednesday that he was leaving the band, many were primed ready to point and laugh at the 13-year-olds who were vlogging their tears. For those who had given Simon Cowell's group little thought, the outpouring and hysteria was kind of amusing.
In pictures: Zayn Malik
In pictures: Zayn Malik
1/15 2010

Zayn performed Mario's 'Let Me Love You' in his audition in front of the X Factor judges

2/15 2010

December 2010: Zayn (second right) and his bandmates ahead of the X Factor final

Getty Images

3/15 2011

Zayn performing in Germany on tour with the band's first album, 'Up All Night'

REX

4/15 2011

Zayn Malik made it his New Year's resolution to quit smoking to improve his voice after being criticised by One Direction's management team

REX

5/15 2012

February 2012: One Direction pick up the British Single award for their song featuring Rizzle Kicks 'What Makes You Beautiful', at the Brits

Getty Images

6/15 2012

The band perform on NBC's 'Today' show as they look to crack America

Getty Images

7/15 2013

Zayn getting inked in Weymouth. The singer likes "getting tattoos and loves the whole culture behind them"

Rex

8/15 2013

August 2013: Zayn gets engaged to Perrie Edwards, a singer with the group Little Mix

Rex Features

9/15 2013

Zayn signing promotional material at Alexandra Palace following the release of One Direction's book 'Where We Are'

REX

10/15 2013

Zayn Malik and Harry Styles from One Direction attend the 'One Direction This Is Us' world premiere at the Empire Leicester Square

Getty Images

11/15 2014

February 2014: One Direction win for British Video and Global Success at the Brit awards

Getty Images

12/15 2014

May 2014: a video of Zayn Malik and his fellow bandmate Louis Tomlinson smoking a "suspicious-looking cigarette" was leaked online

Rex

13/15 2015

19 March 2015: Zayn and bandmate Louis Tomlinson are told to post bonds of $5,000 each before they are allowed to take to the stage for a scheduled One Direction performance in Manila

Getty Images

14/15 2015

20 March 2015: Zayn flies home from One Direction's World Tour due to stress

Getty Images

15/15 2015

25 March 2015: Zayn becomes the first member to leave One Direction. 'I have to do what feels right in my heart,' he says

Getty Images
But, then, the hashtag #cut4Zayn started trending on Twitter. People started uploading pictures of self-harm, claiming they had done it in protest; in solidarity; to manifest physically the pain they felt. And all of a sudden, teen fandom didn't seem quite so funny any more.
So how serious is it for young people when someone leaves their favourite band? Sam Challis, the information manager for Mind and a mental-health expert, insists we should all be a little kinder to those upset over the news.
"For people of a certain age, it may not seem like it should be a big deal," he says. "But for those going through it, they are experiencing a real sense of loss. It's probably akin to the death of a pet or a distant relative. It's quite natural. And it should be seen the same way. It's a stress and grief reaction to something. If it's a big part of someone's life then it is totally reasonable and right that they'd be upset about it."
Challis suggests that, while there would be exceptions, most people who would exhibit such behaviour are likely to have issues anyway.
"It's probably not worth dwelling too much on what triggers it. The point is that they're unwell and they need support."
Indeed, numerous charities have put out statements, the Samaritans are on standby, and The Sun has launched a helpline to help fans to deal with their sadness. And on a less serious – but still somewhat astonishing – note, the Manchester Evening News reported that more than 220 calls were made to a Manchester-based employment law expert in the aftermath of Malik's announcement, enquiring about what qualifies for compassionate leave from work.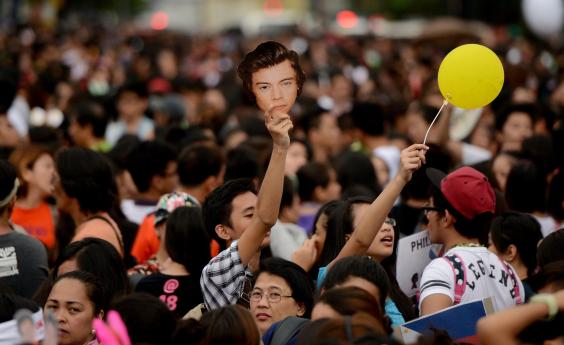 It's not the first time fans have had such a drastic reaction to a band member leaving. There was Brian McFadden and Westlife. Before that, Geri Halliwell and the Spice Girls. The big one in living memory was Robbie Williams walking out on Take That. Yes, ChildLine opened a special number for upset fans, but the outpouring for Malik appears to be much more heightened.
The difference between then and now is social media, which tends to fuel the hysteria.
"Social media can help people who feel isolated, or have mental-health problems, speak to others who share their experience," Challis says. "But it can in some circumstances be a bad thing. With self-harm, any mental-health problem, really, you need to be careful about what they're accessing. It doesn't matter what the trigger is; the main thing is to be supportive."
Reuse content