Bottles of wine, beer and spirits should have calorie information displayed on the label to tackle alcohol's impact on obesity levels, experts have said.
The Royal Society for Public Health (RSPH) said that too many people were unaware of the high calorie content of some alcoholic drinks. A large glass of some white wines, for instance, contains as many calories as a chocolate doughnut.
Calorie information should also be displayed on restaurant menus, and on beer mats and pumps in pubs, they said.
While drinks manufacturers must display the alcohol content of their products on the label, alcoholic beverages are not recognised as food and are exempt from normal labelling regulations under European law.
One unit of alcohol contains 56 calories, but many drinks also contain high levels of sugar. A unit of alcopop, for example, can contain more than 150 calories, while a unit of four per cent beer contains 80 calories, the RSPH said.
However, in a survey of more than 2,000 adults, the charity found that 80 per cent of people did not know or underestimated the calorie content of a glass of wine, and 90 per cent did not know the calorie content of a pint of lager. 
The average adult receives around 10 per cent of their daily calorie intake from alcohol. Around two thirds of UK adults are either overweight or obese, putting them at greater risk of diabetes, heart disease and some cancers.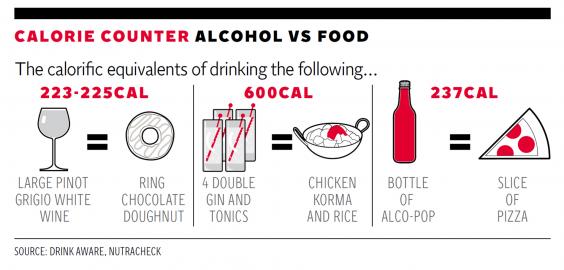 With the cost to the NHS of caring for obesity-related conditions rising, the RSPH said that alcohol's role in contributing to the obesity crisis could no longer be ignored. The charity's survey found that two thirds of people backed calorie labelling for alcoholic drinks.
In December the European Commission will rule on whether to introduce calorie labels on alcohol products, but the charity is calling on the drinks industry to voluntarily include the labels, irrespective of the decision.
"Calorie labelling has been successfully introduced for a wide range of food products and there is now a clear public appetite for this information to be extended to alcohol to help individuals make informed choices," said Shirley Cramer, chief executive of RSPH said. "While we continue to back unit labelling for alcoholic drinks, we believe that many people find calorie labelling easier to translate into their everyday lives."
The impact that such a move could have was illustrated by a small experiment conducted in a pub, in which customers presented with calorie information consumed on average 400 fewer calories than those who were kept in the dark, the charity said.
Elaine Hindal, chief executive at alcohol education charity Drinkaware, backed the plan.
"A lack of awareness of the calorie content of alcohol, and the fact that alcohol contains almost as many calories as pure fat, can inadvertently hamper people's efforts to lose weight and stay in shape," she said. "This highlights the importance of helping people realise just how many calories are in their glass, so they can make an informed choice about how much they drink."
Reuse content