Hospitals in England endured another record-breaking week of winter pressure last week, as official figures revealed the full extent of the crisis enfolding the NHS, with unprecedented numbers of ambulances forced to queue at A&E and more than 7,000 operations cancelled since the start of December.
A&E performance dipped to new lows over the New Year week, with only 79.8 per cent of patients treated or admitted within four hours at major emergency departments.
This is despite the number of people arriving at A&Es falling in the past two weeks to the lowest levels since August – suggesting that problems in admitting patients to overloaded hospitals, rather than an influx of patients, is causing the long delays.
The problem of finding beds for sick and injured patients is illustrated by last week's figures for "trolley waits" – delays between a doctor's decision to admit a patient from A&E, and the time at which they are found a bed in hospital.
There were 16,324 trolley waits of between four and 12 hours, and another 241 patients had to wait for more than 12 hours.
The increasing strain on NHS resources
The spike in waiting times coincides with flu rates hitting a three-year high, while a lack of available out-of-hospital care is leading to doctors frequently having no choice but to keep elderly and vulnerable patients in hospital – occupying beds that would otherwise be free for A&E admissions.
Council social care budgets have been slashed in recent years following the Government's local government funding cuts – leading to an estimated 550,000 fewer people receiving out-of-hospital care.
Delays in admitting patients to hospitals leads to queuing at A&E and the figures also reveal that 43,998 ambulances have had to wait for more than half an hour outside hospitals since the start of December – up from 22,371 for the same period last year.
Ambulance crews have to wait with sick patients until they can be handed over to A&E teams, which can delay their response to other emergency calls.
Senior NHS officials expect the problems to persist for some time.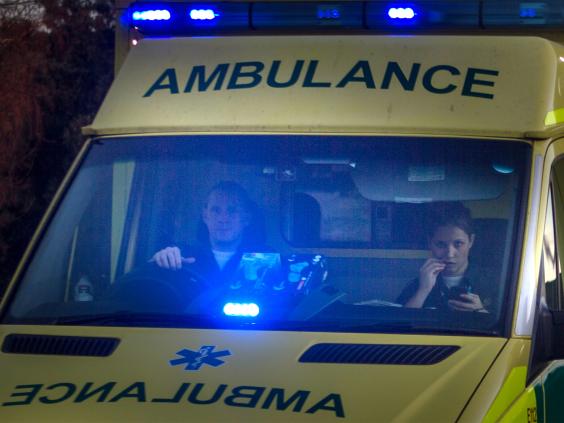 "The NHS continues to face unprecedented pressures on its frontline services - with almost 20,000 more A&E attendances than last year - and more than 105,000 people admitted to hospital which is one of the highest figures on record," said Dr Sarah Pinto-Duschinsky, director of operations and delivery at NHS England.
"Flu is now at its highest peak for the last three winters which is one of the reasons why over the New Year holiday we continued to treat more patients than ever before."
Last year's flu season saw exceptionally low levels of the virus circulating, but this year rates have already exceeded the peak level of the past three winters. Seventy-four new outbreaks of acute respiratory disease – which can be exacerbated by flu, and is one of the leading causes of hospital admissions among the elderly – have been reported across the UK in the past week. 
Labour's Shadow Health Secretary said that last week had been the worst week the NHS had experienced "in living memory" and warned the pressures were still "intensifying", as the party set out a "five-point plan" to relieve hospital pressures, including greater support for the elderly outside hospital, and posting a GP to every A&E department.
A Department of Health spokesperson said that the NHS was "busier than ever before", but added that £700m of winter pressures investment this year had paid for "800 more doctors, nearly 5000 more nurses and 6000 more beds".
Reuse content