The number of women forced out of their jobs because they are either pregnant or on maternity leave has more than doubled in the past decade, according to a major report.
Research published today estimates that about 60,000 women suffer such discrimination annually, while the introduction earlier this year of £1,200 up front tribunal fees has exacerbated the problem by deterring tens of thousands from taking legal action against their employer.
One in three of those who unfairly lose their jobs and win a tribunal are paid no compensation at all, and only four in 10 tribunal awards are paid in full. Since 2008, as many as 250,000 women have been forced out of their job simply for being pregnant or taking maternity leave, according to the report by the charity Maternity Action.
"All the evidence suggests that an ever growing number of employers are getting away with unlawful behaviour," its report, Overdue: A Plan of Action to Tackle Pregnancy Discrimination Now, concludes. "This number has risen sharply since the 2008 recession and the associated explosive growth in precarious forms of employment, such as zero-hours contracts. The Government has not only neglected to address the shocking proliferation of pregnancy and maternity discrimination in recent years, but has made it much easier for rogue employers to get away with flouting the law."
Visitors to Maternity Action's online information services doubled between 2011 and 2012, and about 400,000 information sheets have been downloaded from its website this year.
The Government last month announced a £1m project on the scale of pregnancy and maternity discrimination in the workplace, to be carried out by the Equalities and Human Rights Commission (EHRC). No research into this area has been published since a 2005 landmark study by the Equal Opportunities Commission, which later merged to become the EHRC, found that half of all pregnant women suffered discrimination at work and that each year 30,000 women about to have a child or returning to work following a birth were forced out of their job.
The new report cautions: "Eight years on, the evidence suggests that figure has ballooned to 60,000. Such discrimination has a deeply damaging and far-reaching impact. It can lead to pregnant women leaving or being forced out of work and suffering financially and can also lead to severe health issues."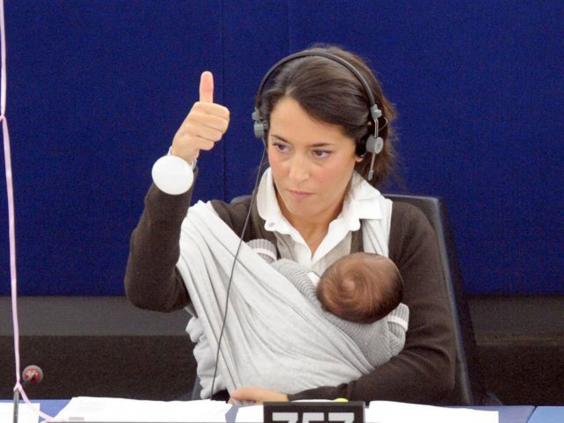 Even when women successfully pursue their employers through the tribunal process they can still be disadvantaged, the report says. In one unfair pregnancy-related dismissal, a teacher named Rebecca was awarded £33,000 for loss of maternity pay, loss of future earnings and injury to feelings, but as of last month – 17 months after the ruling – she had not received a penny, despite a county court judgment having been issued against the school. She said she found the three-day hearing and cross-examination by the school's lawyers a "horrid, terrifying and very isolating experience".
The number of women calling the Working Families advice line is increasing annually. The charity, which responds to about 3,000 requests every year on issues such as flexible working and paternity rights, had 240 women seeking advice on maternity discrimination last year compared with 140 in 2011. It has received 200 calls so far this year. Complaints typically concern employers not paying women for antenatal appointments, not making the workplace safe for pregnant women, sacking pregnant mothers, or failing to allow them to return after maternity leave.
In one extreme case, an employer put pressure on a woman in the early stages of pregnancy to have an abortion or else face the sack.
Sarah Jackson, the chief executive of Working Families, said the number of women contacting the charity helpline was increasing "on a weekly basis" and that the new tribunal fees are a "significant burden adversely affecting women".
A recent survey by the law firm Slater & Gordon estimated that 50,000 women are losing their jobs while on maternity leave each year, and only 4 per cent of those surveyed had sought legal advice. Maternity Action believes its figure of 60,000 – based on the 2005 finding that only 3 per cent of women subjected to this discrimination bring a tribunal claim and there are now 1,800 tribunals a year – could be an underestimate.
Labour yesterday accused the Prime Minister, whose former close adviser Steve Hilton had called for a weakening of maternity rights, of ignoring pregnancy and maternity discrimination. The Labour crime and security spokeswoman, Diana Johnson, asked David Cameron at a recent PMQs whether he thought it was fair "that a sacked pregnant woman will now have to pay [up to] £1,200 to take a maternity discrimination case to an employment tribunal". She said Mr Cameron made no effort to answer her question and gave a factually incorrect response regarding employment rights of pregnant women.
Mrs Johnson wrote a follow-up letter to the Prime Minister's office and copied in Maria Miller, the Secretary of State for Women and Equalities. The Hull North MP says she is still awaiting a reply. "The way David Cameron dismisses women's rights is appalling. These are rights that women have fought decades for," she said. "It is still unclear whether the Prime Minister simply didn't know the law or whether he plans to change it. Either way, he's fundamentally undermining women's rights."
By increasing up-front tribunal fees, she says, "this coalition government is giving the worst employers a license to get away with discriminating against women and sacking low-paid women for the offence of becoming pregnant".
Maternity Action is calling for the scrapping the up-front tribunal costs, swift and robust action to improve compliance with tribunal awards as well as "naming and shaming" bad employers.
Launching the report, the director of Maternity Action, Rosalind Bragg, said: "The Government should take action now to reduce the number of women experiencing unfair and unlawful treatment at work. Enabling women to remain in the workforce during their childbearing years is fundamental to gender equality.
"Planned changes to tribunal procedures will make it even harder for women to exercise their rights. Employers who don't pay up when they lose a tribunal case are getting away with it, leaving families in serious financial difficulties. This needs swift action."
Ms Bragg welcomed the Government's new research study into the extent of pregnancy discrimination, but said it would be valuable only if it lead to change.