MPs have today voted in favour of Britain becoming the first country in the world to legalise the creation of IVF babies with DNA from three different people through the controversial technique of mitochondrial donation.
The procedure, aimed at preventing serious inherited mitochondrial diseases, could potentially help more than 2,400 women in the UK, according to research.
All are said to be at risk of transmitting harmful DNA mutations in the mitochondria – tiny rod-like power plants in cells – onto their children.
The process allows defective mitochodnrial DNA (mDNA) from a mother's egg to be replaced with healthy mDNA from a donor, to prevent the harmful mutations being inherited.
There are two different procedures used in mitochondrial donation – one carried out before fertilisation and the other after.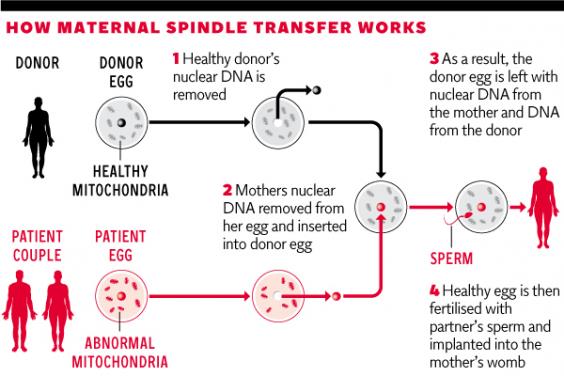 In Maternal Spindle Transfer, the nuclear DNA containing chromosomes from the mother is removed from her egg, which contains defective mitochondria, and inserted into the donor egg, which has already had the nucleus removed and contains healthy mitochondria.
The donor egg with the mother's nucleus is then fertilised with sperm from the father and inserted into the mother's womb.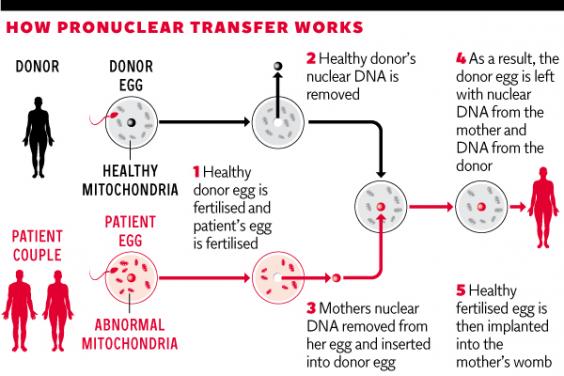 The Pronuclear Transfer technique however sees the mother's egg fertilised first. Its nuclear DNA is then transferred to a fertilised donor egg, which contains the healthy mitochondria, whose own nucleus has already been removed.
The healthy fertilised egg is then implanted.
Reuse content