This is the harsh, grim reality of a day in the life of heroin addict Magnus Lilleberg: injections to the groin because he can no longer use his neck, an inability to afford plasters for painful blisters, and a lack of sleep due to constantly being awoken by shakes and sweats.
Lilleberg was given a hand-held camera by Christoffer Næss and Per Kristian Lomsdalen of the documentary group, Munin Film, in 2011. They asked him to document his everyday life as a heroin addict in the capital of Norway, Oslo. The video is simple, with Lilleberg not pushing any message or agenda on the viewer. He just explains his routine, which in itself reveals the lack of direction to his life, the all-consuming nature of his addiction and his belief in the need for a change in drug policy in Norway.
Warning: Some viewers may find this video distressing
The producer and editor, Naess, told The Independent, "In Norway, and elsewhere, heroin addicts are often perceived as a homogeneous group who are outcasts from society," and said that Lilleberg hoped to alter this false picture through the 17-minute film. Lilleberg filmed himself between 2011 and 2013, which Næss and Lomsdalen then edited with the help of Lilleberg.
The film starts with Lilleberg injecting himself through the neck in his bathroom, blood seeping out after he is finished. He then performs some mundane tasks, such as watching morning television, before making a cup of "strong Earl Grey tea with lots of sugar and milk."
He reveals that his father is 63 and he hopes that his dad meets a woman soon. Yet he adds, "I guess it's not cool to bring a woman home and have to introduce me: 'This is Magnus, my son.' 'Hi kid! So, what are you up to?' 'Well, I'm selling street papers and I beg for money on the bridge between the bus terminal and the train station. And then I inject heroin five times a day.'"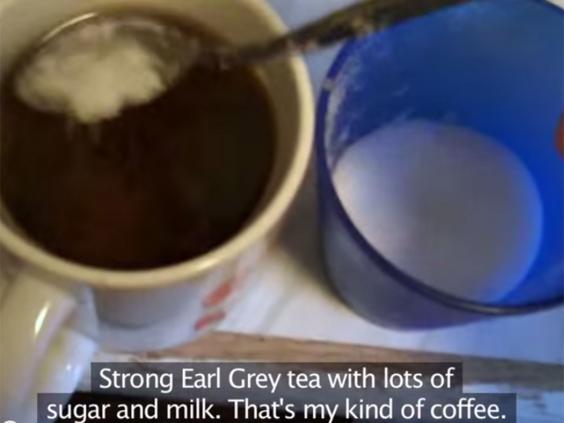 Lilleberg sells the Norwegian version of the Big Issue, which he buys from a vendor for 50 Krone (£4) and sells on for 100 Krone. At one point in the video he says he manages to make £48 in just 15 minutes through selling the magazine for more than its  asking price.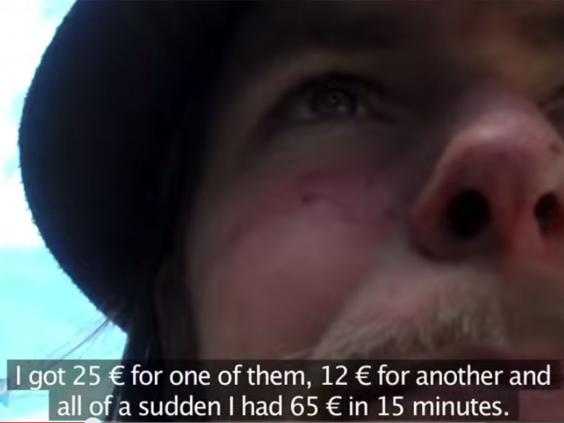 Lilleberg also films an internet chat with a friend who asks how he is doing and he explains that he tried to go cold turkey "bt (sic) the third day I was well into psychosis. I'm scared s***less of getting off horse. Having to find some purpose. Staart(sic) all over again."
Lilleberg calls heroin his "medicine". A substitution treatment programme using methadone has been made available to addicts in Norway since 1998 in an effort to wean them off their drug addiction. However, Lilleberg says that the methadone "medicine" does not work for him. "Because of that," Naess says, "he finds himself living in inhuman conditions in one of the best health and welfare systems in the world.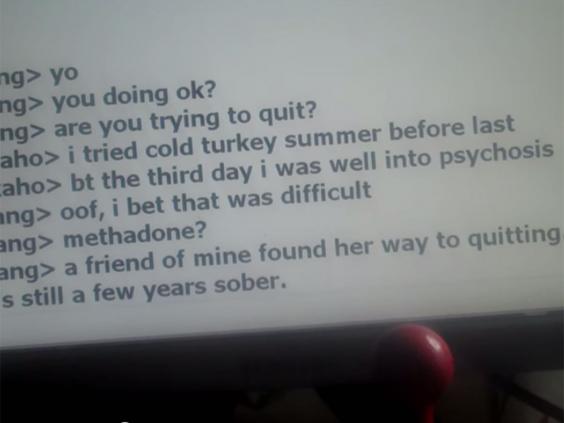 In the video, Lilleberg heads to an underground tunnel where he recounts a meeting with a stranger who noticed his shoes laces were untied and that if he had terrible blisters, he should use plasters. However, Lilleberg cannot afford to protect his feet: even if he did make £48 in 15 minute selling the magazine, he needs to buy his "medicine".
Lilleberg shoots up, injecting himself in the groin because he says his neck has started to fail him; even he admits the process is "nasty". Just a few moments later however, he is disappointed with the high. "Nah, I feel like having another one," Lilleberg says. "It wasn't that great. Only way I can relax properly nowadays. A couple of valium washed down with cider and half a gram of good dope."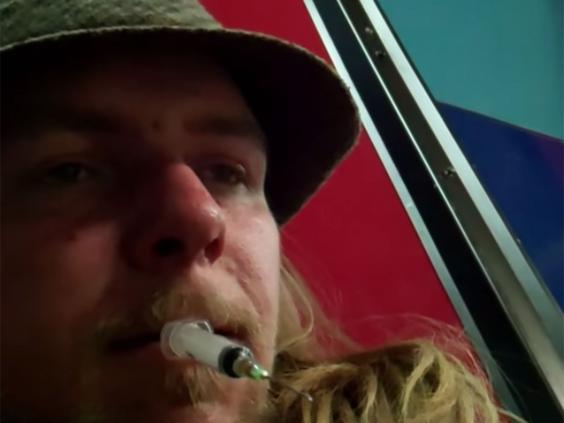 The second hit is better for Lilleberg - "it's a sign that it's good when it starts to itch like that" - but he warns that that is also a sign that withdrawal symptoms will return soon if he doesn't score some more heroin. Despite the fact Lilleberg says he can't even imagine sleeping without having a shot first, he admits that he rarely gets a good sleep because he often wakes up sweating and shaking.
Næss agrees that some of the scenes are distressing but he argues they need to be shown.
Drug addiction, overdoses, and a very brief history of Heroin
Drug addiction, overdoses, and a very brief history of Heroin
1/14 Heroin – the chemical name for which is diacetylmorphine – was originally synthesized by British chemist C.R.Alder Wright (pictured overleaf) in 1874, by adding two acetyl groups to the molecule morphine, which is naturally found in the opium poppy.

2/14 Bayer, the German pharmaceutical company behind Alka-Seltzer and Aspirin, bought the rights to diacetylmorphine, marketing it under the name "Heroin" in 1895 because early testers said that it made them feel "heroisch" or "heroic".

3/14 By 1898, it was ready for mass marketing. It was originally sold as an over-the-counter cough suppressant that didn't have problematic side effects, like addiction (the irony) - while alternative treatments morphine and codeine did. This was before they realised that, when taken into the body, it actually converts into morphine, and is ferociously addictive. Thus defeating the object and defining what was to become a historically embarrassing moment for the company in later years.

4/14 By 1899 Bayer was producing a ton of Heroin and exporting the drug to 23 countries, while free samples sent to doctors and studies appeared in medical journals. It was also around this time that early reports of addiction began to surface. The company wisely released Aspirin this year, which would go on to become one of the most popular and widely used pain relief drugs in the world.

5/14 US medicines containing heroin were available over the counter from 1907, after the American Medical Association gave it its stamp of approval.

6/14 As Heroin dependency became a torrent and overdoses began to be reported, Heroin was made illegal to obtain without a prescription from a doctor in the US in 1914. Bayer lost some of its trademark rights to Heroin and Aspirin under the Treaty Of Versailles in 1919, after the German defeat in World War I.

7/14 In the early 1920s, a number of addicted users in New York supported themselves by collecting and selling scrap metal retrieved from industrial dumps. It was from this that the label "junkies" was born. The behavior of Heroin addicts was soon, however, to cause a concern to the public and the authorities. In 1924, it became completely illegal, and doctors were told they could no longer prescribe the drug.

8/14 By this point, Heroin had become popular among creative industries. Pictured left is famed actress Jeanne Eagels, who died of a Heroin overdose in 1929. Its outlawed use had pushed manufacturers underground, and the purity of the product illegal traders now used varied in quality.

9/14 In the UK, the Rolleston Committee Report in 1926, illegal Heroin dealers were prosecuted, but doctors could prescribe diacetylmorphine to users when they were withdrawing from it, if it would cause harm or severe distress to the patient to go without it. This would be the law until 1959 when the number of diacetylmorphine addicts doubled every 16 months between 1959 and 1968.

10/14 The Brain Committee recommended that only selected, specially approved doctors at specialized centres were allowed to prescribe diacetylmorphine to users in 1964. The law was further restricted in 1968, and by the 1970s, the emphasis shifted to encouraging abstinence and the use of substitute methadone.

11/14 In the 1980s, the UK experienced a surge in Heroin supply because of a sudden cheap influx from Pakistan (the main supplier had been – and is now – Afghanistan). Cues from popular culture – and a social downtown caused by the economic and industrial crisis in the late 1970s – created the perfect environment for the Trainspotting generation.

12/14 In the 1990s, Heroin use was again popularized by the rise of grunge and Britpop, while the emergence of 'the waif' in fashion, of which Kate Moss is often cited as the originator, would give rise to the term 'Heroin chic'. In 1994, the Swiss began to trial a diamorphine maintenance program for users who had failed multiple withdrawal programs. It aimed to maintain the health of the user, by discouraging the use of illicit street Heroin. It was deemed a success.

Kate Moss and Johnny Depp, together in 1994

13/14 Today, the largest producer of opium, needed to create Heroin is Afghanistan. This is closely followed by Mexico, who increased their rate of production sixfold between 2007 and 2011. Diacetylmorphine is a controlled, Class A substance in the UK, but continues to be used in palliative care for the treatment of acute pain, such as in severe physical trauma, post-surgical and chronic pain, as well as relieving sufferers of terminal illnesses.

14/14 Key figures continue to campaign for greater sympathies and better treatment of Heroin addicts as they attempt to rehabilitate themselves and re-enter society. Russell Brand's Give it Up Fund, run in conjunction with Comic Relief, aims to provide financial aid to help people remain free from substance abuse by setting up support groups. "It's integral that people entering a life of abstinence after the chaos of addiction have stability, support and a role to play in the wider community," he said.
"It was tough to see some of the material, but after a while I started thinking that this is his life and he has to see himself doing it, and we have to all see it to relate to him and his struggles," Næss says.
Was Næss worried at all about glorifying the drug, with shots of the film showing how Lilleberg injects himself? "When we edited it, we just felt we had to show his life. I think that it will affect people more positively than negatively," he saus. "I think people will relate with Lilleberg and realise that heroin is an awful drug that you shouldn't start doing."
Lilleberg is still an addict but he is now no longer living rough. He told The Independent that he "wanted to show people how my life is day to day, because lots of people they live in their own little social bubble and some people are surprised to find that there are homeless people in Oslo."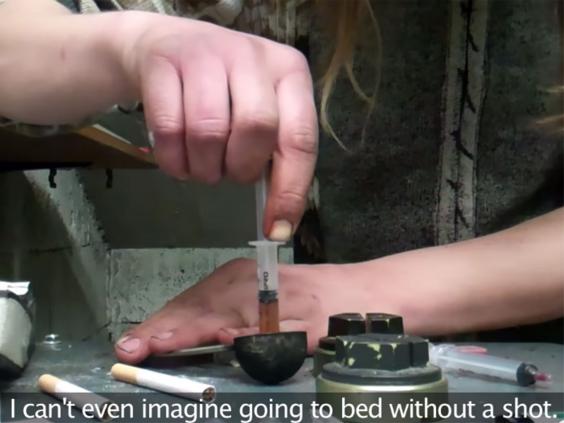 He said he still sells the magazine as his main job, with "any 9 to 5" work not on the horizon. He is now 35 and says that he used to work at a local radio station and on Oslo's tram lines. He tried heroin for the first time many years ago but didn't get hooked because he was in a good place. "The second round," he said, "it was part of my life when everything was going to hell, it was difficult. When you're like that, it's easy to get hooked."
The video was recently released on YouTube but was partially released in 2013. It premiered in Norway in the same year as well as some film festivals in 2014.
The video above has been edited. To watch the full film by Munin Film, click here.
Reuse content