Bengali in Shadwell, Arabic at Edgware Road, and French in South Kensington: a re-envisioned London Tube map shows the primary foreign languages spoken in the area surrounding each station.
Oliver O'Brien, a researcher in the geography department at UCL, used data from the 2011 census to map the Underground according to the second most commonly spoken language (after English) of the people who live nearby.
On the map, each station is represented by a circle, which is coloured depending upon which language it represents. Additionally, the circle is bigger or smaller in relation to the percentage of people who speak that language.
East London contains many Bengali speakers, with Shadwell, Bromley-by-Bow and Whitechapel bearing the biggest circles because they contain the highest percentages. For example, in Shadwell, almost a third (32.8 per cent) of residents speak Bengali: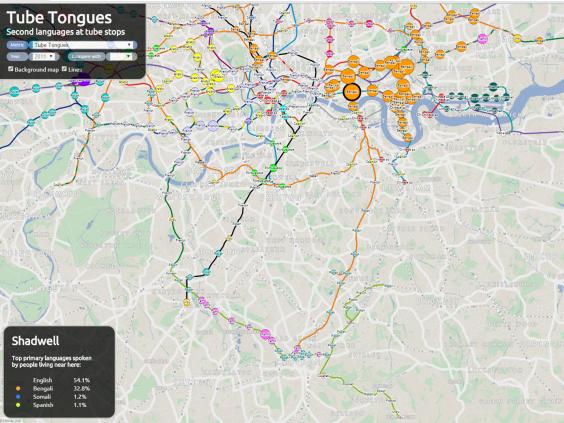 In north-west London, particularly around Edgware Road, Arabic is the most popular language. 14.7 per cent of people in the area share the tongue: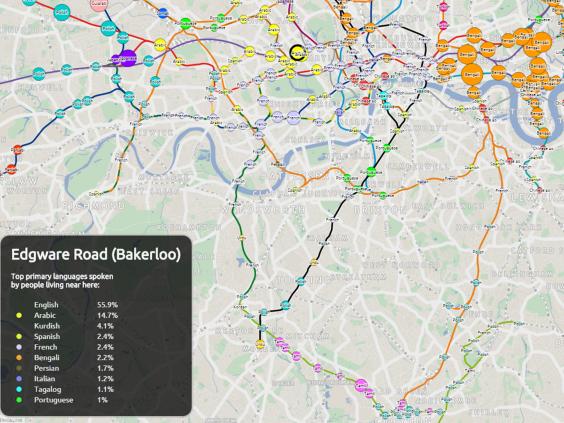 And going slightly south, to the likes of South Kensington, Gloucester Road and Earl's Court, French is the foreign language most likely to be heard: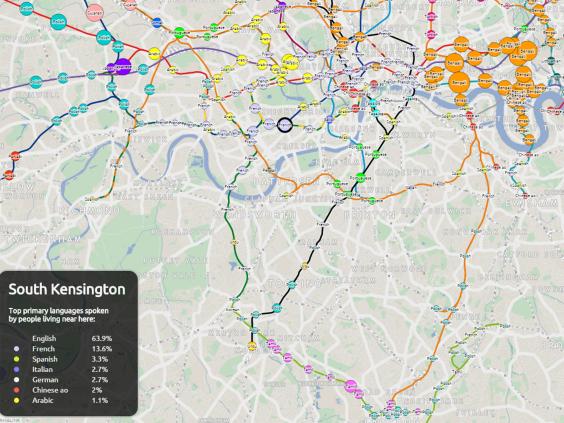 French is also the second most popular language in parts of the City, although with far lower percentages: 4 per cent in Farringdon 3.5 per cent at bank, and 3.2 per cent around St. Paul's. 
Other languages featured on the map include Lithuanian, which is found predominantly around the Docklands area, Gujarati, which is common around Wembley, and Polish, which accounts for the highest percentage of speakers in Perivale (19.3 per cent).
The map does not represent origin, meaning that, for example, the Portuguese speakers seen around Brixton, Stockwell and Clapham High Street could be from Brazil.
English is the most commonly spoken language at every Tube station, although at five of these - Southall, Alperton, Wembley Central, Upton Park and East Ham - the proportion of speakers is lower than 50 per cent.
To see the Tube Tongues map in more detail visit oobrien.com
Reuse content