For some only the most potent will do. But a Mercedes-AMG C63 estate costs £62,395 and you're dealing with an awful lot of horsepower through the rear wheels.
Perhaps there is a place between that and the standard estate. That seems to be thinking behind this and the rest of the 43 range. In this case you're getting a halfway house for £46,225. Does all that compromise add up?
If you're after the bling of the C63 you'll be disappointed. There's not much in the overt bulging wheelarches and monster wheels here. Instead it's quite discreet, an estate car that's also a street sleeper with 367bhp under the bonnet. A lot of people may well prefer that to the more overt full-bore AMGs. 
That twin-turbo 3.0-litre V6 is also matched to the 9G-Tronic Plus gearbox, pushing power through to the 4Matic four-wheel drive system. So we're not talking uncontrollable rear-end spins and slides here, we're talking about getting the power down in the most efficient manner possible without wasting any on histrionics. 
Apart from anything else, this induces a feeling of safety, something that would be enhanced if the roads are wet or icy. In normal modes this estate lets you waft along in comfort, knowing that everything is under control.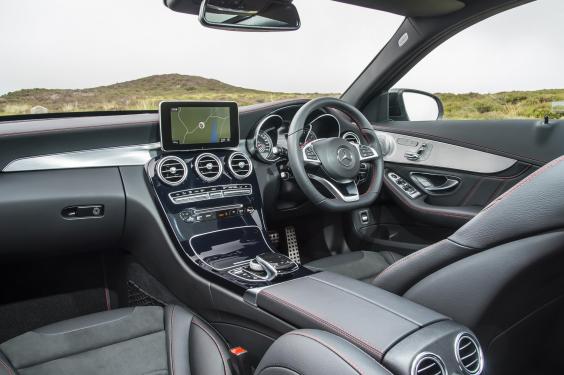 But put your foot down and make no mistake, this thing shifts, with a 0-62mph of only 4.7sec. The engine is sharp, crisp, reactive, without any noticeable turbo lag and with a willingness to scream up to the redline which is highly attractive. It sounds great too, a rising snarl that will turn heads, even if the car hadn't already done so. 
Handling can be tweaked by numerous modes, so you can pretty much configure the handling and ride as you desire. However, splendid though most of the modes are, if you push really hard at the extremes you do notice that this isn't up to the C 63 levels of ability. Maybe that's not a bad thing anyway. 
The spec
Engine: 2,996cc, V6 turbocharged
Transmission: 9G-Tronic Plus, all-wheel drive
Power (hp): 367@5,500-6,000rpm
Torque (lb ft): 384@2,000-4,200rpm
0-62mph: 4.7sec
Top speed: 155mph (limited)
Weight: 1,735kg (kerbweight)
MPG: 35.8 (NEDC combined)
As it stands it's a car that is worthy of the AMG badging and input, an estate which is pulled clear of the standard car and yet one which can still handle all the daily practicalities like the stock estate.
When you push the edges you are reminded just how amazing the full-fat C 63 with its V8 is, in everything from drive to handling, and sometimes it's good to be reminded. 
Price: £45,660 (£54,130 as tested comprising of £1,000 for AMG Performance exhaust system, £545 for LED intelligent light system, £265 for privacy glass, £350 for air balance package, £2,995 for memory seat package, £1,695 for driving assistance package, £825 for Head-up display and £795 for Obsidian black metallic paint and red leather upholstery).
PistonHeads