Some of Britain's most popular cars, ranging from the Mini Cooper to the Jeep Grand Cherokee, are emitting harmful levels of pollutants up to 15 times higher than official limits, according to Which? 
A new analysis of emissions data from more than 300 vehicles tested by the consumer group reveals how industry tests fail to show the true amounts of carbon monoxide (CO) and nitrogen oxide (NOx) emitted.
Although the vehicles comply with European regulations under tests due to be scrapped next year, the results were different when a more realistic test was conducted on a rolling road in a Which? laboratory, claims the consumer group.
The Jeep Grand Cherokee was the worst performing diesel car in terms of NOx emissions, with levels 15 times above the European maximum.
And 95 per cent of the diesel vehicles tested were found to be in breach of rules meant to limit the amount of pollution they cause – with just seven out of 153 tested within European limits for NOx.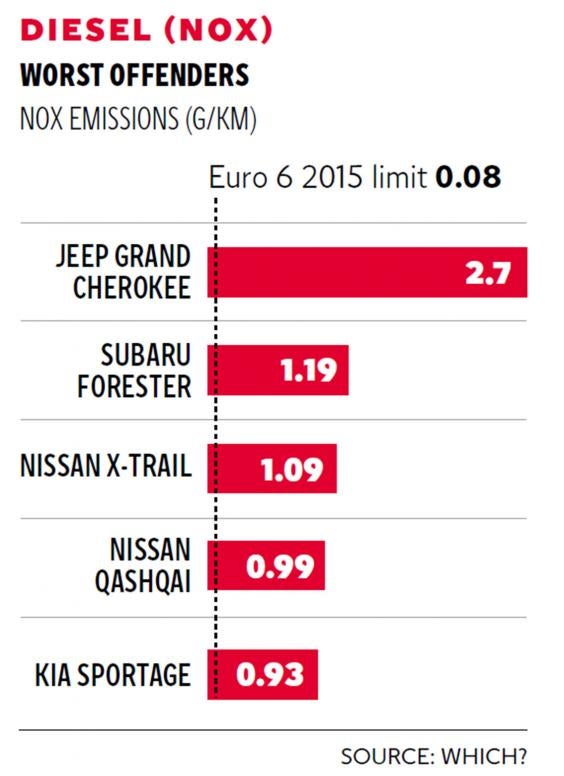 Two thirds of petrol cars emitted more CO than they are allowed to, with the Hyundai Veloster – six times above the maximum limit - the worst offender.
Results from the emissions tests have prompted Which? to strip several cars of their 'best buy' status. These include the BMW X3, Lexus IS, Lexus NX, Mini Cooper, and the Toyota Yaris. 
"Car emissions and fuel claims are important factors when buying a new car, so drivers will be shocked by the results of our testing," said Richard Lloyd, Which? executive director.
This comes just months after Volkswagen became the centre of a global scandal when it was discovered to have fitted software to diesel vehicles to cheat tests and hide the true level of emissions.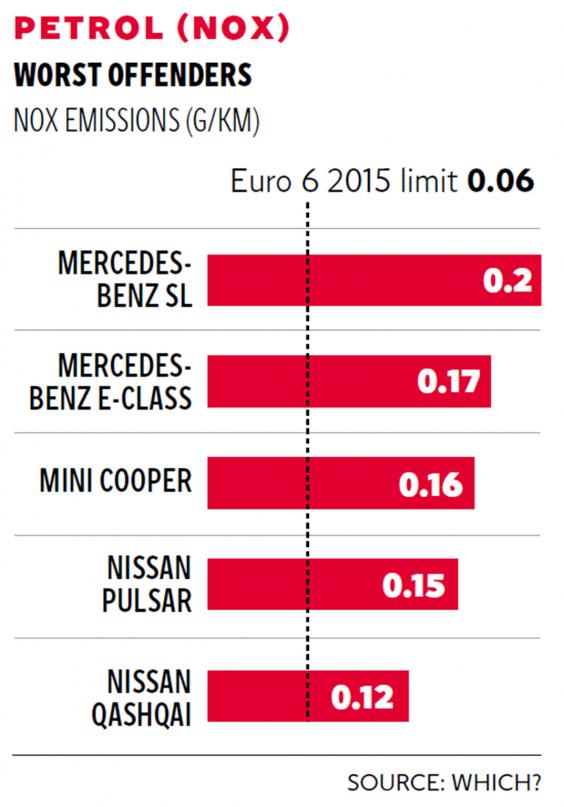 And yesterday it emerged that Renault is to recall 15,000 vehicles to ensure that they comply with emissions limits, after an independent technical commission set up by the French government found that the manufacturer's diesel cars had failed pollution tests.
The current system of emissions testing, known as the New European Driving Cycle (NEDC), has come under growing criticism for loopholes such as allowing manufacturers to reduce the weight of cars in tests. Vehicles are restricted to a top speed of 75 miles per hour, which they only have to do for ten seconds, and manufacturers are able to keep things like air conditioning, lights and heated windows switched off during the test.
The NEDC is due to be phased out and replaced with the Worldwide Harmonised Light Vehicle Test Procedure, similar to that used by Which?, by 2017. Cars will have to cover more than 14 miles on a rolling road, under the new test, more than double the existing 6.8 miles, and will need to travel at up to 80mph for five minutes.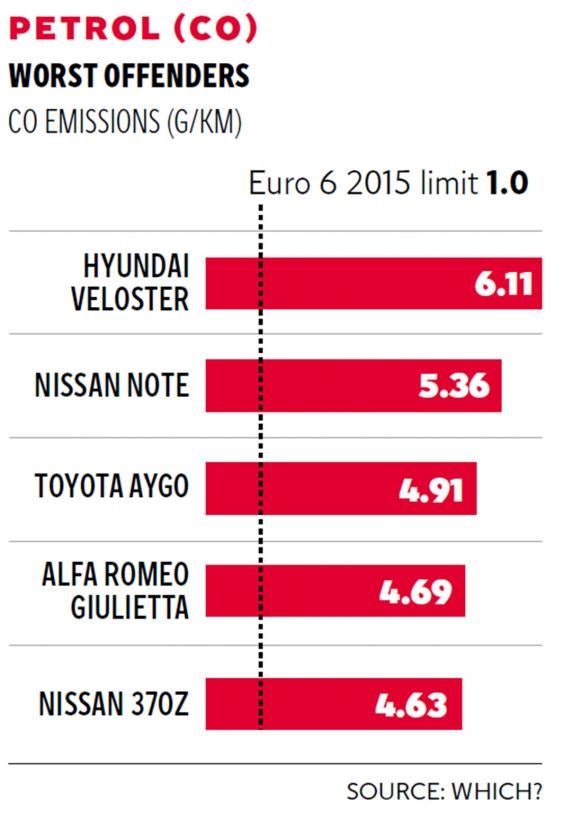 But the new testing system should come into force sooner, according to campaigners.
"The current official tests are clearly not fit-for-purpose and we urgently need a new regime putting in place that reflects the reality of how we drive," said Mr Lloyd.
In a statement, a spokesperson for the Society of Motor Manufacturers and Traders said: "All cars sold in the UK undergo an official test under EU law to ensure they meet the latest emission standards." But they admitted: "The existing test is a laboratory test and was never designed to reflect the infinite variations of 'real world' driving."
And a spokesperson for the Department for Transport said: "The UK has been at the forefront of calls for action at a European level to introduce far more stringent Real Driving Emissions testing as soon as possible. The limitations of the existing EU test procedures are already well known and the new testing regime is essential to restore public confidence in the process."