Two years ago Sir Elton John sang "I'm still standing" beneath the chimneys of Battersea Power Station. The rock star had been invited to perform at a lavish party to celebrate the redevelopment of the historic building into luxury flats.
The London property market was booming. International investors viewed London property – in particular its luxury flats – as an ideal place to shelter money from political and economic turmoil. Plus London prices always seemed to be rising. Mark Collins of the property agent CBRE summed up the attraction by citing "the robust economy, low interest rates, world class education and favourable exchange rates".
But is the party over? Is the market "still standing"? According to London Residential Research, sales are falling in some of the most affluent areas: sales of new-build flats in Kensington & Chelsea and Westminster were down 47 per cent in 2015.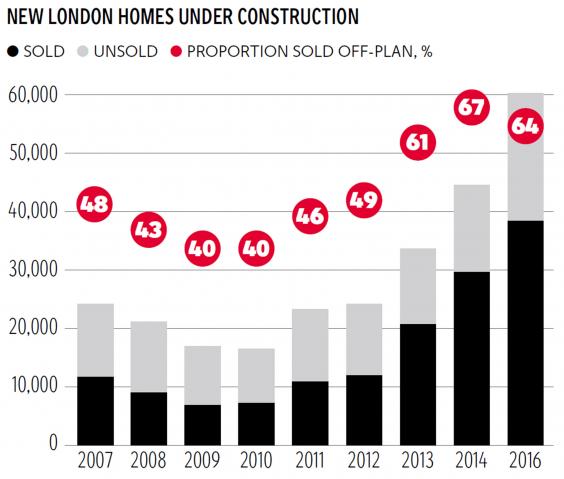 Earlier this week, the property agent JLL warned that there is a diminishing appetite for properties costing £2m and over in new-build developments. And the investment bank Morgan Stanley has forecast the price of new upmarket London flats to fall by as much as 20 per cent this year.
Riaan Kruger is the head of sales and lettings at Garton Jones. He is selling a £2.3m three-bed flat at One Nine Elms, where residents will have access to a gym, swimming pool and 24-hour concierge service. Mr Kruger says there is "no disputing" there has been a slowdown in demand for properties over the £2m range. But he believes there is still a large potential buyer market.
"The same pool of buyers still exists, yet there is now just so much more property for them to choose from," he explains. "Nine Elms alone has over 20 developments on offer and thus competition for buyers has increased."
But not all real estate experts agree that there is a queue of buyers. Trevor Abrahmsohn, the managing director of Glentree International, says a raft of overseas buyers have been deterred from snapping up homes owing to new UK tax burdens.
In November last year George Osborne shocked the property market by announcing a new 3 per cent additional stamp duty rate from this April on property bought as a second home or buy-to-let.
Before that the Chancellor had also increased stamp duty on properties in excess of £1.5m to 12 per cent. Mr Abrahmsohn says this has made the market "more circumspect and considered".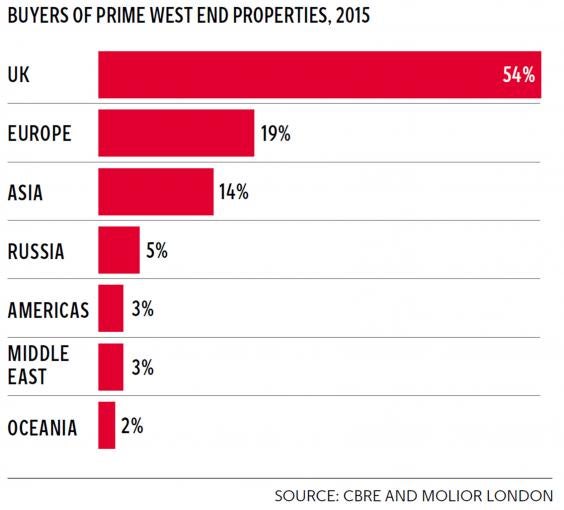 He adds that he has heard of a number of buyers from Malaysia, Singapore, Hong Kong and China "walking away" even if they have exchanged contracts and paid a deposit. "They would rather lose 10 per cent than complete the purchase and lose a lot more, even before the developments are complete. The changes to buy-to-let tax is the straw that broke the camel's back and some developers are nursing a massive over-supply of these properties."
In recent years luxury developments would often be showcased in Singapore, China and Malaysia. But this is now grinding to a halt, says Mr Abrahmsohn. "The capital is no longer perceived as a safe haven for property investments and we have lost this inflow of foreign capital."
Outrageous property deals in pictures
Outrageous property deals in pictures
1/14 London's most expensive flat goes on sale at Buckingham Palace near Buckingham Palace priced at £150m

A luxury flat in London's historic Admiralty Arch, which overlooks Buckingham Palace, could sell for up to £150 million. If sold for that price, the 15,000 sq ft apartment will become London's most expensive flat, topping One Hyde Park, a flat which sold for £140 million in 2014.The Grade I listed property boasts 12 bedrooms and 12 bathrooms

2/14 'Little White House' inside the US embassy complex in London goes on sale for £2.5m

A luxury home inside the US embassy complex has gone on sale for £2.5m. The property is said to be the most "protected home in Britain" and any visitor is asked to carry an identity card at all times. The complex has patrolling US marines, a 24-hour British police presence, checkpoints, anti-tanks blocks and CCTV.But potential buyers looking for a fortress should not get their hopes up as all the security will disappear once the US embassy moves to a new site in Nine Elms in 2017. The home, located at 4 Blackburne's Mews near Grosvenor Square, dates back to 1732 and owes its nickname to its white façade, grand entrance and sweeping staircase as well as its proximity to the US embassy. It provides nearly 3,000 sq ft of living space and benefits from access to communal gardens.

Wetherell

3/14 First London luxury flats to contain their own private art gallery with prices going from £3.8m up to £7.7m

The first private luxury apartment building in London with its own private art gallery has been unveiled in March. The Chilterns at 24 Paddington Street contains 44 luxury residences, the majority of which were sold in 2013. It contains a signature restaurant, a 24 hour-hotel style concierge service, a gymnasium and sauna and a private cinema. The new art gallery, with original pictures of the area by David Bailey, is part of the lobby of the building and is "one of the most exciting and unique features of the Chilterns", according to Stephen Conway, CEO of Galliard Homes. With prices going from £3.8 million up to £7.7 million for a three bedroom flat, the residence is located between the local shops of Marylebone High Street and Baker Street.

4/14 Margaret Thatcher's Belgravia home is up for sale for £30m

Margaret Thatcher's six-floor townhouse in Belgravia is on the market for a cool £30 million. The Grade II listed building on No. 73 Chester Square, one of London's most prestigious addresses, now boasts a lift, a newly constructed mews house with a roof terrace and a private garage after a three-year refurbishment by Leconfield, a development and construction company. Some features from Thatcher's time at the property remain. The layout and design of the formal dining room and interlinking study on the ground floor has been reinstated exactly as the Iron Lady had it during her 22 years at the property, from 1991 until her death in 2013.

5/14 Tiny London house that is just 10ft wide goes on market for £800,000

A tiny terraced house that measures no more than 10ft wide has gone on the market in south London for a staggering £800,000. The house, generally labelled "unique" by estate agent Foxtons, looks all the more unusual because it is sandwiched between two regular-sized homes. It doesn't even have a proper back door - images of the interior suggested renovators had sought to maximise the property's space by including a folding aperture to the similarly narrow back garden.

6/14 The Mayfair penthouse that sold for £30 million

A Mayfair penthouse on Albemarle Street, one of Mayfair's oldest roads, sold to a mystery buyer for £30 million in December. The 5,845 sq ft, three-bedroom family home is thought to be one of the most expensive properties sold in the capital this year, and comes with an annual service charge of £61,000.

supplied by Estate agent Peter Wetherell

7/14 The dilapidated pre-fab 'shed' sold for nearly £1 million

A pre-fabricated bungalow in south-east London has sold at auction for just under £1 million. The 1950s property in Peckham comes with 0.6 acres of land, is in need of renovation and has no fitted bathroom, but still sold for £950,000. A guide price of £590,000 was initially set, but increased rapidly during the bidding.

Google Maps

8/14 The starter home flats that went for a combined £60 million

Some 215 "affordable" starter homes, specifically designed for first time buyers, sold out in just three hours in November, after dozens of aspiring homeowners camped overnight and queued in bad weather to get their hands on the flats. The starter home flats at Trinity Square by Galliard Homes went for a combined £60 million, or an average of £700 per sq ft. Londoners looking for affordable housing did not hesitate to camp out for up to two days to snag a flat, despite the fact that the project will not be complete for another two years.

Galliard

9/14 The longest lateral flat where H.G wells hosted a book club: yours for £3.65m

The 2,200 square foot apartment in Chiltern Court in Marylebone was also home to author Arnold Bennett and political cartoonist David Low. Now on the market for £3.65 million through Rokstone agency, the four-bedroom flat has been refurbished into a luxury apartment, providing an exceptional 40 meter window frontage and depth. It claims to be the longest and most outstanding lateral flat - ones that stretch the full width of a building, or sometimes across two buildings - currently for sale in London's West End.

Rokstone

10/14 Gatti House: the flats with celebrity links and private "pizza" lift that sold for a collective £16.5 million

Celebrity links, a famous history and a private "pizza lift" has helped set a new record for price per square foot for a block of flats in central London. The four flats have sold for a collective £16.5 million at Gatti House on London's Strand. Gatti House, a magnificent grade II building built in 1867, was sold as four separate apartments priced from £2.95 million to £5.95 million by CBRE Residential and Beauchamp, which has completed the last remaining sale.

CBRE Residential and Beauchamp

11/14 London's most expensive office

A newly refurbished office in the heart of Mayfair measuring 6,000 sq ft was unveiled by Enstar Capital in October. At £500 per sq ft, it is set to be the most expensive commercial fit out ever undertaken in the West End, according to the developer. The workspace on 54 Brooks Mews features gold-plated executive washrooms inspired by Armani-hotel in Italy, timber flooring imported from a 16th century monastery in Tuscany and an Art Deco entrance restored with a new "54" entrance logo replicating Steve Rubell's famous "studio 54" nightclub logo from the seventies. While the director's floor include a rooftop terrace dressed with loungers and an outside meeting and dining table.

Enstar Capital

12/14 Former garage in Mayfair become world's most expensive mews house at £24m in Mayfair

In September, the world's most expensive mews house, in Reevews Mews, sold to a Qatari buyer for an eye-watering £24 million.

13/14 A penthouse where you canoe from your front door, yours for £16.95 million

London luxury dockside complex located on Chelsea creek is due for completion by the end of 2016. But its luxury flats are already on sale including this penthouse yours for £16.95 million. It's future residents will be able to slip down the river for a work out on the water at anytime of the day.

14/14 The only property in London too expensive for the city's super-rich property buyers

A 45 bed-room mansion near Hyde Park, previously owned by a Saudi Prince, received a private bid for £280 million. If accepted this would have made the property he most expensive single home ever to be sold in Britain. It was originally listed with an asking price of £300 million –more than double the price of the UK's second most expensive home.
Research compiled for The Independent by CBRE and Molior London, shows that last year more than 60,000 new homes were under construction in the capital, of which more than half were bought off-plan, many by wealthy foreigners. But while the new data shows that 64 per cent of the homes in 2015 were bought-off plan, it also reveals this has slowed from 67 per cent in the previous year (see graph).
Other factors that seem to be spooking would-be-buyers, including British ones, are political uncertainty ahead of a London mayoral election in May and the European Union referendum in June. 
However, a handful of companies insist it is largely business as usual, albeit at a slower pace. Killian Hurley, the chief executive of housebuilder Mount Anvil says his firm sold 17 homes costing £1m or more in the first two months of 2016, up from 11 in the same period last year. A spokesman for Battersea Power Station says nearly all of 1,500 new homes in the first wave of the redevelopment have been presold.
Business picture of the day
Business picture of the day
1/32 Brexit shock pushes UK services and manufacturing into contraction says new survey - Friday July 22

The Brexit shock has given the economy "a good kicking" according to a special set of surveys of businesses taken in the wake of the European Union referendum vote, which suggest the UK economy is now contracting at its steepest pace since the last recession in early 2009. The "dramatic deterioration" will significantly increase the odds of a major monetary stimulus from the Bank of England next month to support the economy.

Rex Features

2/32 Euro rises after Mario Draghi relaxed statement on Brexit impact - Thursday July 21

The president of the European Central Bank Mario Draghi struck a sanguine tone on the aftermath of the UK's Brexit vote, but moved equity markets by urging a "public backstop" for the eurozone's struggling lenders. The ECB kept its main interest rates on hold and in his press conference Mr Draghi stressed markets had responded in an orderly fashion to the UK's shock plebiscite result on 23 June.

Getty

3/32 Italy eyes private deal to bail out bank - Wednesday July 20

Italy is eyeing a "private sector" solution to rescue Monte dei Paschi di Siena, the world's oldest bank, in an attempt to sidestep tough EU rules on bailouts, the Financial Times reports. However, Rome's main options to prop up the heavily indebted bank involve using funds from a state-backed Italian bank. That raises the risk of running foul of EU curbs on state bailouts. On Tuesday the European Court of Justice backed EU guidelines designed to prevent taxpayers from footing the bill for bailing out stricken lenders.

Reuters

4/32 IMF slashes UK growth outlook in wake of Brexit vote - Tuesday July 19

The International Monetary Fund has slashed its forecasts for UK growth, becoming the first official economics body to revise its growth estimates heavily downward in the wake of the shock Brexit vote last month. The IMF now says it expects the UK GDP to grow by 1.7 per cent this year, down from the 1.9 per cent it forecast in April, and the forecast for 2017 is just 1.3 per cent, down from 2.2 per cent previously.

Getty Images

5/32 ARM Holdings chipmaker to be bought by Japan's Softbank for £24bn - Monday July 18

British Finance Minister Philip Hammond (L) greets Masayoshi Son, CEO of Japanese mobile giant SoftBank, outside 11 Downing street in central London on July 18, 2016. Japanese mobile giant SoftBank has agreed a cash takeover of iPhone chip designer ARM Holdings for around £24.3 billion, the pair said Monday, in a major investment boost for post-Brexit Britain.

Getty Images / AFP / NIKLAS HALLE'N

6/32 Pokemon Go craze sees Nintendo share price increase 86% in a week adding £15bn to company value - Friday July 15

nvestors are still catching some of the global success of Pokémon Go global success, which has Nintendo shares hit a six-year high. The Japanese game company's shares have climbed 86 per cent since last Thursday on the back of Pokémon Go's popularity. That's almost $15 billion (£11.1 billion) added to the company market value in a week.

Getty Images

7/32 Bank of England holds interest rates at 0.5% - Thursday July14

The Bank of England's Monetary Policy Committee has decided to keep interest rates on hold, despite heightened market expectations that it would cut the cost of borrowing to a new historic low of 0.25 per cent to cushion the economy in the wake of the shock Brexit referendum result. But the Bank has also heavily hinted that a rate cut will come in August to support a weakening economy.

Getty Images

8/32 Brexit will plunge the UK into a recession in the next year, BlackRock says - Wednesday July 13

Britain will be plunged into a recession this year and be plagued with lower economic growth for another five because of the shock decision for the UK to leave the EU, BlackRock analysts have said. BlackRock is the largest asset manager in the world with $4.6 trillion under management as of 2015. Richard Turnill, chief investment strategist, has said that firm's "base case" is recession, meaning at a minimum, it expects the UK GDP to fall for two successive quarters in a row.

Getty Images

9/32 Nintendo shares soar on Pokemon Go success - Monday July 11

Shares in Japan's Nintendo = soared again on Monday, bringing market-value gains to $7.5 billion (£5.78 billion) in just two days as investors cheered the runaway success of Pokemon GO - its first long-awaited venture in mobile. The game, which marries a classic 20-year old franchise with augmented reality, allows players to walk around real-life neighborhoods while seeking virtual Pokemon game characters on their smartphone screens - a scavenger hunt that has earned enthusiastic early reviews.

Getty Images

10/32 John Lewis warns over sterling slump - Friday July 8

The boss of John Lewis has warned that the fall in the value of the pound could become a "big issue". Managing director Andy Street said the weak pound could start driving costs higher next year. He also said it was too early to say if the UK's vote to leave the European Union had affected consumer spending.

Getty Images

11/32 IMF chief Christine Lagarde urges quick Brexit to reduce economic uncertainty - Friday July 7

Christine Lagarde, the head of the International Monetary Fund, has urged the UK government to make a quick withdrawal from the European Union in order to reduce economic uncertainty. The growth of the British economy will be heavily dependent on the new trade agreements the UK negotiates with the EU, Ms Lagarde said. In an interview with the Financial Times, Ms Lagarde said: "We want to see clarity sooner rather than later because we think that a lack of clarity feeds uncertainty, which itself undermines investment appetites and decision making."

Getty Images

12/32 KPMG appoint new 'head of Brexit' - Wednesday July 6

Brexit has seen a boom in demand for legal and financial services as UK businesses race to make sense of the situation ahead of the UK leaving the EU. KPMG, one of the fourth largest accountancy firms in the world, has created a head of Brexit position to manage client advice as the UK leaves the EU.

KPMG

13/32 Pound sterling falls below $1.31 hitting new 31-year low

The pound fall below $1.31 for the first time in 31 years amid growing concerns about the financial stability of the UK after the decision to leave the EU. The last time the pound was worth less than $1.31 was in September 1985.

14/32 Three former Barclays traders found guilty in benchmark rate rigging trial - Monday July 4

Three former Barclays traders have been found guilty of conspiring to fraudulently manipulate global benchmark interest rates at a trial in London. Jay Merchant, 45 and born in Calcutta, was convicted unanimously. Jonathan Mathew, 35, a Libor submitter, and Alex Pabon (picture), 38, were found guilty by a majority verdict after the 10-week trial at Southwark Crown Court.

15/32 Bank of England to cut interest rates says Mark Carney - Thursday June 30

The Bank of England is likely to cut interest rates over the summer to combat a post-Brexit vote slowdown, the Bank's Governor, Mark Carney said today. The Governor's words, in a speech at the Bank's Threadneedle Street headquarters, sent the pound instantly and sharply down against the dollar as financial market traders responded to the news of the stimulus. READ MORE Brexit: 5 charts that show the vulnerability of the UK economy Ten year government bond yields also plummeted.

Getty

16/32 Toyota recalls more than 3.37 million cars - Wednesday June 29

Toyota, the Japanese car maker, said it was recalling millions of car worldwide and thousands in the UK over defective airbag concerns and fuel emissions control units.

Reuters

17/32 First upside down house in Kuala Lumpur - Tuesday June 28

A two-storey house is the latest attraction for tourists in the Malaysian capital city. Kuala Lumpur Upside Down House is a two-storey house and is the latest attraction for tourists arriving to the Malaysian capital where everything inside such as the furniture are placed in an upside down position.

Getty Images

18/32 George Osborne says he'll delay 'punishment budget' as pound slumps to new 31-year low - Monday June 27

George Osborne has sought to calm volatile financial markets in the wake of the Brexit vote in the referendum, but has left his own future as Chancellor in doubt. "Britain is ready to confront what the future holds for us from a position of strength" he said in a statement at 7.15am at the Treasury. "Growth has been robust and employment is at a record high. Our economy is now about as strong as it could be to confront the challenge the country now faces."

AFP/Getty Images

19/32 Markets react to Reacts to EU referendum vote result - Friday June 24

nalyst Robert Halver reacts at the Frankfurt Stock exchange the day after a majority of the British public voted for leaving the European Union on June 24, 2016 in Frankfurt am Main, Germany. The FTSE 100 plunged more than 8 per cent in its biggest opening slump since the financial crisis, wiping £120 billion off the value of the 100 biggest UK companies, after the UK voted to leave the EU.

Getty Images

20/32 Lock of David Bowie's hair to be auctioned - Thursday June 22

A clipping of David Bowie's blonde coiffure could fetch thousands this week at auction. The current bid is for $2,000 on Heritage Auctions, but The Associated Press is reporting that the Beverly Hills–based auction house is expecting to get more than $4,000 for the lock on Saturday.

Getty Images

21/32 The Palace of Culture and Science in Polant lit up with Remain messages as Britain prepares to go to vote - Wednesday June 22

The Palace of Culture and Science Warsaw's Palace of Culture and Science was illuminated in the colors of the Union Jack and accompanied by the hashtag, "Vote Remain." Wednesday marked the last day of polling before Britain goes to vote

Reuters

22/32 Glass Skyslide added to California's tallest skyscraper - Tuesday June

Sandra Brown, 40, rides the Skyslide on the 69th and 70th floors of the US Bank Tower which is attached to the OUE Skyspace LA observation deck in downtown Los Angeles, California, US June 20, 2016. Visitors will glide through the 45ft-long glass tube to enjoy a bird's-eye view of Los Angeles before landing on a more traditional viewing platform on the 69th floor.

Reuters

23/32 TalkTalk CEO Dido Harding sees pay almost triple despite cyber attack - Monday June 20

TalkTalk chief executive Dido Harding has seen her 2015 pay almost triple to £2.8 million, despite presiding over the firm in the year it was hit with a cyber attack that caused profits to halve. In October, TalkTalk suffered from a cyber-attack which cost the firm as much as £80 million and the loss of 101,000 subscribers.Her salary increased from £538,000 to £550,000, thanks to the company's £1.9 million long term incentive plan, which was awarded at the end of the previous year. Harding has pledged to donate a further £220,000 annual bonus to the Ambitous About Autism charity.

Rex

24/32 Revlon to buy Elizabeth Arden in $870m deal - Friday June 17

Revlon will acquire Elizabeth Arden for about $419 million,a wager that uniting two aging cosmetics giants can reinvigorate both companies' brands. The $14-a-share deal values Elizabeth Arden at about $870 million when debt is included, New York-based Revlon said on Thursday. The cash transaction represents a 50 per cent premium over Elizabeth Arden's closing price of $9.31

25/32 Disneyland Shanghai worth $5.5bn opens with support from Xi Jinping and Obama - Thursday June 16

Ten of thousands of people are expected to visit the Disneyland resort in Shanghai on Thursday as the $5.5 billion park opens its doors after five years of construction. The park, which is the largest investment from Disney overseas, opened its doors with fireworks, dancing Disney characters and support from two of the most powerful leaders of the world, US President Barack Obama and China's President Xi Jinping.

Rex Features

26/32 Sir Philip Green apologises to BHS staff for retailers' collapse in front of MPs - Wednesday June 15

Sir Philip has been called to answer questions by the Business, Innovation and Skills Committee over the collapse of BHS, leaving 11,000 jobs at risk. He has apologised to BHS staff for his handling of the demise of the company, which went into administration on April 15. In opening remarks to a committee of MPs, Sir Philip said that his "emotional tie" to BHS meant that he hung on to the chain too long, leading to "trouble". "Nothing is more sad than how this has ended," he said.

Rex Features

27/32 London house prices up 14% in a year - Tuesday June 14

House prices across the UK continued to grow in April, with London prices leaping by more than 14 per cent over the last year, according to official figures published on Tuesday. The average house price in the UK increased 8.2 per cent year on year to £209,054 in April, up 16,000 from the same time in 2015.In London, which continued to be far more expensive than anywhere else in the country, the average house price is now more than £470,000, up by nearly £60,000 on April last year.

Getty Images

28/32 Microsoft to buy LinkedIn for $26.2bn

Microsoft has said it is buying LinkedIn for $26.2 billion in cash in its biggest-ever acquisition. In a post on the Microsoft website, Microsoft said that that the deal values LinkedIn at $196 per share.Jeff Weiner will remain CEO of LinkedIn, reporting to Satya Nadella, CEO of Microsoft. Nadella said that as a user of LinkedIn and a publisher on LinkedIn, he was excited to work with the site because of the way it empowers people to take the next step in their careers.

Reuters

29/32 Solar just made more power than coal in the UK for the first month ever - Friday Jue 10

Solar generated more electricity than coal in the UK for the first month on record in May. Solar generated around 1,336 gigawatt hours (GWh) of electricy in May, 50 per cent more than the 893GWh generated by coal, according to analysis by Carbon Brief. ADVERTISING inRead invented by Teads Carbon brief had previously said that solar power beat two "largely symbolic" milestones in May when it beat coal for the first full day on April 9 and for the first week on May 3.

Getty

30/32 Amazon launches its Fresh food delivery service in the UK - Thursday June 9

Amazon is competing with British supermarkets as it launches its own food delivery service in the UK in 69 central and east London postcodes Amazon Fresh is available to Amazon Prime customers in areas including Camden, Hackney, Soho, Marylebone and Mayfair as the service makes its first steps outside the US.

Reuters

31/32 Royal Mint invites pensioners to save for retirement in solid gold - Wednesday June 8

The Royal Mint is to open its golden vaults for the first time to pensioners who wish to invest. Starting from Wednesday, investors will be able to buy 100g and 1kg gold bars, or Signature Gold, as part of a service that allows customers to own a fractional amount of a 400oz gold bar, to be held as a pension scheme. The bars will be stored in The Royal Mint's vault and are subject to a one per cent (plus VAT) storage charge, based on the daily market value.

Getty

32/32 Sports Direct founder Mike Ashley admits paying workers below the minimum wage - Tuesday June 7

Mike Ashley has admitted paying Sports Direct employees below the minimum wage at a hearing in front of MPs.The company founder said that workers were paid less than the statutory minimum because of bottlenecks at security in an admission that could result in sanctions from HMRC.

Reuters
Walter Mythen of the agent Johns&Co, also points out that there could be confusion about how many luxury properties are currently on the market: "Often vendors use multiple agencies… so it can look as if there are many more properties for sale than is the reality," he says.
But the optimists seem to be in a minority. The FTSE 250 developer Capital & Counties said last week that a "challenging" property market has brought sales of new apartments at its Earls Court development, to a virtual halt. And the trade magazine Property Week has reported that FTSE 100 giant British Land is struggling to sell luxury homes in central London.
The London market is certainly not a party for everyone in attendance, and a number of developers might feel Sir Elton's lyric "it's a sad, sad situation" reflects the current market mood. It certainly is for those who gambled that London's luxury house prices would keep shooting to the sky.
Reuse content