Two years ago Sir Elton John sang "I'm still standing" beneath the chimneys of Battersea Power Station. The rock star had been invited to perform at a lavish party to celebrate the redevelopment of the historic building into luxury flats.
The London property market was booming. International investors viewed London property – in particular its luxury flats – as an ideal place to shelter money from political and economic turmoil. Plus London prices always seemed to be rising. Mark Collins of the property agent CBRE summed up the attraction by citing "the robust economy, low interest rates, world class education and favourable exchange rates".
But is the party over? Is the market "still standing"? According to London Residential Research, sales are falling in some of the most affluent areas: sales of new-build flats in Kensington & Chelsea and Westminster were down 47 per cent in 2015.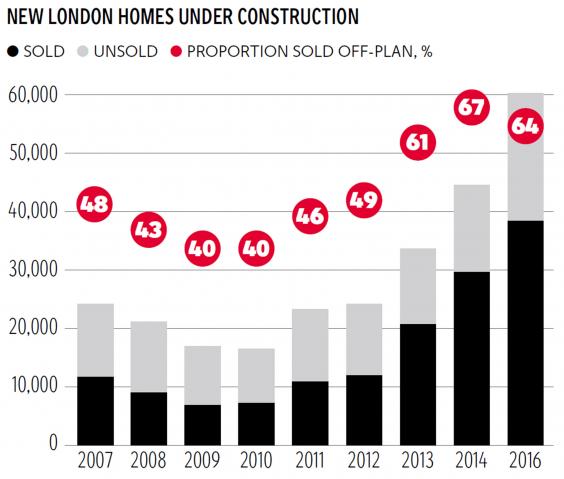 Earlier this week, the property agent JLL warned that there is a diminishing appetite for properties costing £2m and over in new-build developments. And the investment bank Morgan Stanley has forecast the price of new upmarket London flats to fall by as much as 20 per cent this year.
Riaan Kruger is the head of sales and lettings at Garton Jones. He is selling a £2.3m three-bed flat at One Nine Elms, where residents will have access to a gym, swimming pool and 24-hour concierge service. Mr Kruger says there is "no disputing" there has been a slowdown in demand for properties over the £2m range. But he believes there is still a large potential buyer market.
"The same pool of buyers still exists, yet there is now just so much more property for them to choose from," he explains. "Nine Elms alone has over 20 developments on offer and thus competition for buyers has increased."
But not all real estate experts agree that there is a queue of buyers. Trevor Abrahmsohn, the managing director of Glentree International, says a raft of overseas buyers have been deterred from snapping up homes owing to new UK tax burdens.
In November last year George Osborne shocked the property market by announcing a new 3 per cent additional stamp duty rate from this April on property bought as a second home or buy-to-let.
Before that the Chancellor had also increased stamp duty on properties in excess of £1.5m to 12 per cent. Mr Abrahmsohn says this has made the market "more circumspect and considered".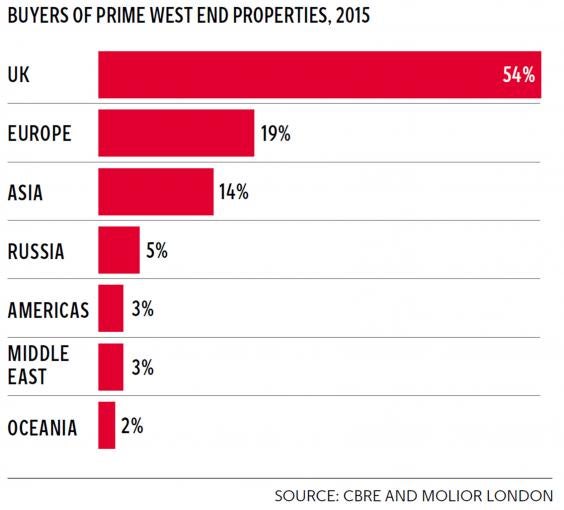 He adds that he has heard of a number of buyers from Malaysia, Singapore, Hong Kong and China "walking away" even if they have exchanged contracts and paid a deposit. "They would rather lose 10 per cent than complete the purchase and lose a lot more, even before the developments are complete. The changes to buy-to-let tax is the straw that broke the camel's back and some developers are nursing a massive over-supply of these properties."
In recent years luxury developments would often be showcased in Singapore, China and Malaysia. But this is now grinding to a halt, says Mr Abrahmsohn. "The capital is no longer perceived as a safe haven for property investments and we have lost this inflow of foreign capital."
Outrageous property deals in pictures
Outrageous property deals in pictures
1/12 First London luxury flats to contain their own private art gallery with prices going from £3.8m up to £7.7m

The first private luxury apartment building in London with its own private art gallery has been unveiled in March. The Chilterns at 24 Paddington Street contains 44 luxury residences, the majority of which were sold in 2013. It contains a signature restaurant, a 24 hour-hotel style concierge service, a gymnasium and sauna and a private cinema. The new art gallery, with original pictures of the area by David Bailey, is part of the lobby of the building and is "one of the most exciting and unique features of the Chilterns", according to Stephen Conway, CEO of Galliard Homes. With prices going from £3.8 million up to £7.7 million for a three bedroom flat, the residence is located between the local shops of Marylebone High Street and Baker Street.

2/12 Margaret Thatcher's Belgravia home is up for sale for £30m

Margaret Thatcher's six-floor townhouse in Belgravia is on the market for a cool £30 million. The Grade II listed building on No. 73 Chester Square, one of London's most prestigious addresses, now boasts a lift, a newly constructed mews house with a roof terrace and a private garage after a three-year refurbishment by Leconfield, a development and construction company. Some features from Thatcher's time at the property remain. The layout and design of the formal dining room and interlinking study on the ground floor has been reinstated exactly as the Iron Lady had it during her 22 years at the property, from 1991 until her death in 2013.

3/12 Tiny London house that is just 10ft wide goes on market for £800,000

A tiny terraced house that measures no more than 10ft wide has gone on the market in south London for a staggering £800,000. The house, generally labelled "unique" by estate agent Foxtons, looks all the more unusual because it is sandwiched between two regular-sized homes. It doesn't even have a proper back door - images of the interior suggested renovators had sought to maximise the property's space by including a folding aperture to the similarly narrow back garden.

4/12 The Mayfair penthouse that sold for £30 million

A Mayfair penthouse on Albemarle Street, one of Mayfair's oldest roads, sold to a mystery buyer for £30 million in December. The 5,845 sq ft, three-bedroom family home is thought to be one of the most expensive properties sold in the capital this year, and comes with an annual service charge of £61,000.

supplied by Estate agent Peter Wetherell

5/12 The dilapidated pre-fab 'shed' sold for nearly £1 million

A pre-fabricated bungalow in south-east London has sold at auction for just under £1 million. The 1950s property in Peckham comes with 0.6 acres of land, is in need of renovation and has no fitted bathroom, but still sold for £950,000. A guide price of £590,000 was initially set, but increased rapidly during the bidding.

Google Maps

6/12 The starter home flats that went for a combined £60 million

Some 215 "affordable" starter homes, specifically designed for first time buyers, sold out in just three hours in November, after dozens of aspiring homeowners camped overnight and queued in bad weather to get their hands on the flats. The starter home flats at Trinity Square by Galliard Homes went for a combined £60 million, or an average of £700 per sq ft. Londoners looking for affordable housing did not hesitate to camp out for up to two days to snag a flat, despite the fact that the project will not be complete for another two years.

Galliard

7/12 The longest lateral flat where H.G wells hosted a book club: yours for £3.65m

The 2,200 square foot apartment in Chiltern Court in Marylebone was also home to author Arnold Bennett and political cartoonist David Low. Now on the market for £3.65 million through Rokstone agency, the four-bedroom flat has been refurbished into a luxury apartment, providing an exceptional 40 meter window frontage and depth. It claims to be the longest and most outstanding lateral flat - ones that stretch the full width of a building, or sometimes across two buildings - currently for sale in London's West End.

Rokstone

8/12 Gatti House: the flats with celebrity links and private "pizza" lift that sold for a collective £16.5 million

Celebrity links, a famous history and a private "pizza lift" has helped set a new record for price per square foot for a block of flats in central London. The four flats have sold for a collective £16.5 million at Gatti House on London's Strand. Gatti House, a magnificent grade II building built in 1867, was sold as four separate apartments priced from £2.95 million to £5.95 million by CBRE Residential and Beauchamp, which has completed the last remaining sale.

CBRE Residential and Beauchamp

9/12 London's most expensive office

A newly refurbished office in the heart of Mayfair measuring 6,000 sq ft was unveiled by Enstar Capital in October. At £500 per sq ft, it is set to be the most expensive commercial fit out ever undertaken in the West End, according to the developer. The workspace on 54 Brooks Mews features gold-plated executive washrooms inspired by Armani-hotel in Italy, timber flooring imported from a 16th century monastery in Tuscany and an Art Deco entrance restored with a new "54" entrance logo replicating Steve Rubell's famous "studio 54" nightclub logo from the seventies. While the director's floor include a rooftop terrace dressed with loungers and an outside meeting and dining table

Enstar Capital

10/12 Former garage in Mayfair become world's most expensive mews house at £24m in Mayfair

In September, the world's most expensive mews house, in Reevews Mews, sold to a Qatari buyer for an eye-watering £24 million.

11/12 A penthouse where you canoe from your front door, yours for £16.95 million

London luxury dockside complex located on Chelsea creek is due for completion by the end of 2016. But its luxury flats are already on sale including this penthouse yours for £16.95 million. It's future residents will be able to slip down the river for a work out on the water at anytime of the day.

12/12 The only property in London too expensive for the city's super-rich property buyers

A 45 bed-room mansion near Hyde Park, previously owned by a Saudi Prince, received a private bid for £280 million. If accepted this would have made the property he most expensive single home ever to be sold in Britain. It was originally listed with an asking price of £300 million –more than double the price of the UK's second most expensive home
Research compiled for The Independent by CBRE and Molior London, shows that last year more than 60,000 new homes were under construction in the capital, of which more than half were bought off-plan, many by wealthy foreigners. But while the new data shows that 64 per cent of the homes in 2015 were bought-off plan, it also reveals this has slowed from 67 per cent in the previous year (see graph).
Other factors that seem to be spooking would-be-buyers, including British ones, are political uncertainty ahead of a London mayoral election in May and the European Union referendum in June. 
However, a handful of companies insist it is largely business as usual, albeit at a slower pace. Killian Hurley, the chief executive of housebuilder Mount Anvil says his firm sold 17 homes costing £1m or more in the first two months of 2016, up from 11 in the same period last year. A spokesman for Battersea Power Station says nearly all of 1,500 new homes in the first wave of the redevelopment have been presold.
Business picture of the day
Business picture of the day
1/31 G7 world leaders say Brexit poses a serious risk to global growth - Friday May 27

Seven leaders have warned of the risk to global economy if Britain votes to leave the European Union in a referendum next month. The UK leaving the European Union would "reverse the trend towards greater global trade and investment, and the jobs they create, and is a further serious risk to growth," leaders said in a joint declaration at the G7 meeting in Japan.

Reuters

2/31 Fast food workers demonstrate for better wages - Thursday May 26

Demonstrators calling for an increase in the minimum wage to $15-dollars-per-hour protest outside of McDonald's corporate headquarters on May 25, 2016 in Oak Brook, Illinois.

Getty Images

3/31 Steelworkers march in London as Tata sale talks continue - Wednesday May 25

Hundreds of steelworkers from across the UK marched through Westminster to keep up pressure for government help for their industry

AP Photo/Kirsty Wigglesworth

4/31 Google Paris headquarters raided as part of tax payment probe - Tuesday May 24

The message 'I'm feeling lucky' is seen on the facade of the entrance of Google's Paris headquarters on May 24, 2016 in Paris, France. Google's headquarters in Paris were raided by French investigators on Tuesday morning as part of an investigation over alleged tax fraud. Ministry of Finance is seeking €1.6 billion ($1.79 billion) in back taxes from the US Internet giant Google.

Getty Images

5/31 Bayer offers to buy Monsanto for $62 billion cash - Monday May 23

Monsanto DeKalb brand hybrid corn sits in the hopper of a Case IH planter in a field in Princeton, Illinois, US. Bayer, on Monday, made an unsolicited $62 billion all-cash offer to acquire Monsanto to create the world's biggest supplier of farm chemicals and genetically modified seeds, a proposed acquisition that would be the biggest corporate deal by a German company.

Getty Images

6/31 Fracking approval under consideration - Friday May 20

Councillors in North Yorkshire on Friday considered whether to approve fracking in England for the first time since a ban on the technique was lifted in 2012. Campaigners say approval would set a "dangerous precedent".

Getty Images

7/31 'Oppenheimer Blue' diamond sells for £40m, setting new record - Thursday May 19

The world's most expensive diamond has set a new record after it was sold at auction - for more than £39 million. At 14.62 carats, the 'Oppenheimer Blue' was the largest Vivid Blue diamond ever to go under the hammer.

Reuters

8/31 Mitsubishi Motors president to resign over fuel scandal - Wednesday May 19

Mitsubishi Motors President Tetsuro Aikawa will step down as the Japanese automaker looks to regroup from its widening fuel economy testing scandal with the backing of Nissan Motor. Aikawa, 62, and Executive Vice President Ryugo Nakao will leave their positions effective June 24, according to a statement Wednesday.Prior to the scandal, Mitsubishi was the sixth biggest carmaker in Japan and ranked 16 worldwide.

Reuters

9/31 Harmony of the Seas: Biggest cruise ship in the world docks in Southampton - Tuesday May 17

The worlds largest cruise ship, the 361 metres long, Harmony of the Seas, arrives in port for her mayden voyage, in Southampton, Britain May 17, 2016. The 362-metre-long Harmony of the Seas cost $1 billion (£700 million) and is larger than the Eiffel Tower.

Reuters

10/31 Barclays to sell secret London gold vault - Monday May 16

Barclays has sold its metals business, including a secret gold bullion vault in London which can hold up to 2,000 tonnes of gold. ICBC Standard, China's biggest bank, expects the purchase to be completed in July. Barclays decision to exit the business comes as US and EU regulators investigate whether 10 banks, including Deutsche Bank and Barclays manipulated prices of precious metals such as silver and gold.

Getty Images

11/31 Bank of England warns EU referendum vote could damage UK economic growth - Thursday May 12

The Governor of the Bank of England, Mark Carney, warned today that a majority vote to "leave" in next month's European Union referendum carried the risk of a "technical recession" for the UK. His words came as the Bank slashed its growth forecasts citing uncertainty created by next month's Brexit referendum - and warned, in addition, that a vote to leave could push up unemployment, send the pound plummeting and result in a spike in inflation.

Getty Images

12/31 EU blocks Three's takeover of O2 - Wednesday May 11

European Union Commissioner for Competition Margrethe Vestager talks to the media after the EU Commission prohibited Hutchison's proposed acquisition of Telefonica UK, at the EU Commission headquarter in Brussels on May 11, 2016. The European Commission shot down Telefonica's blockbuster sale of British telecom giant O2 to Hong Kong group Hutchison on fears it would inflict higher prices on British consumer

Getty Images

13/31 Budweiser just renamed its beer to "America" - Tuesday May 10

The beer, formerly known as Budweiser, is going for what it calls "patriotic packaging" this summer. The brand name on most cans and bottles will read "America", and will include phrases from the Pledge of Allegiance and lyrics from The Star Spangled Banner and America the Beautiful. "We thought nothing was more iconic than Budweiser and nothing was more iconic than America," Tosh Hall, creative director at JRK, told Fast Co Design.Anheuser-Busch InBev, the Belgian-Brazilian brewing giant, filed the America label for approval from the Alcohol and Tobacco Tax and Trade Bureau, and has received the go ahead for use on 12-ounce cans and bottles.

Budweiser

14/31 Canadian wildfires push up oil - Monday May 9

Crude rose as expanding wildfires in Canada knocked out about 1 million barrels a day of output. Futures increased as much as 2.9 per cent in New York and 2.5 per cent in London. The blaze has led to cuts equivalent to about 40 percent of Canada's oil-sands production, based on IHS Energy estimates.

Reuters

15/31 Hotel Chocolat founders make £20m each from stock market debut - Thursday May 5

Angus Thirlwell and Peter Harris share £43.5m of £55.5m raised through flotation of luxury chocolate company

Getty Images

16/31 BHP Billiton faces £30bn compensation claim over Brazil dam disaster - Wednesday May 4

BHP Billiton and its partner Vale are facing a 155bn real (£30bn) claim from Brazilian prosecutors over a dam collapse last year at one of their iron ore mines, which killed 19 and left 700 homeless. Shares in the London-listed BHP plunged almost 10% after the charges were revealed into what is being called Brazil's worst ever environmental disaster.

Getty Images/ Douglas Magno

17/31 Australian Craig Wright claims he is Bitcoin creator Satoshi Nakamoto - Tuesday May 3

Australian businessman Craig Wright has claimed to be the person behind "Satoshi Nakamoto", the mysterious identity that created much of the technology behind the online cash system. Sato

REUTERS/Benoit Tessier/

18/31 Museums face ethics investigation over influence of sponsor BP - Friday April 29

Protesters carrying umbrellas take part in a flashmob performance, protesting against British Petroleum's (BP's) sponsorship of the British Museum in central London on September 13, 201

NIKLAS HALLE'N/AFP/Getty Images

19/31 Volkswagen bosses to be paid £49m despite record losses after emissions scandal - Thursday April

Volkswagen is to pay 12 current and former managers €63.24 million (£49m) for 2015, a year of record losses for the company following its global emissions scandal.

Reuters/Fabrizio Bensch

20/31 Comcast 'in talks to buy DreamWorks for $3bn' - Wednesday April 27

Comcast, the parent of Universal Pictures, is in talks to acquire DreamWorks Animation for more than $3 billion, the Wall Street Journal reported, citing people familiar with the discussions. Buying the maker of the "Shrek" and "Kung Fu Panda" movies would bolster Comcast's collection of animated films as the largest US cable provider searches for ways to grow amid a trend of cord-cutters dropping TV for online video services like Netflix.

21/31 Scottish Power fined £18m for poor customer service - Tuesday April 26

Scottish Power has agreed to pay £18 million for failing to treat its customers fairly. The fine – of which up to £15 million will be paid to vulnerable Scottish Power customers and £3 million to charity - is the third biggest penalty given to one of the major six energy providers. It follows an investigation by the industry regulator Ofgem into the firm's customer service.

PA

22/31 BHS goes into administration with 11,000 jobs under threat - Monday April 25

BHS has filed for administration, putting 11,000 jobs at risk. Administrators Philip Duffy and Benjamin Wiles of Duff & Phelps said BHS had "no alternative but to put the group into administration to protect it for all creditors". The group will continue to trade as normal while administrators look for someone to buy the chain. READ MORE BHS on the brink of collapse: everything you need to know The high street store has been unable to find £60 million in emergency funding needed to pay wages and rent and stop it going under.

Getty Images

23/31 New £20 note design and personality unveiled by Bank of England - Friday April 22

Artist JMW Turner and his painting The Fighting Temeraire will feature on the new design of the Bank of England's £20 note to enter circulation in 2020. The English Romantic artist was chosen from a list of public nominations - the first time the Bank has asked who should appear on a specific banknote. The note, to be made of polymer, will eventually replace the current £20 note featuring the economist Adam Smith.

The Governor and The Company of The Bank of England

24/31 Mitsubishi office raided in Japan as shares slide towards record low on fuel economy test scandal - Thursday April 21

The offices of Mitsubishi have been raided in Japan after the company admitted to falsifying fuel economy data, sending shares plummeting 35 per cent in two days. Investors watched in horror as the stock price fell a further 20 per cent on Thursday to trade around 583 yen following a raid on the Mitsubishi plant in the central Japanese city of Okazaki. Trading was halted due to the surfeit of investors trying to sell stock. More than third of the company's value evaporated in the sell-off.

25/31 Oil tumbles as Kuwait strike ends - Wednesday April 20

The oil price is in retreat this morning after Kuwaiti workers ended a three day strike. Brent crude has slumped by 2.5 per cent already, down over $1 to $42.95 per barrel, as traders anticipate more oil flowing from Kuwait again. Workers had walked out on Sunday, protesting against austerity cutbacks that will hit their wages and benefits. It's not clear what concessions they have been handed.The strike by oil workers has slashed Kuwait's output, but the state oil firm, Kuwait Petroleum Corp, said it had managed to restore some affected production

Getty Images

26/31 Netflix shares nose-dive on growth and pricing fears - Tuesday April 19

Netflix shares plunged nearly 11 per cent in after-hours trading on Wall Street over fears the video streaming company's growth is stalling as it faces an attack on its market share from Amazon. Numbers were lower than analysts, who had anticipated 580,000 in the US and 3.5 million globally, were looking for. It has 81.5 million users worldwide.The video streaming group, home to House of Cards and Marco Polo, posted a first-quarter profit of $28 million (£19.6 million), up $4 million on last year.One reasons for the slowing growth is that the company has been pushing up its charges. It is also facing tough competition from Hulu and Amazon, which unveiled a new monthly subscription pricing model yesterday.

27/31 The Treasury Brexit equation - Monday April 18

These are the equations at the heart of the Treasury's economic model, which is designed to quantify the impact of Britain leaving the European Union. It's this model that produced the result cited by Chancellor George Osborne today that the economy could be 6 per cent smaller in 2030 (relative to staying in the EU) and each household £4,300 worse off.

28/31 Chinese growth slides - Friday April 15

China's economy grew at its slowest pace since 2009 in the first three months of the year, although there were signs that the world's second-largest economy was stabilising. The so-called Dragon economy grew 6.7 per cent in the first quarter, official figures showed. That was down slightly on the previous quarter's 6.8 per cent but in line with Beijing's forecasts. Chinese banks issued nearly double the amount of new loans in March than in February while retail sales growth accelerated from 10.2 per cent to 10.5 per cent and industrial output advanced from 5.4 per cent to 6.8 per cent, well ahead of expectations.

Qilai Shen/Bloomberg via Getty Images

29/31 Fifty biggest US companies stashing $1.3trn offshore - Thursday April 14

The 50 biggest US companies, including Coca-Colam Walt Disney, Alphabet (Google) and Goldman Sachs, have more money stashed offshore than the entire GDP of Spain, Mexico or Australia, collectively keeping about $1.3t trillion (£0.91trillion) in territories where the money does not count towards US tax, according to a new report by Oxfam.

Denis Kartavenko (c)

30/31 Activists seek transparency in Panama Papers aftermath in Berlin - Wednesday April 13

Activists wearing suits throw fake money into the air while demanding greater transparency in new legislation following the ongoing Panama Papers affair on April 13, 2016 in Berlin, Germany

by Sean Gallup/Getty Images

31/31 IMF warns Brexit will create 'severe global damage' - Tuesday April 12

The IMF has slashed the UK's growth forecasts for this year, saying uncertainty created by the Brexit referendum in June is already hurting the domestic economy. It is a major intervention from the IMF into the referendum debate. The IMF's managing director Christine Lagarde has previously spoken about the negative economic impact of Brexit. But this is the first major warning from the Fund itself. The IMF cut its 2016 GDP growth forecast for Britain to 1.9 per cent, down from the 2.2 per cent it projected in January. After Japan, it was the joint second largest downgrade handed out to any country in the G7.

Getty Images / John Lamparski
Walter Mythen of the agent Johns&Co, also points out that there could be confusion about how many luxury properties are currently on the market: "Often vendors use multiple agencies… so it can look as if there are many more properties for sale than is the reality," he says.
But the optimists seem to be in a minority. The FTSE 250 developer Capital & Counties said last week that a "challenging" property market has brought sales of new apartments at its Earls Court development, to a virtual halt. And the trade magazine Property Week has reported that FTSE 100 giant British Land is struggling to sell luxury homes in central London.
The London market is certainly not a party for everyone in attendance, and a number of developers might feel Sir Elton's lyric "it's a sad, sad situation" reflects the current market mood. It certainly is for those who gambled that London's luxury house prices would keep shooting to the sky.