Two years ago Sir Elton John sang "I'm still standing" beneath the chimneys of Battersea Power Station. The rock star had been invited to perform at a lavish party to celebrate the redevelopment of the historic building into luxury flats.
The London property market was booming. International investors viewed London property – in particular its luxury flats – as an ideal place to shelter money from political and economic turmoil. Plus London prices always seemed to be rising. Mark Collins of the property agent CBRE summed up the attraction by citing "the robust economy, low interest rates, world class education and favourable exchange rates".
But is the party over? Is the market "still standing"? According to London Residential Research, sales are falling in some of the most affluent areas: sales of new-build flats in Kensington & Chelsea and Westminster were down 47 per cent in 2015.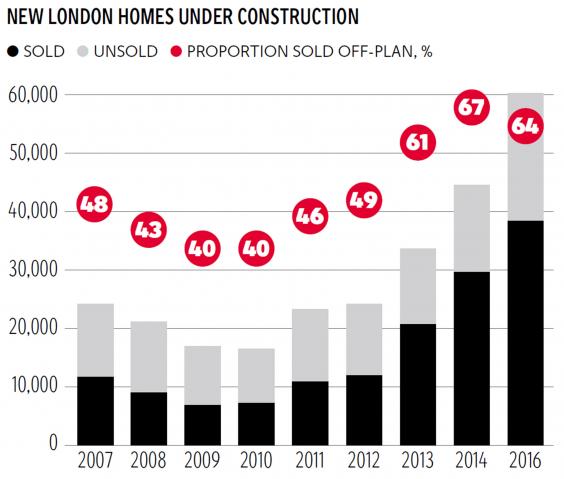 Earlier this week, the property agent JLL warned that there is a diminishing appetite for properties costing £2m and over in new-build developments. And the investment bank Morgan Stanley has forecast the price of new upmarket London flats to fall by as much as 20 per cent this year.
Riaan Kruger is the head of sales and lettings at Garton Jones. He is selling a £2.3m three-bed flat at One Nine Elms, where residents will have access to a gym, swimming pool and 24-hour concierge service. Mr Kruger says there is "no disputing" there has been a slowdown in demand for properties over the £2m range. But he believes there is still a large potential buyer market.
"The same pool of buyers still exists, yet there is now just so much more property for them to choose from," he explains. "Nine Elms alone has over 20 developments on offer and thus competition for buyers has increased."
But not all real estate experts agree that there is a queue of buyers. Trevor Abrahmsohn, the managing director of Glentree International, says a raft of overseas buyers have been deterred from snapping up homes owing to new UK tax burdens.
In November last year George Osborne shocked the property market by announcing a new 3 per cent additional stamp duty rate from this April on property bought as a second home or buy-to-let.
Before that the Chancellor had also increased stamp duty on properties in excess of £1.5m to 12 per cent. Mr Abrahmsohn says this has made the market "more circumspect and considered".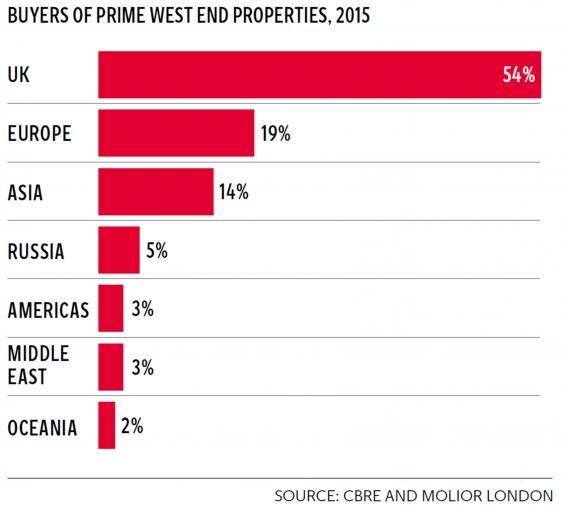 He adds that he has heard of a number of buyers from Malaysia, Singapore, Hong Kong and China "walking away" even if they have exchanged contracts and paid a deposit. "They would rather lose 10 per cent than complete the purchase and lose a lot more, even before the developments are complete. The changes to buy-to-let tax is the straw that broke the camel's back and some developers are nursing a massive over-supply of these properties."
In recent years luxury developments would often be showcased in Singapore, China and Malaysia. But this is now grinding to a halt, says Mr Abrahmsohn. "The capital is no longer perceived as a safe haven for property investments and we have lost this inflow of foreign capital."
Outrageous property deals in pictures
Outrageous property deals in pictures
1/15 The Park Lane townhouse set to become one of the UK's most expensive student flats at £4,000 a week

A town house situated in Park Lane, one of the most affluent places in London, is about to become the capital's most expensive student residence. Most of London students usually live in halls of residence before moving on to house-share. For this reason it is fair to say few will able to afford the 3,540 square foot three-bedroom flat, which is available for £4,000 a week, £16,000 per month or £192,000 per year.

Wetherell

2/15 London's most expensive flat goes on sale at Buckingham Palace near Buckingham Palace priced at £150m

A luxury flat in London's historic Admiralty Arch, which overlooks Buckingham Palace, could sell for up to £150 million. If sold for that price, the 15,000 sq ft apartment will become London's most expensive flat, topping One Hyde Park, a flat which sold for £140 million in 2014.The Grade I listed property boasts 12 bedrooms and 12 bathrooms

3/15 'Little White House' inside the US embassy complex in London goes on sale for £2.5m

A luxury home inside the US embassy complex has gone on sale for £2.5m. The property is said to be the most "protected home in Britain" and any visitor is asked to carry an identity card at all times. The complex has patrolling US marines, a 24-hour British police presence, checkpoints, anti-tanks blocks and CCTV.But potential buyers looking for a fortress should not get their hopes up as all the security will disappear once the US embassy moves to a new site in Nine Elms in 2017. The home, located at 4 Blackburne's Mews near Grosvenor Square, dates back to 1732 and owes its nickname to its white façade, grand entrance and sweeping staircase as well as its proximity to the US embassy. It provides nearly 3,000 sq ft of living space and benefits from access to communal gardens.

Wetherell

4/15 First London luxury flats to contain their own private art gallery with prices going from £3.8m up to £7.7m

The first private luxury apartment building in London with its own private art gallery has been unveiled in March. The Chilterns at 24 Paddington Street contains 44 luxury residences, the majority of which were sold in 2013. It contains a signature restaurant, a 24 hour-hotel style concierge service, a gymnasium and sauna and a private cinema. The new art gallery, with original pictures of the area by David Bailey, is part of the lobby of the building and is "one of the most exciting and unique features of the Chilterns", according to Stephen Conway, CEO of Galliard Homes. With prices going from £3.8 million up to £7.7 million for a three bedroom flat, the residence is located between the local shops of Marylebone High Street and Baker Street.

5/15 Margaret Thatcher's Belgravia home is up for sale for £30m

Margaret Thatcher's six-floor townhouse in Belgravia is on the market for a cool £30 million. The Grade II listed building on No. 73 Chester Square, one of London's most prestigious addresses, now boasts a lift, a newly constructed mews house with a roof terrace and a private garage after a three-year refurbishment by Leconfield, a development and construction company. Some features from Thatcher's time at the property remain. The layout and design of the formal dining room and interlinking study on the ground floor has been reinstated exactly as the Iron Lady had it during her 22 years at the property, from 1991 until her death in 2013.

6/15 Tiny London house that is just 10ft wide goes on market for £800,000

A tiny terraced house that measures no more than 10ft wide has gone on the market in south London for a staggering £800,000. The house, generally labelled "unique" by estate agent Foxtons, looks all the more unusual because it is sandwiched between two regular-sized homes. It doesn't even have a proper back door - images of the interior suggested renovators had sought to maximise the property's space by including a folding aperture to the similarly narrow back garden.

7/15 The Mayfair penthouse that sold for £30 million

A Mayfair penthouse on Albemarle Street, one of Mayfair's oldest roads, sold to a mystery buyer for £30 million in December. The 5,845 sq ft, three-bedroom family home is thought to be one of the most expensive properties sold in the capital this year, and comes with an annual service charge of £61,000.

supplied by Estate agent Peter Wetherell

8/15 The dilapidated pre-fab 'shed' sold for nearly £1 million

A pre-fabricated bungalow in south-east London has sold at auction for just under £1 million. The 1950s property in Peckham comes with 0.6 acres of land, is in need of renovation and has no fitted bathroom, but still sold for £950,000. A guide price of £590,000 was initially set, but increased rapidly during the bidding.

Google Maps

9/15 The starter home flats that went for a combined £60 million

Some 215 "affordable" starter homes, specifically designed for first time buyers, sold out in just three hours in November, after dozens of aspiring homeowners camped overnight and queued in bad weather to get their hands on the flats. The starter home flats at Trinity Square by Galliard Homes went for a combined £60 million, or an average of £700 per sq ft. Londoners looking for affordable housing did not hesitate to camp out for up to two days to snag a flat, despite the fact that the project will not be complete for another two years.

Galliard

10/15 The longest lateral flat where H.G wells hosted a book club: yours for £3.65m

The 2,200 square foot apartment in Chiltern Court in Marylebone was also home to author Arnold Bennett and political cartoonist David Low. Now on the market for £3.65 million through Rokstone agency, the four-bedroom flat has been refurbished into a luxury apartment, providing an exceptional 40 meter window frontage and depth. It claims to be the longest and most outstanding lateral flat - ones that stretch the full width of a building, or sometimes across two buildings - currently for sale in London's West End.

Rokstone

11/15 Gatti House: the flats with celebrity links and private "pizza" lift that sold for a collective £16.5 million

Celebrity links, a famous history and a private "pizza lift" has helped set a new record for price per square foot for a block of flats in central London. The four flats have sold for a collective £16.5 million at Gatti House on London's Strand. Gatti House, a magnificent grade II building built in 1867, was sold as four separate apartments priced from £2.95 million to £5.95 million by CBRE Residential and Beauchamp, which has completed the last remaining sale.

CBRE Residential and Beauchamp

12/15 London's most expensive office

A newly refurbished office in the heart of Mayfair measuring 6,000 sq ft was unveiled by Enstar Capital in October. At £500 per sq ft, it is set to be the most expensive commercial fit out ever undertaken in the West End, according to the developer. The workspace on 54 Brooks Mews features gold-plated executive washrooms inspired by Armani-hotel in Italy, timber flooring imported from a 16th century monastery in Tuscany and an Art Deco entrance restored with a new "54" entrance logo replicating Steve Rubell's famous "studio 54" nightclub logo from the seventies. While the director's floor include a rooftop terrace dressed with loungers and an outside meeting and dining table.

Enstar Capital

13/15 Former garage in Mayfair become world's most expensive mews house at £24m in Mayfair

In September, the world's most expensive mews house, in Reevews Mews, sold to a Qatari buyer for an eye-watering £24 million.

14/15 A penthouse where you canoe from your front door, yours for £16.95 million

London luxury dockside complex located on Chelsea creek is due for completion by the end of 2016. But its luxury flats are already on sale including this penthouse yours for £16.95 million. It's future residents will be able to slip down the river for a work out on the water at anytime of the day.

15/15 The only property in London too expensive for the city's super-rich property buyers

A 45 bed-room mansion near Hyde Park, previously owned by a Saudi Prince, received a private bid for £280 million. If accepted this would have made the property he most expensive single home ever to be sold in Britain. It was originally listed with an asking price of £300 million –more than double the price of the UK's second most expensive home.
Research compiled for The Independent by CBRE and Molior London, shows that last year more than 60,000 new homes were under construction in the capital, of which more than half were bought off-plan, many by wealthy foreigners. But while the new data shows that 64 per cent of the homes in 2015 were bought-off plan, it also reveals this has slowed from 67 per cent in the previous year (see graph).
Other factors that seem to be spooking would-be-buyers, including British ones, are political uncertainty ahead of a London mayoral election in May and the European Union referendum in June. 
However, a handful of companies insist it is largely business as usual, albeit at a slower pace. Killian Hurley, the chief executive of housebuilder Mount Anvil says his firm sold 17 homes costing £1m or more in the first two months of 2016, up from 11 in the same period last year. A spokesman for Battersea Power Station says nearly all of 1,500 new homes in the first wave of the redevelopment have been presold.
Business picture of the day
Business picture of the day
1/33 Price of wine set to soar as production nears 20-year low - Friday 21 October

Vineyard manager Antonio Navarro looks at grapes ready to be harvested at the Casa Bianchi vineyard in San Rafael

Reuters

2/33 Banks consider 'moving London staff to Luxembourg to get access to EU' - Wednesday 19 October

The head of financial development for Luxembourg said a string of overseas banks and fund managers had explored moving London staff to the tiny country since the Brexit vote. Nicolas Mackel said there had been "strong interest" from US and other non-EU firms assessing their options since June's referendum.

Rex

3/33 The pound falls below €1.10 for the first time since March 2010 - Monday October 17

The pound has fallen below €1.10 for the first time in six and a half years, since March 2010. Sterling has been under pressure since Britain voted to leave the European Union. The pound has fallen by almost 20% against the against the dollar since the Brexit vote, trading below $1.22 and €1.10 on Monday.

4/33 Brexit: US banks are planning exodus from the UK, French minister says - Friday October 14

French finance Minister Michel Sapin said that US banks had confirmed to him they would move some activities out of Britain to other European countries as the UK prepares to leave the EU. Sapin revealed that the executives of major US banks have told him they were working on contingency plans, after their meeting last week in Washington.

5/33 Tesco running out of products like Marmite and PG Tips amid Brexit price row with Unilever - Thursday October 13

Tesco has removed a number of popular products such as Marmite, Bovril and PG Tips from its online store following a price row with supplier Unilever over the plunging pound. Multinational household goods giant Unilever has reportedly demanded a 10 per cent price rise in its products, including those made in the UK, to offset the higher cost of imported goods.

Reuters

6/33 FTSE falls after record mid-session high - Wednesday October 12

Britain's index of leading shares slipped on Wednesday from record highs reached in the previous session, partly reflecting currency moves which weighed on some of its global companies The blue-chip FTSE 100 equity index, which hit a record high of 7,129.83 points on Tuesday, fell 0.5 percent to 7,038.22 points. The FTSE 250 mid-cap index fell 0.4 percent but also remained near record highs reached this month. The dollar dipped while sterling rebounded a touch from a brutal sell-off this month, as British Prime Minister Theresa May's offer to give lawmakers some scrutiny of the process behind Britain's plans to leave the European Union calmed market fears of a "hard Brexit".

Getty Images

7/33 Samsung Galaxy Note 7 permanently discontinued - Tuesday October 11

Samsung finally bowed to pressure, permanently ceasing production of its fire-prone Galaxy Note 7. The move came after replacement versions of its flagship phone phone - which Samsung claimed were safe - also burst into flames. October 12 2016.

Reuters

8/33 Oliver Hart and Bengt Holmström awarded Nobel prize for economics - Monday October 10

Two academics recognised for their work on contract theory, which can be applied to everything from CEO pay to privatisations.

Getty Images

9/33 Pound value plunges 6% in 2 minutes in mysterious flash crash - Friday October 7

The British pound has suffered a sudden collapse hitting a new 31-year low against the US dollar in mysterious circumstances, sparking market chaos in "insane" early trading. The drop was sterling's biggest since Britain voted to leave the EU in June. Sterling plunged more than 6 per cent to $1.1841 in two minutes, prompting traders to speculate about a possible trigger.

10/33 Pound sterling value hits another new 31-year low against the dollar amid hard Brexit fears - Wednesday October 5

Sterling has continued its "slippery decline" as ongoing fears over the consequences of "hard Brexit" haunt investor attraction towards the currency. The currency has fallen below the "psychologically important" $1.27 level, down 0.3 per cent to $1.2695 in early trading on Wednesday, extending Tuesday's selloff.

AFP/Getty

11/33 Pound drops to 31-year low Against dollar on brexit concerns - Tuesday October 4

Sterling's broke through its post-referendum low to reach levels not seen in over 30 years. sterling hit an intraday low of $1.2736 on Tuesday morning. That surpasses the post-referendum low of $1.2798 reached on the day after the vote, which was the lowest level seen since the mid-1980s.

Getty

12/33 Philip Hammond ditches George Osborne's 15% corporation tax cut target - Monday October 3

Chancellor Philip Hammond has apparently rejected the plan of his predecessor George Osborne to slash corporation tax to just 15 per cent in the wake of the UK's Brexit vote. In early July Mr Osborne said he wanted to push the levy on company profits to 15 per cent as a bold signal to global companies that the UK is still "open for business" despite the vote to leave the EU. In his speech to the Conservative Party conference in Birmingham today, Mr Hammond made no reference to that 15 per cent goal, merely referencing the existing policy for the levy to decline to 17 per cent.

AFP/Getty

13/33 Global stock markets rally as OPEC agrees to slash oil production for first time since 2008

The Organisation of the Petroleum Exporting Countries (OPEC) has struck a deal to cut production for the first time in eight years, sending crude prices surging. READ MORE Oil price surges as Russia, Saudi Arabia promise co-operation In a decision led by a rapprochement between Saudi Arabia and Iran, who had repeatedly clashed during previous meetings, OPEC ministers decided to cut production by 750,000 barrels a day, down to 32.5 million barrels.

Rex

14/33 Apple to move London HQ to Battersea Power Station - Wednesday September 28

Apple is to establish a new London headquarters at Battersea Power Station, one of the city's most recognisable landmarks. The tech giant will occupy about 500,000 square feet of space across six floors of the central Boiler House from 2021, moving 1,400 employees there from eight offices around the capital. It will account for 40 per cent of the development's total office space.

Getty Images

15/33 Yahoo hack: World's biggest data breach could compromise Verizon deal and cost hundreds of millions of dollars

Yahoo revealed it has been hit by what could be the biggest data breach in history, with half a billion user account details stolen. While its users are still digesting the news, the massive breach could also have bigger implications and compromise Yahoo's recent agreement with Verizon, its future parent company, costing it hundreds of millions of dollars.

Reuters

16/33 Facebook chief Mark Zuckerberg to give $3 billion to 'cure, prevent or manage all disease' - Thursdsy September 22

Mark Zuckerberg and his wife Priscilla Chan have pledged more than $3bn (£2.3bn) toward a plan to "cure, prevent or manage all disease within our children's lifetime". The couple pledged the money as the next big investment by their philanthropic company, the Chan Zuckerberg Initiative, which is also focused on education, poverty, and equality.

REUTERS

17/33 OECD halves UK growth forecast due to EU referendum vote - Wednesday September

The OECD has slashed its 2017 growth forecast for the UK in half as a result of the Brexit vote and warned of "very high" uncertainty ahead. The multilateral economics institution had projected UK GDP growth next year of 2 per cent in June, but today reduced that to just 1 per cent in its latest Interim Economic Outlook. ADVERTISING inRead invented by Teads That was easily the largest downgrade for any major advanced economy.

Getty

18/33 Sports Direct bows to pressure and announces independent review of working practices - Tuesday September 20

Never underestimate Mike Ashley's capacity to spring a surprise. A matter of days after a tumultuous, and indeed historic, AGM at which the Sports Direct boss's independent shareholders voted against the re-election of his chairman Keith Hellawell and backed a trade union motion calling for an independent review into governance and working practices at the business, he appears to have caved in. At least on the latter.

PA

19/33 Kate Moss launches her own talent agency 'to create stars' - Monday September 19

One of the world's most iconic models of her generation, Kate Moss, has announced plans to start her own talent agency this month.In an interview with the Business of Fashion she revealed that her new venture – the Kate Moss Agency – won't only look after emerging models but will also sign actors and singers. Her announcement coincided with London Fashion Week.

20/33 Deutsche Bank shares plunge 8%after it refuses to pay £10.6bn fine - Friday September 16

Deutsche Bank shares slumped after receiving a $14 billion (£10.6 bn) claim from the US Justice Department to settle an investigation into the firm's sale of residential mortgage-backed securities, a figure the German lender said it's not willing to pay. "Deutsche Bank has no intent to settle these potential civil claims anywhere near the number cited," the company said in a statement early Friday in Frankfurt. "The negotiations are only just beginning. The bank expects that they will lead to an outcome similar to those of peer banks which have settled at materially lower amounts."

Bloomberg

21/33 John Lewis posts 75% profits slump - Thursday September 15

John Lewis Partnership, the owner of John Lewis and Waitrose, has reported a 75 per cent drop in profits for the six months to July, citing "deep structural changes in the retail market". Half-year profits have sunk to £56.9m, down by £167.1m on last year. The profits slump includes an exceptional charge of £25m for the write-down of property assets it no longer plans to develop for Waitrose. But even excluding the exceptional charge, profits for the latest half year were down 14.7 per cent to £81.9m.

Getty Images

22/33 French prosecutor seeks 3 years' jail for ex-minister over foreign bank account - Wednesday September 14

France's financial prosecutor on Wednesday sought a three-year jail term for former budget minister Jerome Cahuzac, who was forced to quit government three years ago over the discovery that he owned a secret bank account abroad. Cahuzac, 64, a plastic surgeon by profession who was appointed budget minister when Socialist President Francois Hollande took power in 2012, stands accused of tax fraud and money laundering.

Getty Images

23/33 Bank of England first polymer banknote enters circulation - Tuesday September 13

Cash machines across the UK will start to dispense the Bank of England's first plastic £5 note on Tuesday morning and it is designed to be safer and stronger.Each note is expected to last around five years - two and a half times longer than their paper counterparts - because of the durability of the polymer material.

Getty Images

24/33 Apple chief executive, Tim Cook lashes out at European Commission tax ruling - Thursday September 1

The ruling that Apple must pay the Irish government €13 billion Euros in back taxes over its "sweetheart" deal in the country ignited fury in the company's boss who called it "maddening" and "political".

AFP/Getty Images

25/33 ITV withdraws bid for Peppa Pig owner - Wednesday August 25

ITV withdrew its £1bn offer for Entertainment One, owner of the popular children's television franchise "Peppa Pig," the company said in a statement.

Getty Images

26/33 Scotland's North Sea oil revenues collapse 97 per cent leaving £14.8bn budget hole - Wednesday August 24

Scotland's revenues from North Sea oil have collapsed by 97 per cent in the past year as oil prices have plummeted, reigniting a fierce debate over whether an independent Scotland could finance itself. Scottish Liberal Democrat leader Willie Rennie said: "The nationalists' case for independence has been swallowed up by a £14 billion black hole." Taxes collected from oil production fell from £1.8 billion in 2015 to just £60 million in 2016. The gap between tax revenues and what Scotland spends is now 9.5 per cent, or £14.8 billion, compared to a 4 per cent deficit for the UK as a whole.

Reuters

27/33 Swiss watch exports to UK rise as sterling falls -Tuesday August 23

Swiss watch exports to the UK rose by 13.4% in July as tourists exploited the drop in the value of the pound to snap up luxury goods. The Federation of the Swiss Watch Industry said watches worth 110.2m Swiss francs (£87m) were exported to the UK last month, the best figures since November 2015.

Getty Images

28/33 Public borrowing worse than expected in wake of referendum vote - Friday August 19

The public finances were weaker than expected in the wake of the Brexit vote, official figures showed today. July has traditionally been a month of surplus for the public finances as it is one of the four months when companies pay a share of their annual corporation tax dues over to HMRC. City of London analysts had expected a surplus of £1.6bn.

Getty

29/33 Surprise jump in retail sales in July after EU referendum vote - Thursday August 18

There was no sign of British shoppers reining in spending in the wake of the EU referendum result, one of the first "hard" post Brexit vote set of statistics has shown. Retail sales jumped 1.4 per cent in July, more than reversing the 0.9 per cent decline in June, according to the Office for National Statistics.

PA

30/33 Unexpected fall in joblessness post Brexit vote - Wednesday August 17

The UK claimant count unexpectedly declined last month, suggesting the British labour market held up reasonably well in the wake of the Brexit vote.

Rex

31/33 Inflation rises in wake of Brexit vote - Tuesday August 16

Consumer price inflation picked up in the wake of the UK's Brexit vote, hitting its highest rate since November 2014. The Office for National Statistics said the annual rate of CPI inflation was 0.6 per cent, up from 0.5 per cent in June and slightly higher than City of London analysts had been expecting.

PA

32/33 Sports Direct warehouse staff who were underpaid could receive £1m back pay - Monday August 15

Thousands of workers at British retailing group Sports Direct's warehouse are set to receive back pay totalling an estimated £1 million for non-payment of the minimum wage, Britain's largest union confirmed. The back pay follows an admission by Mike Ashley, the founder of Sports Direct, that his company has broken the law by falling to pay the national minimum wage at a hearing of the House of Commons Business, Innovation and Skills (BiS) select committee in June.

Getty Images

33/33 Eurozone GDP growth rate halves in second quarter - Friday August 12

Eurozone growth slipped back in the second quarter of the year and dried up entirely in Italy, the bloc's most troubled large economy. Eurostat reported that the single currency's aggregate GDP expanded by 0.3 per cent in the three months to June, down from the 0.6 per cent rate in the first quarter. This was in line with the statistics agency's "flash" estimate from 29 July.

Getty
Walter Mythen of the agent Johns&Co, also points out that there could be confusion about how many luxury properties are currently on the market: "Often vendors use multiple agencies… so it can look as if there are many more properties for sale than is the reality," he says.
But the optimists seem to be in a minority. The FTSE 250 developer Capital & Counties said last week that a "challenging" property market has brought sales of new apartments at its Earls Court development, to a virtual halt. And the trade magazine Property Week has reported that FTSE 100 giant British Land is struggling to sell luxury homes in central London.
The London market is certainly not a party for everyone in attendance, and a number of developers might feel Sir Elton's lyric "it's a sad, sad situation" reflects the current market mood. It certainly is for those who gambled that London's luxury house prices would keep shooting to the sky.
Reuse content