Property was booming last year, and one landlord reaping the reward is the royal family.
The Crown Estate, which runs the monarch's land and property empire, has posted record profits of £285.1m for the year to 31 March.
It may not sit on the London Stock Exchange, but if it were to, based on the value of its property portfolio – £11bn, which is 16.7 per cent higher than the previous year – it would be ranked in similar circles to FTSE 100 giants such as British Land and Land Securities.
But the Crown Estate is no ordinary business. It was created by an Act of Parliament and all of its annual profits are returned to the Treasury for the benefit of the public finances. The Treasury then gives 15 per cent of the profits to the Queen.
The company has one of the most diverse portfolios in the world. It buys, sells, manages and develops real estate and land, and is the manager of the UK seabed to the 12 nautical mile limit.
It is also forbidden from borrowing or raising equity.
So just what is it that makes the Crown Estate so profitable and what can we expect the group to do next to make sure its coffers keep swelling? Certainly, the business has history and experience on its side – which has allowed it to assemble a mass property empire.
Its roots can be traced to the Norman Conquest of 1066, but its modern existence dates to 1760, when George III handed over management of royal land to the government in exchange for an income.
For the year ending March, the company "outperformed the [property] market" according to Alison Nimmo, the chief executive. She is not wrong. It delivered a 20.8 per cent total return compared to a 18.4 per cent bespoke benchmark.
Ms Nimmo says the core parts of the business helped contribute to the 6.7 per cent profit rise. The Crown Estate's specialities are London's West End, regional retail assets, offshore wind and rural land.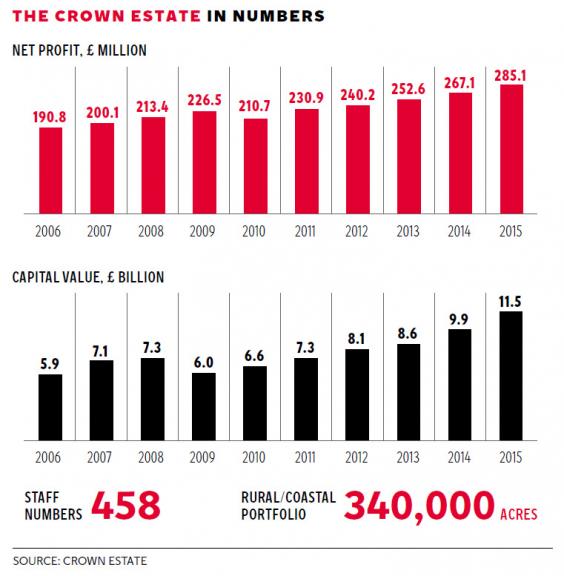 And it is in the West End where the company is significantly investing and concentrating on "place-making" to make parts of London the most desirable destination for office workers and shoppers.
It is undertaking major redevelopments in St James's including St James's Market, where it will deliver over 200,000 sq ft of new office space and 50,000 sq ft of shops and restaurants.
And elsewhere in the capital, the investment it has pumped into transforming Regent Street over the past  few years from a tired row of shops into a luxury retail pitch, with flagship stores for Apple and Burberry, has paid off.
Over the past 12 months it has secured a number of other retailers to the street, such as Michael Kors and a Spanish premium jeweller called Uno de 50, which is favoured by the likes of Shakira.
Ms Nimmo has expertise in rejuvenating areas. She joined the group in 2012 after nearly a decade looking after the regeneration legacy of the London Olympics in east London.
A £15m rise to £152.4m in income from the West End offices and retail division is testament to the group succeeding in creating a place where businesses want to be, and are willing to pay rents that reflect that.
Elsewhere, the company focused on strong management of its £1.5bn retail parks across Britain, and as a result there were rental voids of just 2 per cent. It also secured planning permission for 2,410 new homes.
Other highlights included the £345.5m purchase with Gingko Tree of the Fosse Shopping Park in Leicester, and in partnership with Norges Bank Investment Management, buying the Church Commissioners for England's 64.2 per cent holding in the Pollen Estate in London for £381m.
These deals also flag up another way in which the Crown Estate maintains a good financial position.
Because it cannot borrow or raise, the firm is increasingly forming joint ventures. As well as Gingko and Norges, the Crown Estate has formed partnerships with investors such as Healthcare of Ontario Pension Plan and Land Securities.
It also made £451m of disposals, largely non-core assets, to ensure it can keep a healthy spending capability.
But the Crown Estate has also come under scrutiny of late. The Mirror has reported that 200 Crown Estate residential properties are being sold off and their tenants effectively turfed out if they can't afford the allegedly inflated prices.
A spokesman said: "We know that our sales programme came as difficult news for some tenants, which is why we've taken a really flexible approach to notice periods, provided compensation where residents have made substantial improvements to properties, and offered tenants the chance buy these market let properties before progressing sales."
But the disposals are just part of a bigger plan for the Crown Estate to make sure its profits keep rising. In London, it continues to plough ahead with its 615,000 sq ft West End pipeline and this means that in 2016, it will be delivering 50 per cent of total office supply in the core of the West End.
With supply drying up in the area, the Estate will benefit from tenants fighting it out. The company has also became the first national landlord to make a Living Wage commitment last month.
"These results prove that our long-term outlook and active asset management in our core sectors continue to ensure that The Crown Estate remains an outstanding UK success story", said chairman Sir Stuart Hampson.
Reuse content