It is a sentiment felt by generations of schoolchildren who are told off for doing something, only to see their elders doing exactly the same thing moments later.
But now it is headteachers who are the victims of the "do as I say but not as I do" mentality, and the Education Secretary Michael Gove is cast yet again in the role of villain.
When the Conservatives came into office, Mr Gove launched a stinging attack on schools that brought in what he called "award-winning architects" to design new premises.
He claimed that the Building for Schools Programme, which he had inherited from the last Government, was wasting money with architects "creaming off cash" and suggested that no one involved in building schools should "make architects richer".
The Education Department went on to ban "curves" from new school buildings to keep costs down while squeezing space for corridors, assembly halls and canteens. But now it is time for Mr Gove's own department to have a new building, and he does not seem to be practising what he preaches.
The Education Department has appointed the "award-winning" architects BDP to design the interior of its new headquarters in Whitehall's Old Admiralty Building.
Around 1,600 civil servants will occupy the Grade II-listed 18th century complex when the overhaul completed in 2017. Each worker will have around 11.25m² of workspace which, as the Architects Journal that revealed the story pointed out, compares to around 6m² per pupil in a typical new school.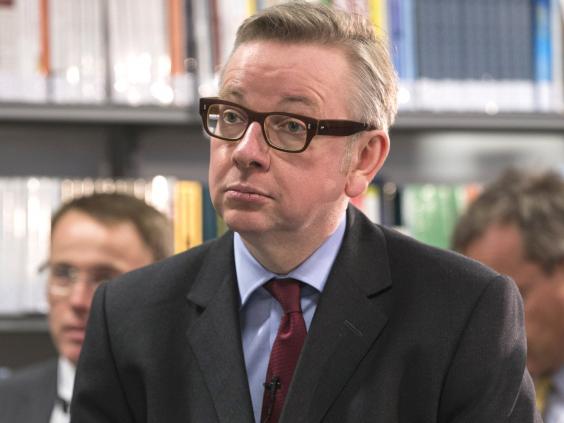 The cost of refurbishing the Royal Navy's former London headquarters has yet to be announced, but the design contract is worth up to £5 million. The relocation, from the existing rented building, is expected to save £8.5 million a year. Perhaps unsurprisingly the revelation has led to a furious response from the profession.
"Giving yourself a Palace in Whitehall, refurbished by leading UK designers and condoning school children to learn in prefabricated classrooms is hypocrisy that belongs to George Orwell's Animal Farm," Peter Morris of Peter Morris Architects told the Architects Journal.
Calling for higher standards of new school designs, he added: "We don't want to live in Gove's Farm anymore."
Elena Tsolakis of Kyriakos Tsolakis Architects said: "It's ironic that for his own commission he hires one of the biggest practices around while he is happy for the children of the country to be educated in flat-packed, shrunken schools."
The move to the Old Admiralty is part of the Government's ongoing consolidation of its estate, which has so far raised £1bn from projects including Blair Associates' transformation of nearby Admiralty Arch into a hotel.
A spokesman for the department said the Old Admiralty move would save more than £19 million a year for the taxpayer, including an annual saving of more than £8.5 million for the Department for Education.
The spokesman added: "The proposed move is the latest step by DfE to reduce the cost of its property estate. Since May 2010 it has reduced the annual cost of its buildings by £17 million.
"[We will] save another £2.5 million in 2014 through moving out of buildings in Guildford, Cambridge and central London," they added.
"Whether we are building new schools or moving offices, our absolute priority is to cut costs and maximise value for money.
"Under Building Schools for the Future, millions of pounds were squandered on exorbitant design fees. That was an unacceptable use of taxpayers' money. It's why we have cut construction costs in school building programmes by 40% and introduced standardised designs for school buildings. However, no architects have been barred from building new schools, even if we have minimised the scope for lucrative contracts.
"Our office move will save more than £19 million a year for the taxpayer, meaning money previously spent on rent can now be spent on educating children. The architects for the refurbishment were appointed following a competitive procurement process designed to maximise value for money."
Reuse content