A primary school headteacher says her staff have been subjected to "verbal abuse" after suggesting parents pay £1 to see the nativity play to raise money for books for non-English speaking children. 
Louise Bury, the headteacher at St Joseph's Catholic Primary School in Worcester, wrote a letter to parents explaining why the school had decided to charge attendance at the school's annual nativity play. 
She said they had decided to charge for admission in order to pay for bilingual books for the 43 per cent of their pupils who do not speak English as a first language. 
She explained: "With ever tightening budgets and growing numbers, we saw this as an opportunity to be able to invest in some valuable reading and learning resources for Key Stage 1 and Early Years. 
"These resources will help to improve the home learning for reading and therefore improve the reading progress and attainment of the children. 
"We have plans to develop parent groups that will enable you to grow in your awareness of how reading is taught; this will especially help those of you who don't have English as your first language".
But some parents reacted furiously to the proposal, claiming it was an example of "racism against English parents".
One parent told the Daily Mail: "If your kid doesn't speak English then surely you should pay for these books and teach your child the language which is used in the school.
"If I lived in Spain or France I wouldn't dream of begging the other parents to pay for my kids to learn their language. 
UK news in pictures
UK news in pictures
1/20 26 June 2017

A festival-goer sleeps outside their tent at the end of the Glastonbury Festival of Music and Performing Arts on Worthy Farm near the village of Pilton in Somerset, South West England

Getty

2/20 26 June 2017

Canadian Captain Megan Couto (C) leading out troops of the Second Battalion, Princess Patricia's Canadian Light Infantry from Wellington Barracks heading for the Changing of the Guard ceremony at Buckingham Palace in central London. Media reports state that Megan Couto, will be at the head of some 40 Canadian soldiers along with the Royal Canadian Artillery Band at the Changing of the Guard at Buckingham Palace becoming the first female soldier in history to become Captain of the Guard. Canadian soldiers are serving as the Queen's Guard as sentries at Buckingham Palace, St. James's Palace, the Tower of London and Windsor Castle until 03 July 2017. Queen Elizabeth II invited Canada to send troops take part in the ceremonial duties in 2017 marking 150 years since Canadian Confederation

EPA

3/20 26 June 2017

Residents leave their home on the Taplow Block on the Chalcots Estate on June 26, 2017 in London, England. Residents of the Chalcots Estate have been urged to leave their homes due to fire safety fears in the wake of the Grenfell Tower tragedy. Four of the five Chalcots Estate towers in Camden, North London, are being evacuated after they were found to have similar cladding to that on Grenfell, attributed to contributing to the rapid spread of the blaze last week that killed at least 79 people

Getty Images

4/20 25 June 2017

Police officers on Romford Road in Forest Gate, east London, as people protest over the death of Edir Frederico Da Costa, who died on June 21 six days after he was stopped in a car by Metropolitan Police officers in Woodcocks, Beckton, in Newham, east London

PA

5/20 24 June 2017

Britain's opposition Labour Party leader Jeremy Corbyn addresses revellers from the Pyramid Stage at Worthy Farm in Somerset during the Glastonbury Festival

REUTERS

6/20 23 June 2017

British Prime Minister Theresa May addresses a news conference at the EU summit in Brussels, Belgium, June 23, 2017

Reuters

7/20 22 June 2017

Cosplay fans (L-R) George Massingham, Abbey Forbes and Karolina Goralik travel by tube dressed in Harry Potter themed costumes, after a visit to one the literary franchise's movie filming locations at Leadenhall Market in London, Britain

Reuters

8/20 22 June 2017

Racegoers cheer on their horse on Ladies Day at the Royal Ascot horse racing meet, in Ascot, west of London

Getty

9/20 21 June 2017

A reveller walks among the tipi tents at the Glastonbury Festival of Music and Performing Arts on Worthy Farm near the village of Pilton in Somerset, South West England

Getty

10/20 20 June 2017

A police officer lays some flowers passed over by a member of the public, close to Finsbury Park Mosque in north London, after one man died and eight people were taken to hospital and a person arrested after a rental van struck pedestrian

PA

11/20

The Borough Market bell is seen in Borough Market in central London following its re-opening after the June 3 terror attack

Getty Images

12/20

Two women embrace in Borough Market, which officially re-opens today following the recent attack, in central London

REUTERS/Hannah McKay

13/20

Mayor of London Sadiq Khan attends the re-opening of Borough market in central London following the June 3 terror attack

Getty Images

14/20

People walk through Borough Market in central London following its re-opening after the June 3 terror attack

Getty Images

15/20

News Corp CEO Rupert Murdoch, with one of his daughters, visit Borough Market, which officially re-opened today following the recent attack

REUTERS

16/20

A woman reacts in front of a wall of messages in Borough Market, which officially re-opened today following the recent attack, in central London

REUTERS/Hannah Mckay

17/20

Vivenne Westwood walks the runway at the Vivenne Westwood show during the London Fashion Week Men's June 2017 collections

Getty Images

18/20

Millwall fan and London Bridge hero Roy Larner on 'Good Morning Britain'

Rex

19/20

Richard Arnold, Roy Larner, Piers Morgan and Susanna Reid on 'Good Morning Britain'

Rex

20/20 11 June 2017

England players celebrate after defeating Venezuela 1-0 to win the final of the FIFA U-20 World Cup Korea 2017 at Suwon World Cup Stadium in Suwon, South Korea

AP
"You move to another country, you play by their rules and you learn their language at your own expense."
Another claimed ethnicity minority children were being given help paying for their nativity outfits because they were poor but English children had to pay. 
She said: "It just feels like a kind of politically-correct racism against English parents. It's not fair."
But other parents at the school have come to Ms Bury's defence with Kirsty Winters telling the BBC: "My child attends this school and the tickets are £1 per person attending, hardly breaking the bank."
Another parent, Anna Astin, said: "To me there are other more important, issues then paying a pound for a ticket. 
"Parents need to stop and think the money is to benefit our children, and as for costumes we have always had to supply our own clothes underneath. Some people really do need to stop and think.
"I wonder how many of the abusive parents will then go on to spend a hundred pounds or more on presents and the same on food over Christmas.
"I was a teacher and I fully and passionately endorse the school's request. The letter is reasoned and reasonable, the money raised will be well spent. Shame on the whiners and whingers."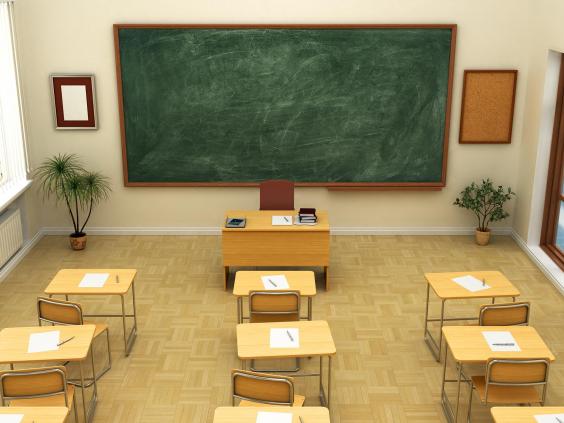 It comes as more and more schools face stretched budgets and growing classrooms.
In July, the National Union of Teachers (NUT) went out on strike over pay, working conditions and underfunding in schools across the country. 
They argued the central government's squeeze on budgets and the conversion of many schools to academies has lead to schools being forced to loss more experienced staff members, school trips and even facilities like books. 
In October, headteachers in West Sussex wrote to parents to warn that they were considering dropping down to a four-day school week to cope with a £20m shortfall in the county's education budget.
Reuse content