Two contrasting videos about life in the British Army are doing the rounds, both released this month. In the first, an Army recruitment advertisement, soldiers are trudging through miserable arctic conditions when one of them starts singing the Dirty Dancing song "(I've Had) the Time of My Life". Cue much ribbing and laughter from his comrades, instantly lightening the mood of their dreary slog through the snow.
In the second video, released by campaign group Child Soldiers International (CSI), 27-year-old veteran Wayne Sharrocks talks about his experiences training and serving with the Army in Afghanistan, where he was wounded following an IED explosion. Against another backdrop of soldiers marching through snow, Sharrocks describes how members of his platoon were encouraged to beat up a comrade believed to be underperforming in a training exercise. "I think he tried to kill himself in the toilets at some point," Sharrocks says to camera.
Sharrocks joined the Army in 2006, aged 17. He left in 2013 and has since suffered mental health problems. The UK is the only country in Europe – and one of only a handful in the world – that recruits under-18s into its Armed Forces. Groups campaigning against the practice argue that the youngest recruits are most susceptible to developing mental health problems such as PTSD – and dying in action. 
Sharrocks was enlisted while still at school. Such recruitment exacerbates the problem, say campaigners. "The Armed Forces has more of a foothold in schools," says Emma Sangster of Forces Watch, a group which opposes "militarist values in civilian society". In 2012, the Government launched a raft of schemes designed to promote a "military ethos" in schools. These included a programme to expand Combined Cadet Force activity in schools and opened up the possibility of military organisations sponsoring academies and free schools. It also enabled the provision of alternative education by external military-based groups, and the fast-tracking of ex-military personnel into teaching roles in the Troops to Teachers scheme.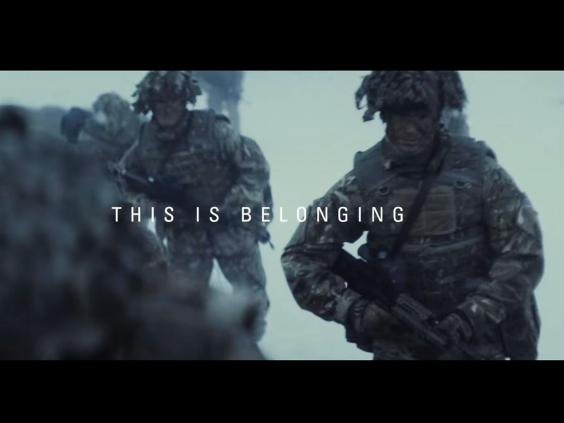 These measures, along with continued Armed Forces visits to classrooms – around 11,000 a year – constitute, according to campaigners, a worrying militarisation of our schools and an indirect means of recruiting under-18s. "What we know from MoD documents is that recruitment is an aim of the Armed Forces going into schools," says Sangster. "Schools provide a kind of captive audience of young people of recruitment age."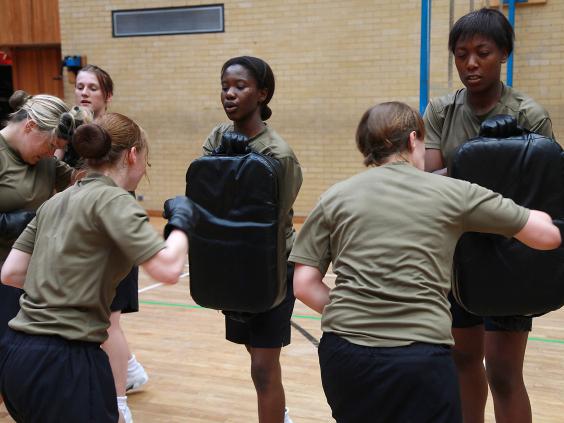 The military is not allowed to enlist anyone directly in schools and under-18 recruits need written parental consent before they can join. But the presence of military representatives in schools acts as a kind of indirect recruitment drive according to Ben Griffin, a veteran of the Iraq war and co-ordinator of campaign group, Veterans for Peace UK. "Out of a thousand kids they only need to recruit one or two," says Griffin, "but they also want to recruit the whole school to the ideas of the military".
Griffin adds that if the Armed Forces have got "one or two days in a school, they're going to make the military seem very fun... a sort of public service for the greater good of humanity."
Army Photographic Competition 2016
Army Photographic Competition 2016
1/12

Corporal Sean Neill, from Kilmarnock, kissing his daughter Madison in the streets of Glasgow after the 400 strong Homecoming Parade. The photo, by Mark Owens, has been named Winner of Best Online Image (voted by the public) in the Army Photographic Competition 2016

Mark Owens/Army HQ Scotland/PA Wire

2/12

This photograph shows Officer Cadets from Royal Military Academy Sandhurst (RMAS) on Exercise Dynamic Victory, Grafenwoehr & Hohenfels Training area, Bavaria

Bombardier Murray Kerr RA/PA Wire

3/12

Great Men, by Bombardier Murray Kerr RA

Bombardier Murray Kerr RA/PA Wire

4/12

The photograph shows the changing room buzzing 30 minutes before forming up

Sergeant Rupert Frere RLC/PA Wire

5/12

Prepping for the Worst, by Cpl Timothy Jones

Cpl Timothy Jones/PA Wire

6/12

Y Company, 1st Battalion The Royal Regiment of Fusiliers, conducting jungle warfare training in Brunei, learning to live, survive and fight in the unique training environment

Cpl Timothy Jones/PA Wire

7/12

Right Hook, by Bombardier Murray Kerr RA

Bdr Murray Kenneth Kerr, Royal Artillery/PA Wire

8/12

The Climb, by Capt Ben Norfield, RGR

Capt Ben Norfield, RGR/PA Wire

9/12

This photograph shows the TIGERS Freefall Parachute Display Team from the 1st Battalion The Princess of Wales's Royal Regiment (1 PWRR) send a Birthday message to the Queen from 8,000 feet above Paderborn in Germany

Dominic King AMC/PA Wire

10/12

Nightlife in Otterburn, by Cpl Timothy Jones

Cpl Timothy Jones/PA Wire

11/12

The photograph shows Garrison Sergeant Major Andrew Stokes of the Coldstream Guards making inspections of the soldiers drill

Sergeant Rupert Frere RLC/PA Wire

12/12

Y Company, 1st Battalion The Royal Regiment of Fusiliers, conducting jungle warfare training in Brunei, learning to live, survive and fight in the unique training environment

Cpl Timothy Jones/PA Wire
The Combined Cadet Force is currently embedded in more than 350 secondary schools across the UK, with a target of 500 by 2020. Its presence is designed to instill qualities such as "self-discipline, loyalty and respect, strong leadership, teamwork and resilience". But critics such as Sangster worry how the CCF will negatively impact the teaching of important of attributes like free thinking or criticism of authority. "If you've got that in the school, are you going to be able to talk about non-military alternatives to conflict resolution, or promoting critical awareness around all the effects of warfare?" she says.
Under-18s have historically been an important source of Army recruitment, which has suffered from a continuing shortfall in recent years. The latest MoD figures show that it is currently delivering 10 to 15 per cent fewer recruits than is needed. Last year, the intake of under-18s rose to a quarter of all Army recruits, according to a report by CSI. And recruitment of 16-year-olds rose to 13 per cent of the total intake, making them the single largest age group entering the army. "It's very disturbing from our perspective," says Rachel Taylor, programme manager at CSI. "The army are taking more 16-year-olds than 17-year-olds so they're recruiting more – and younger."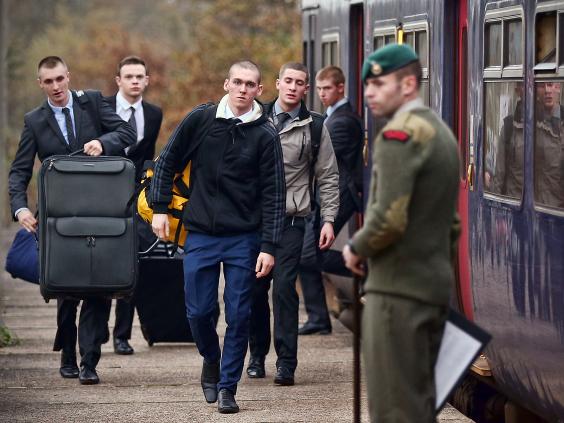 Taylor points out that a large proportion of under-18s are funnelled into frontline roles in the infantry, with the youngest recruits forced into combat roles due to lack of qualifications.
From 2015 to 2016, the Army enlisted 8,020 soldiers of whom 1,790 were aged under 18, according to CSI. Even though the latter will not see battle until they come of age, the organisation's study of Afghanistan suggests they will remain twice as likely to be killed once they do. 
The MoD denies that under-18s are being targeted in schools to make up for recruitment shortfalls. Colonel Johnny Blair-Tidewell, assistant head of manning for the Army, insists that conceptions about the recruitment of under-18s are often misrepresented. He points out that although the infantry takes the single largest proportion of under-18 recruits, the majority go into other units like the Royal Logistics Corps and the Royal Electrical and Mechanical Engineers. He also stresses that such criticisms assume an outdated view of the infantry. "It's a bit too simplistic," says Blair-Tidewell. "The idea that the infantry are somehow just cannon fodder is a 1914-ism. It's not like that. Within the infantry you've got specialisms. So someone could go into the infantry and specialise as a signaller, or specialise as mortar fire controller. They could be a driver. They could be a radio operator. They could do all sorts of things. It just doesn't stand scrutiny."
The Army has repeatedly refused to raise the age of enlistment to 18 despite calls from numerous campaign groups and critics, including the UN Committee on the Rights of the Child. The presence of the military in schools is also set to continue. One of the reasons is that the Army actually sees the recruitment of minors as a good thing. "There's an assumption that recruitment of 16- to 18-year-olds is somehow inherently bad," says Blair-Tidewell. "Our response is that recruitment of 16- to 18-year-olds is beneficial to the individuals that do it and is also beneficial for society as a whole."
To agree with this or the continued presence of the military in schools depends on how people regard terms such as "military ethos" or "character". The Government promoted its military ethos programme as by highlighting the value of characteristics such as resilience, grit, self-discipline and teamwork. But critics see a negative side to the military mentality. Veterans for Peace's Ben Griffin claims the military ethos comprises a trio of rather more sinister characteristics. "Actually the fundamental ethos of the military is to obey orders without question," he says. "Some of the other things that are fundamental to military training are removing the barrier to kill – a human's natural aversion to killing another human is removed so that it becomes easy. Also loyalty to the gang is promoted, so your loyalty to your family, to your country, to your community is erased. Your only loyalty is to the unit you serve with." Griffin, an ex-member of the Parachute Regiment, recounts how he was encouraged to hate all the other branches and units of the military and to hate civilians most of all.
In the CSI video, Wayne Sharrocks speaks of how by the end of his training, he could have killed another person in front of him "at the flick of a switch" with "an insane amount of aggression". He feels that apart from the things he saw and did in Afghanistan, infantry training alone changed his mind indelibly. "Before you join the Army, you should have to sign another document saying you're about to be subjected to six months mental conditioning that could effectively change your mentality for life," he tells the camera. Sharrocks, who underwent his training at 17, now believes under-18s shouldn't be recruited because only adults should be allowed to make that kind of life-changing decision. 
It is the same reason Veterans for Peace UK wants all military activities in schools banned. "We think that just as you can't advertise smoking and alcohol to children," says Griffin, "you shouldn't be able to advertise a job where there's a good chance you could be killed or maimed or disabled for the rest of your life."
We're back to the two videos: one advertising young men in the snow having the time of their lives, the other exposing a life that was almost lost. The message people identify with most will depend largely on their experience of the Armed Forces.